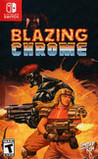 Summary:

In Blazing Chrome, bring your best pal and kick some metal butts to free the humankind while enjoying a classic run'n'gun, fully loaded with action and exciting fights!
Konami might be reviving Contra in its own way, but it is unlikely it will scratch the same itch that fans have been grasping for all these years. From the wild rail gun shooting sequence, to the frantic battle with a huge cycloptic Terminator knock-off, Blazing Chrome is worthy to be held in the same league of the action games that inspired it. This is easily one of the greatest 2D action games on the Nintendo Switch, and it is made all the better thanks to its accessible two-player co-op mode. It is fun with friends and enemies. It may not burn for long, but Blazing Chrome burns extremely bright.

For those longing for a time when side-scrolling shooters ruled the roost, Blazing Chrome is exactly what you're looking for. Perfect for short sessions, its slick gameplay and old-school art direction make for an astonishingly fun game full of explosions, epic set pieces and spectacular boss battles. Its brutal difficulty may not be for everyone, but if you're up for the challenge, then get ready for one of the most accomplished 2D action titles in years.

Despite the short length, Blazing Chrome is an awesome experience that will bring you back to the golden age of 2D running and gunning. The sharp visuals, addictive gameplay and incredible level design had me grinning and sweating from beginning to end. If you're itching for some side-scrolling action, Blazing Chrome is a must.

Blazing Chrome is more than a simple homage to the Contra and Metal Slug series: the game also takes liberties to offer the genre a new and strong challenger. With two very different styles and a delightful pixel-art look, there is much more than meets the nostalgic eyes in this complete run and gun.

A straightforward and to the point Contra-like experience sums up Blazing Chrome well. With six levels that will probably only take you an hour or three to clear the first time through, it's a tiny bit light on content, but thanks to the co-op and unlockable modes, more mileage can be squeezed out of this short and sweet joyride.

Blazing Chrome isn't some grand reinvention of the shoot 'em up genre at large, but for the most part, it does a masterful job of utilising the genre's best conventions.

A decent follow-up to a bygone genre. Its pixel art and animation will satisfy retro-enthusiasts looking out for this lesser-served type of experience, and there's minimal investment required to jump right in and experience some accessible arcade action. What's troubling is that it pales in comparison to decades-old titles, and it's frustrating that areas where it might have excelled, given the potential lessons learned — aspects like weapon selection, characters, gameplay, and combat variety — it simply results in passing marks instead of straight As.
Blazing Chrome is a true return to the Contra style of run & gun gameplay! Blow stuff up, flames, missiles, lasers, 90's chiptune rock, you

Blazing Chrome is a true return to the Contra style of run & gun gameplay! Blow stuff up, flames, missiles, lasers, 90's chiptune rock, you name it, this game has it! It's really fun, go play it.

…

Expand

Mix Contra and Metal Slug, and combine them together, it turns out a new game. I'd say it's spiritual heir Contra Hard Corps, because robots,

Mix Contra and Metal Slug, and combine them together, it turns out a new game. I'd say it's spiritual heir Contra Hard Corps, because robots, humans and other stuff.

…

Expand

Game muito bom, com doses cavalares de nostalgia por lembrar muito Metal Slug. Estou gostando bastante, em função do nível moderado de

Game muito bom, com doses cavalares de nostalgia por lembrar muito Metal Slug. Estou gostando bastante, em função do nível moderado de dificuldade. Vale a pena conferir esse belo trabalho.

…

Expand

Run 'n Gun in der klassischen Moderne; Terminator schaut in den Spiegel und erkennt sich kurz. Liebe Grüße an Super Probotector alias Contra III...

At first I didn't really like it. I felt like it couldn't hold a candle to the 16bit run'n'guns it tries to emulate. Especially the voice

At first I didn't really like it. I felt like it couldn't hold a candle to the 16bit run'n'guns it tries to emulate. Especially the voice sampling is off turning, which is worse than the standard Mega Drive stuff.
But then I got hooked, the graphics are a nice showcase of the games it imitates, all with no lags or sprite flickering, the musical score is varied and the bosses become more and more impressive during the playthrough. Another nice touch are the different level designs. Besides the classic run'n'gun layout, there are parts on a hover bike (like in Contra/Probotector on Mega Drive), a kind of a shmup going forward in a 3D environment and at the end of the game two parts where you progress in a vector area.
It took me almost three hours to complete my first run, I guess with experience I could do that in less than an hour. It clearly invites to be replayed, by playing in a harder mode, trying to beat one's own time, getting a higher end score or playing with one of the characters that get unlocked after the first run.

…

Expand

Pretty disappointing. It's not bad, it's just not great. It's a good looking game, but the weapons are dull and make things more difficult

Pretty disappointing. It's not bad, it's just not great. It's a good looking game, but the weapons are dull and make things more difficult that they should be. Reviews made the fun factor seem higher than it actually is, though I played SP and perhaps it's only meant to be played co-op. I would be unimpressed if a friend forced me to place this with him.

…

Expand