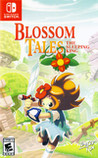 Summary:

Prove your worth by fighting through monster-infested dungeons to save the Kingdom of Blossom!
Nintendo Force Magazine

Feb 26, 2019

Blossom Tales has enjoyed a lot of success on Switch, and it deserves it all. [Issue #37 – January/February 2019, p. 23]

While it may be easy to disregard Blossom Tales as a simple Zelda clone, the amount of charm and effort put into making it wholly unique, while honouring its inspiration, is both admirable and deserving of attention. Its dungeons feature genuinely thought-provoking puzzles, its combat requires a fair amount of strategy, and its story's Princess Bride-like narration lends itself to copious amounts of charismatic story beats. The faux retro graphics won't win over anyone sick of the style and the first impression perhaps relies upon referencing A Link to the Past a bit too much, but Blossom Tales is an incredibly creative and wholesome adventure that knows exactly what it is, even if it isn't entirely original. If nothing else, it's an immensely satisfying scratch for the Switch's 2D action-adventure itch.

Blossom Tales might be a bit heavy-handed in its homage to the Zelda games of the past, but it brings a certain charm and fun to the Switch library. It also makes for a pretty good substitute as long as I still can't play A Link to the Past on my Switch.

Blossom Tales scratches an itch I have of wanting to venture through Link to the Past once a year. It is well-designed if not a bit cliché in its approach. Still for those with the same nostalgia for Link's SNES adventure, there are few games that capture it as well as this one.

Blossom Tales: The Sleeping King is a great Zelda-like game that reminds masterpieces like A Link to the Past. It fits perfectly on the Switch and is funny and entertaining.

If you're looking to play a cute indie version of The Legend of Zelda then Blossom Tales: The Sleeping King definitely fits the bill. Just don't expect it to provide anything particularly new and exciting.

Judging a game on its own merits is very important. However, when a title happens to borrow just about every aspect of its design from an iconic game series, it's hard not to acknowledge. Claims could be made that a game like this is nothing more than a shameless clone, but thankfully in the case of Blossom Tales: The Sleeping King, the developer has intentionally crafted it with a sense of love and admiration of classic Zelda games. While it's not as flawlessly executed as the series it draws inspiration from and it doesn't add anything particularly groundbreaking, it's still a heartfelt tribute to the earlier entries in Nintendo's long-running series.
There's nothing bad I could say about this game :). It's a wonderful throwback to the days of 2d Zelda. It's not challenging though as it's

There's nothing bad I could say about this game :). It's a wonderful throwback to the days of 2d Zelda. It's not challenging though as it's quite generous with healing items. Personally I wasn't looking for a challenging game but others may be disappointed in that regard.
It also has a lovely bedtime story vibe reminiscent of the princess bride. It's one of my favorite indies :).

…

Expand

A good, simple, fun Zelda clone. It doesn't do terribly much in comparison with other games, but what it does, it does well—and I liked the

A good, simple, fun Zelda clone. It doesn't do terribly much in comparison with other games, but what it does, it does well—and I liked the simplicity that it offered. It gave me a few happy evenings.

It gets a 9 instead of a 10 because it is really simple—even the map is pretty small. But, again, what it set out to do, it accomplished.

…

Expand

At first I wasn't sure about this game. The controls feel a little off for a Zelda game. Once you get used to the combat, it's one of the best

At first I wasn't sure about this game. The controls feel a little off for a Zelda game. Once you get used to the combat, it's one of the best Zelda likes I have played. Good bosses and fun levels/puzzles. If you are looking for a Link to the Past style game, then I would say this might scratch that itch. The main difference is that it is very linear but the gameplay is great.

…

Expand

This may look like a clone, but in no way is it, to the critically acclaimed link to the past. This game brings new enemies, new puzzles, and

This may look like a clone, but in no way is it, to the critically acclaimed link to the past. This game brings new enemies, new puzzles, and new bosses, so if you are a fan of zelda, well here's another new experience waiting just for you.

…

Expand

I really enjoyed playing this game and if you are even contemplating getting it, just get it. I knew little about the story going into it but

I really enjoyed playing this game and if you are even contemplating getting it, just get it. I knew little about the story going into it but I'm a sucker for pixel games so I jumped right in.

Pros: The game looks beautiful, the music is good, the fact that the story is based on the grandpa telling it is so sweet, the puzzles. The play time is good too, I spent around 10 hours to finish this game which includes time I spent on doing some side quests. There are some hidden areas in the map that give you rewards which are fun to look for.

Cons: The only thing I didn't really like in this game is that when using your bow and arrow if you activate facing one direction then you have to shoot it facing that direction which is sometimes a waste if your enemy moves suddenly. The reason I'm not giving this game a 10 is because sometimes the game is too forgiving and it kind of throws away your incentive to play well because you can find hearts so easily. Coins are also too easy to obtain.

…

Expand

This game was a pretty decent game. I thought the way the story was presented, with the grandpa narration, gave it its own personality

This game was a pretty decent game. I thought the way the story was presented, with the grandpa narration, gave it its own personality although being an almost Zelda clone. The puzzles were fun to figure out. Most were way too easy and a few were a bit tougher. The combat was just way too easy as everything dies in one hit of the arrow or boomerang. The enemies that come in swarms (bees, zombies, fireball things) can be killed with one use of the quake medallion also. My biggest gripe was how short the game was. I blew through it in one day (8hrs) and was left scratching my head wondering if there was more or if I really just beat it. I hope that if they make a sequel that they remove some of the insta-kill methods and make the enemies just a tad bit harder along with the bosses. Also a few more hours of game play would be nice. Either way it was worth playing and I did have fun with it.

…

Expand

Zero points for the annoying 'simon says' puzzles. If game design involves killing all motivation with annoying puzzles, this game is very

Zero points for the annoying 'simon says' puzzles. If game design involves killing all motivation with annoying puzzles, this game is very good. Otherwise i will not tolerate this.

…

Expand