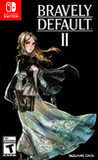 Summary:

Step into a brand-new world with four brand-new heroes. A new world, a new story, and all-new Heroes of Light await in an original RPG experience arriving on the Nintendo Switch system in 2020! This successor to the original Bravely Default game comes from the team that brought you the

Step into a brand-new world with four brand-new heroes. A new world, a new story, and all-new Heroes of Light await in an original RPG experience arriving on the Nintendo Switch system in 2020! This successor to the original Bravely Default game comes from the team that brought you the Bravely series and Octopath Traveler, and features music from Revo (Sound Horizon/Linked Horizon), acclaimed composer of the Bravely Default soundtrack.

* Brand-new entry in Square Enix's Bravely Series
* Travel the world in search of the four Crystals with the latest incarnation of the brave band known as the Heroes of Light
* Latest creation from Team Asano, creators of the Bravely series and Octopath Traveler
* New world filled with new characters, but with the atmosphere and excitement the Bravely series is known for

…

Expand
Developer:

Claytech Works

Genre(s):

Role-Playing

,

Japanese-Style

# of players:

No Online Multiplayer

Cheats:

On GameFAQs

Rating:

T
Please enter your birth date to watch this video:
You are not allowed to view this material at this time.
Bravely Default 2 - Nintendo Direct Mini Trailer
It seems inevitable to me that there are going to be a lot of people that dismiss Bravely Default II as a "retro-style JRPG." They'll see the turn-based combat, the very "JRPG" design of the characters, and all the other genre tropes that the game indulges, and assume that that's all it is. Nothing could be further from the truth. Nuanced writing, impeccable design and subtle subversion highlight that Bravely Default II is, instead, a game that uses its genre rather than allow it to become beholden to it. In many ways it's a highly metafictional thesis that explores what people love about JRPGs, and what is genuinely important to the genre. In doing so the game has become this wonderfully nuanced, beautiful, entertaining and emotive experience, and in my book, that makes it a masterpiece.

The wait for Bravely Default II has been long and hard, but now that it is finally here it convinces with high quality graphics, storytelling, gameplay and sound. While this title is not without flaws, these are minor compared to the overall excellence of this title. A joy to play at home on the big screen or on the go, this title is a great addition to any turn-based RPG fan's library.

Bravely Default II is a fun sequel that does it's best to improve on it's predecessor. While the dungeon designs are simplistic and the side quests lack variety, it's hard to ignore what Bravely Default II does well.

As a standalone title, Bravely Default II stands as a superb JRPG. But when it gets to be compared to the original, it sadly falls short. No matter how great its strengths are, they will always be remembered as being even greater before. Yet you should still not miss it if you are into the genre or if you loved the original, as it is a wonderful title no matter what you compare it to.

Bravely Default 2 is a nice JRPG with a strong combat system, that only falls short in terms of its story.

Bravely Default 2 is a decent JRPG cut from the same cloth as its inspirators. The combat is undeniably addictive, but its old-school sensibilities see it occasionally suffer from poor pacing and frustrating periods of grind.

AIt hits all of the usual story beats and it will scratch an itch for JRPG obsessives, but there's an absolute lack of substance. There's no discernable creativity, flair, or ingenuity in any part of it. It doesn't want to either reinvent the wheel or even add a lick of polish to it. It is a game which exists and functions as it was meant to; a JRPG as by-the-numbers as they come, I just wish the developers had been brave enough to take a few more risks.
Best turn base RPG in a while, if you liked the first FF games this game is for you.

Original graphics, dignified history gave a good rpg, classic battle system and impeccable soundtrack

Best RPG in a while. Definitely better than P5R where there is only repetitive combat.

As a fan of the first Bravely Default, I love everyhting about this game, from the music, battle system and character design. In terms of

As a fan of the first Bravely Default, I love everyhting about this game, from the music, battle system and character design. In terms of gameplay, I believe this game improves upon the already well-crafted formula of the first Bravely Default.

However, as a fan of the first game, I believe that Bravely Second fall short in the story department and the character dialog in the game could be cringeworthy at times and the I found some of the characters to be generic at times.

I believe the game is really enjoyable and it's worth every penny if you're a JRPG fan but it doesn't come close to the first Bravely Default.

…

Expand

While a fairly solid JRPG, this game offers nothing new to the genre, and in fact does a lot of things worse than JRPGS that have been out for

While a fairly solid JRPG, this game offers nothing new to the genre, and in fact does a lot of things worse than JRPGS that have been out for decades.

The level and world design design is VERY generic. Its almost always point A to point B, with very little open world exploration. There is no airship or vehicle that is unlocked at a latter stage in the game. There is only a very simplistic fast travel system that allows you to travel between the different cities. There are a couple of optional world bosses, but nothing like a traditional final fantasy game or other JRPGS with more substance.

The BP system also doesn't actually work very well. Even after beating the game on hard... very rarely did I have to use the default mechanic. Most fights simply don't require it, and often times I would be going into negative BP rather than banking BP.

The class system is somewhat interesting, but its diluted down because there's no actual difference between the characters. There could of been more interesting mechanics on how the classes play with each different character in your party. Instead, every character feels the same.

The balance between the jobs needs a lot of work as well. Godfall Strike is by FAR the best ability in the game, and you get it very early on. Its to the point where its not really worth using any other job besides thief, again diluting the job mechanics of the game. There are also redundant jobs that really don't really serve a purpose.

The job system would have been much more interesting if you created a new class by combining different jobs. Abilities and playstyle should change depending on the main job, sub job, and character that you chose. Instead the sub job more often acts like a stat padder rather than a gameplay change.

I just don't understand how JRPGS coming out in 2021 have LESS substance and mechanics than JRPGS 20 years ago. By all measurements, this is another run of the mil, uninspired JRPG.

…

Expand

If you want to play this game or this series, just get a 3ds and play bravely default 1 and bravely second, both amazing games. BD2 is frankly

If you want to play this game or this series, just get a 3ds and play bravely default 1 and bravely second, both amazing games. BD2 is frankly borderline bad. This game is the poster child of a mediocre sterotype in terms of a classic JRPG. This isn't praise, but it isn't an insult, it makes it exactly as medicore as it gets. The story in the first 2 games(why isn't this called bravely default 3 by the way?)

Short list:

THE GOOD
-Looks pretty
-AMAZING dynamic music
-character classes are fun
-the combat style of brave and default is still fun(frankly should be adopted by other games)
-more voiceover than before, slightly less quality in some cases, but overall top tier English VO
-Great as a handheld switch title
-You can FINALLY put status effects like poison on bosses!!!(the first games didn't allow for this meaning you had to use other strategies, making most status effects useless since normal mobs were pointless to status).
-Farming job points(JP) to level up your jobs(classes) on each character is much much faster than before if you know what to do.

The Bad
-removed tons of quality of life features. single hand combat isn't as easy or good
-removed the bravely second feature(a really really cool feature from the first 2 games)
-removed the calling in friends feature for battles
-passive resource gathering is reduced to simply sending out a boat to gather instead of a cute village building minigame that gave you specific items you could farm and control what it passively gathers.
-grinding isn't very passive like in the past(these games are built around grinding, in the first two games you could grind by mashing a button with one hand while watching tv)
-terrible story. I cannot overstate this enough. The first two games had great plot twists, subverting expectations, like real life, nothing is so black and white. Here, everything is pretty straight forward. They tried to make the sub-stories have conflicting characters, but nobody stays around long enough for me to care and then they just disappear forever. Nobody sticks around for very long except the main bad guy you first meet.
-removed any sort of overworld airship to travel easily like in the past 2 games
-really boring anticlimactic ending
-removed the ability to save equipment set ups, so you have to manually redo any good set ups.
-most character development left to unsatisfying side quests.
-lack of romantic tension(okay maybe this one is just me, but I liked it in the past games).

Neutral changes
--overworld monsters mean you can choose to attack or avoid monsters if you want, after a certain level, monsters run away from you, no annoying random battles, just changes how battles work
-some jobs(character classes) are better, others are worse than in past games, but that is always the case. I think bravely second had the best overall in terms of jobs. But this game fixes the annoying and useless issue of the one job that uses items(salvemaker in this game) and its a great and valuable class.
-they added an action meter, this brakes a lot of potential careful strategizing. Some people will say its negative, and I agree, but it opens up other strategies if you can work around it. I never liked action meters in RPGs though. This makes the speed stat more powerful.

summary:
Seriously just buy a 2ds and get bravely default 1 and bravely second. This game isn't really worth it. But if you insist, play this game first, then bravely default 1, then bravely second(the first two games have linked stories, and this game is unrelated story wise). You will see the games get better. Sadly I can't suggest this game, even to a seasoned RPG player. Only a fan of the series would be able to enjoy it, and even at that, I was frustrated the whole time knowing they could do better. I don't know what happened.

…

Expand

Game would be solid if it wasn't for the awful card game. Best part is, you HAVE to play it in order to unlock a class.