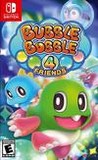 Summary:

The classic platforming franchise Bubble Bobble is back. Bubble Bobble 4 Friends recreates the old bubble-based challenge with co-op for up to 4 players, exclusively on Nintendo Switch.
All in all, I found Bubble Bobble 4 Friends to be a really fun take on the old Taito franchise, and a great experience for old and new players alike. It makes for a really solid family game that's appropriate for all ages, but one with a difficulty curve that won't make the game a bore for parents or older siblings. So check it out now on the Nintendo Switch, I don't think you'll be disappointed.

Bubble Bobble returns in fine form, showing off to a new generation why it's earned such a following over the decades. This new version looks great, is full of nostalgic charm, and most importantly, tons of dinosaur bubble-filled charm.

Overall, Bubble Bobble 4 Friends is every bit of Bubble Bobble and more. I'm just not sure the price tag justifies the gameplay.

The best Bubble Bobble game in over two decades and while it isn't quite as perfectly formed as the original it is one of the best couch co-op games of the year.

A decade after the release of Bubble Bobble Plus!, the beloved Taito saga is back with a new iteration designed exclusively for Switch. Maybe Bubble Bobble 4 Friends it is not the best entry at all in this franchise, but at least the 4 players cooperative mode is really fun.

Bubble Bobble 4 Friends is a quaint little arcade platformer that makes up for a lack of staying power with plenty of vintage arcade fun.

Bubble Bobble 4 Friends is so full of unrealised potential. Whether it be the unfairly punishing difficulty, unsatisfying rewards, or confusing visual design, the game felt frustrating to complete. The short campaign feels like it lasts a century, and the multiplayer does little to enhance the experience. Unless you're a diehard fan, give Bubble Bobble 4 Friends a skip.
This game is a lot of fun to play with friends or in a party environment, but be warned it is only about an hour long. I would not advise

This game is a lot of fun to play with friends or in a party environment, but be warned it is only about an hour long. I would not advise spending more than $10 on the title personally. That said, the game itself provides a lot of laughs and excitement.

…

Expand

MJT must be turning in his grave, this is like Bubble Bobble but with all the magic sucked out of it. What magic? Frantic time limits, great

MJT must be turning in his grave, this is like Bubble Bobble but with all the magic sucked out of it. What magic? Frantic time limits, great level design, wondering what special items will appear, getting the walking stick and fighting over the giant fruit, secret rooms (OK, maybe they're there and just secret). I get that the designers might not have been hanging out in arcades in the late 80s like I was but they could at least have tried to understand what made the original so special. Yes, co-op play was a big part of that but there's no point just throwing more players at a game that is hardly any fun to play. To be fair, it does get a bit better when hard mode is unlocked when it gets a bit more challenging but then it goes over the top with the Gusto boss that took me 4 hours to beat (definitely not designed for single player mode). Fortunately, the included version of the arcade original is really well done.

…

Expand

another classic that ruined by the new generation of developers who don't know about game design. bad level design with worse game mechanic,

another classic that ruined by the new generation of developers who don't know about game design. bad level design with worse game mechanic, can you imagine a boss level without any block on the floor, the only way to avoid the boss is jumping on the bubble? can you imagine a level with smaller transparent blocks allowing you to jump through, and bigger transparent blocks that are not allowing you to jump through?
the cute design is for kids, but I can assure you, no one kid below 12 years old can play through the game.
the old classic 2d version included is so much better. they have only one mission, remaster the game with better graphic, but still they failed miserably

…

Expand