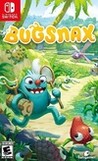 Summary:

Explore whimsical Snaktooth Island in search of answers and a snack, maybe.
In this first-person adventure, you play as a journalist who receives a mysterious film from the disgraced explorer, Elizabert Megafig. She's invited you to Snaktooth Island to witness her latest and greatestExplore whimsical Snaktooth Island in search of answers and a snack, maybe.
In this first-person adventure, you play as a journalist who receives a mysterious film from the disgraced explorer, Elizabert Megafig. She's invited you to Snaktooth Island to witness her latest and greatest discovery: Bugsnax! Lured by the promise of a great story, you travel to the island to interview Elizabert and her group of misfit grumpuses. In the pursuit of your big scoop, you get caught up in hunting Bugsnax, feeding grumpuses, and solving the mysteries of the island

* What are these half-bug half-snack creatures, really?
* How do they affect the bodies of those who eat them?
* And most importantly, why do they taste SO GOOD!?
We are what we eat
Bugsnax takes you on a whimsical adventure to Snaktooth Island, home of the legendary half-bug half-snack creatures, Bugsnax. Invited by intrepid explorer Elizabert Megafig, you arrive to discover your host nowhere to be found, her camp in shambles, and her followers scattered across the island alone... and hungry!

It's up to you to solve the mysteries of Snaktooth Island: What happened to Lizbert? What are Bugsnax and where do they come from? But most of all, why do they taste SO GOOD?
Key features:
* Discover, hunt, and capture all 100 different species of Bugsnax using a variety of contraptions and bait!
* Explore the diverse biomes of Snaktooth Island to track down and reunite the inhabitants of Snaxburg.
* Stuff your new friends with Bugsnax to customize them with countless new looks.
* Follow every lead to learn more about Lizbert's band of misfits and the mysteries of Snaktooth Island.

…

Expand
Developer:

Young Horses, Inc

Genre(s):

Action Adventure

,

Adventure

,

3D

,

Open-World

,

First-Person

# of players:

No Online Multiplayer

Cheats:

On GameFAQs

Rating:

E10+
Please enter your birth date to watch this video:
You are not allowed to view this material at this time.
Bugsnax & The Isle of Bigsnax - 101 Trailer
Combining nuanced storytelling with engaging and addictive gameplay, Bugsnax is a real treat through and through. Some technical stumbles aside, this is a title that any fan of games needs to experience for themselves.

This is a wild and weird game that is a welcome addition to the Switch library. There is nothing else out there quite like Bugsnax and while the Switch version is not the best performing version, folks with only the Nintendo console or a desire for portable play shouldn't have too much to complain about if they decide to journey to Snaktooth Island.

Nintendo Force Magazine

Nov 9, 2022

All of my kids have enjoyed being backseat drivers, telling me where to go next and which Bugsnax to try to attack. The biggest chuckles have come from the scenes where NPCs get their bodies changed by eating the captured Bugsnax: I just let the children take the reins there and decide whether, for example, Wambus Troubleham should get a watermelon for a nose. [Issue #61 – September/October 2022, p. 76]

While the visual and performance cutbacks are ones I expected going from PS5 to Switch, Bugsnax not making full use of the Switch's unique hardware capabilities is disappointing. I was hoping we'd get gyro control options or proper HD rumble to try and offer more immersion, but neither are present in this release. You do get the complete game with the Isle of Bigsnax right from the start though. If you already played Bugsnax on another platform, you should stick to that one to experience the new content, but for those who haven't jumped into Snacktooth Island yet, the Nintendo Switch version of Bugsnax is a fine way to do so. I've thoroughly enjoyed putting in more than 20 hours into it on Nintendo Switch and Switch Lite.

The joy of finding something new that flys, crawls, and just looks appetizing is as exciting as discovering a new Pokemon, but instead of battling you get to eat them. So if it's cute, fun, and a puzzling type of adventure game you'd love to try, then you might just want to play Bugsnax.

Bugsnax's The Isle of BIGsnax is a great reason to revisit Snacktooth. Whether you're a seasoned journalist or catching your first Strabby on a new platform, you really can't go wrong with this delightful adventure.

Bugsnax is a game that is brimming with potential, but struggles in actual execution. Capturing hundreds of adorable snack-themed creatures sounds like such a great idea, but the lack of memorable characters, a frustrating control scheme, repetitive gameplay and numerous technical and design problems, particularly on Switch, makes for a somewhat lukewarm experience. There is certainly fun to be had here, but once you've played for a few hours, the magic fades and you're left with a disappointing game that doesn't live up to expectations.
"It's clear to see why Bugsnax has the reputation it has: it's a delightful game, with a unique twist on the monster catching formula. It

"It's clear to see why Bugsnax has the reputation it has: it's a delightful game, with a unique twist on the monster catching formula. It obviously doesn't look as nice as the PlayStation release, and the loading times may be a tad on the lengthy side, but there's a lot of fantastic content here in an extremely enjoyable package. It's definitely one of the standout releases of 2022, and Switch owners should definitely experience the wonders of Snaktooth Island."

https://theeliteinstitute.net/2022/07/06/bugsnax/

…

Expand

This game is a blast! Yes, the gameplay is casual but it has a lot of heart and it's weird in the right ways.