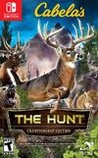 Summary:

You will experience the thrill of the hunt while you stalk and kill your prey in some of North America's most famous hunting spots. With local multiplayer, arcade mini-games and season hunt modes, Cabela's: The Hunt is fun for gamers and hunters alike.
Cabela's The Hunt: Championship Edition is the definition of a niche title. While I wouldn't have previously assumed I'd fall into that niche, I did find myself enjoying my time with the game, despite some of its flaws. The deliberately slower pace of the game simply won't be for everyone, however. Arcade hunting aficionados might want to check out Big Buck Hunter Arcade, also available on Switch. But, if you're looking for something closer to the real thing, Cabela's The Hunt: Championship Edition just night scratch that itch. It might even teach you a thing or two.
This publication does not provide a score for their reviews.

This publication has not posted a final review score yet.

These unscored reviews do not factor into the Metascore calculation.
Cabela's Hunt is a really simple hunting game, too simple to add something significant to the hunting genre or the Switch library.
It's hard to talk about why this game is good in just simple words. If I could grab each and every person out there and simply grab your

It's hard to talk about why this game is good in just simple words. If I could grab each and every person out there and simply grab your shoulders and scream about this game I would. I need a medium that transcends reality to explain the magnitude and beauty of this game properly. But alas I don't have time for that, I must try and capitulate my thoughts that go beyond your simple imaginations.

Imagine such a feeling of your first love, your first kiss, getting married, having a child. Those memories that just carry such a weight to you that you never forget it, and then combine them with the feeling of being born into this world. That is how I feel when playing Cabela's The Hunt: Championship Edition. The gameplay is what I imagine god feels like when healing sick children. Just the most rewarding and invigorating experience imaginable. Not only will you feel like it's the first time you played a game, but the first time you played. Your life will never be the same after playing this game, to the point where you will find reality boring. But thanks to the Switch, you won't ever have to stop playing

…

Expand

The gameplay and the sound of the frontier make up for some poor visuals.

I know nothing about hunting and bought this primarily for theThe gameplay and the sound of the frontier make up for some poor visuals.

I know nothing about hunting and bought this primarily for the Bullseye Pro peripheral that comes with the bundle version of the game.

It is a slow paced experience that requires tracking and stalking carefully selected animals that you are licensed to hunt, not everything that moves is fair game.

The game penalises poor shooting and rewards downing your prey in the most clinical and quick fashion. The gyro controls work reasonably well as a tool for making slight adjustments. The peripheral itself adds to the atmosphere, but actually makes it more challenging to shoot so unless you find it on sale it's not really necessary.

…

Expand