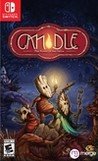 Summary:

Candle is a 2D sidescrolling adventure game that uses the powerful and indie-lover engine Unity 4. Its creators describe it as a "dynamic graphic adventure", since its gameplay combines both Platformer and Graphic Adventure genres. The player takes control of Teku, a young and

Candle is a 2D sidescrolling adventure game that uses the powerful and indie-lover engine Unity 4. Its creators describe it as a "dynamic graphic adventure", since its gameplay combines both Platformer and Graphic Adventure genres. The player takes control of Teku, a young and inexperienced character in his journey to save his friends and unravel the mysteries of his world.

…

Expand
Developer:

Teku Studios

Genre(s):

Action

,

Platformer

,

2D

# of players:

No Online Multiplayer

Cheats:

On GameFAQs

Rating:

E10+
Today is a day to enjoy a great adventure. The users of consoles have been dismissed very fortunate to be able to go to the end of the work of Teku Studios. Work that combines the best of the classic graphic adventures of the years with more action and more contemporary studies like Playdead or Amanita Design. An authentic jewel of those that do not abound and in which to get lost in these summer days.

Candle perfectly combines the genres of graphic adventure and platforms to bring us a wonderful adventure, with a magnificent audiovisual section and ingenious puzzles.

Visually charming puzzle platformer with challenging, but logical brainteasers and underutilized story-elements.

Switch owners that are longing for a slower, more methodical approach to 2D puzzle platforming will want to give Candle: The Power Of The Flame a spin - even more so if they're seeking a tough challenge that's stacked to the rafters with whimsical charm and a striking art style. The title may well be home to some clunky controls and ferocious difficulty spikes from the moment you take control of Teku, but the immense sense of achievement married with what feels more like a piece of art than a video more than makes up for its shortfalls.

Candle: The Power of the Flame is a great title for fans of adventure and puzzles. It could be improved with a hint system, though, as some of the tougher sequences are a little obscure.

I wouldn't necessarily call this an amateurs puzzle game meant for children, as there are many components that require abstract thinking to progress, but for the experienced puzzler, there is a lot to love in Candle: The Power of the Flame.

An interesting title that almost looks like an old-school point-and-click adventure game, but its mix of platforming and exploration make for a deeper if flawed experience. It is unfortunate that the controls and some of the more vague environmental puzzles are not more refined, because they hold back what otherwise is still a memorable game. Even with those blemishes, the way the world is woven together and the interesting premise are more than enough reason to spend some time exploring.
The art and music of this game are just amazing, every hand-drawn scenario is so pleasing to see that I like to replay the game every now to

The art and music of this game are just amazing, every hand-drawn scenario is so pleasing to see that I like to replay the game every now to then just to watch it all over again.
The game-play is quite simple as you might expect from a puzzle game, you can move around the world, interact with objects and items, and use the power of the flame to progress.
The puzzles themselves are also good, some are quite hard but (to me at least) not hard enough to become frustrating,
I'd strongly suggest taking a look at it to any puzzle and/or adventure games fan.

…

Expand

Great adventure with an amazing art direction. Gameplay is varied and, although sometimes a bit too cryptic "à la Machinarium", is fun to

Great adventure with an amazing art direction. Gameplay is varied and, although sometimes a bit too cryptic "à la Machinarium", is fun to figure out and the solution to its puzzles is always satisfying.
The spanish dubbed audio is top notch.

…

Expand

A really enjoyable and absolutely gorgeous looking game only let down by some clunky platforming at times and occasionally very derogatory

A really enjoyable and absolutely gorgeous looking game only let down by some clunky platforming at times and occasionally very derogatory solutions to puzzles. Overall though, well worth playing, in my opinion.

…

Expand