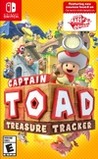 Summary:

The intrepid Captain Toad sets off on his own adventure for the very first time through a wide variety of tricky, enemy-infested, maze-like stages to find hidden gems and nab elusive gold stars.
Please enter your birth date to watch this video:
You are not allowed to view this material at this time.
Captain Toad Busts Onto The Switch
Overall, Treasure Tracker is a real gem of a game. It's also beautiful; I was stunned by it on Wii U, but the visuals have only gotten better on Switch. It's bright, cheery, and wildly creative from an aesthetic standpoint. Each stage is like a diorama, making the game feel like the player is interacting with toys, rather than lines of code. The soundtrack isn't especially varied, likely because most stages don't require a lot of time to beat, but I'd have appreciated a few more tracks to spice things up.

Captain Toad: Treasure Tracker is an absolute joy to behold, from its cute visual styling and delicious soundtrack and audio utterances from the main characters, to the expertly crafted self-contained stages, jam-packed with smart puzzles to solve and a plethora of goodies to uncover. This was one of those Wii U gems that thoroughly deserved another shot at the limelight, and with its excellent new additions now, it is indeed time to shine bright.

Captain Toad: Treasure Tracker highlights one of the best secondary characters in the Super Mario universe, and gives him a stellar adventure. Fans of the Wii U version should pick it up for the portable experience and extra levels while those who didn't play the game in 2014 will find a lot to love. It's another fantastic addition to the continually growing Switch library, and I can't wait to see what Nintendo does with Captain Toad in the future.

Another great Wii U game that is made better by the Nintendo Switch's portability. It's a fun experience that doesn't overstay its welcome, but definitely does feel repetitive in certain areas.

Everything about Captain Toad is overwhelmingly charming.

Captain Toad: Treasure Tracker remains an excellent game that feels perfectly at home on the Switch. The short-burst gameplay of the diorama-puzzle levels suits the portable nature of the system to a tee. It still looks, sounds and plays as well as it did on the Wii-U, so if it didn't hold your attention then, the lackluster additional features aren't likely to change your feelings now. If you're a Switch owner looking for a joyous, simple, unique puzzle game, then Captain Toad: Treasure Tracker is worth some permanent space on your memory card.

There is a charmingly competent puzzler here, yet it's hard to recommend without an abundance of caveats. If you've yet to play the Captain Toad and solving cute and charming puzzles, it could be worth a shot if it drops in price, even though the asking price is lower than most to begin with. If possible, and if you own a Wii U, you would be better off dusting that system down and playing it on there.
Cute little game, perfectly made for handheld. Controls are good, no slowdowns. Technically solid. Imho it has much charm and very high

Cute little game, perfectly made for handheld. Controls are good, no slowdowns. Technically solid. Imho it has much charm and very high quality. What i dont get is why people think this would be different game, just because its on Switch now...and downrate it on that. So i ask: did you cry when an old movie was redone/changed just for a new medium? I guess not...
Since im playing 1p and on handheld, this is my rating for excatly that.

…

Expand

Otro muy buen juego de la Nnitendo Switch, divertidisimo y adictivo, si jugaron el de WIIU in duda jugarlo en switch es muy buena idea por su

Otro muy buen juego de la Nnitendo Switch, divertidisimo y adictivo, si jugaron el de WIIU in duda jugarlo en switch es muy buena idea por su contenido extra

…

Expand

I use a different score system than MetaCritic, My Score For each game is different, I rank on a scale of 1-11, and 6 is an average game, I

I use a different score system than MetaCritic, My Score For each game is different, I rank on a scale of 1-11, and 6 is an average game, I would give this game an 8 out of 11, but due to others reviews on this site, with people giving games 0 I'll up it to a 9 out of 10. Anyways, this game is really fun, it's short but I loved my time playing this game, Toad may not be a character that comes to mind when you think of a 3d mario experience, he's slow and he can't jump but this game compensates for that with it's truly incredible level design. I really love this game.

…

Expand

this game is fun. it's not gonna blow your mind or anything, but it's still nice, simple fun.

This is just a nice little game. I love the tone, the visuals, the levels (especially the minecart ones and the odyssey ones) and basically

This is just a nice little game. I love the tone, the visuals, the levels (especially the minecart ones and the odyssey ones) and basically everything.

…

Expand

It's a port that has no reason to exist, adds very little new things, and replaces some levels with new, albeit less interesting, levels.
WhyIt's a port that has no reason to exist, adds very little new things, and replaces some levels with new, albeit less interesting, levels.
Why not make more new levels and turn it into a sequel instead of another annoying port?

…

Expand