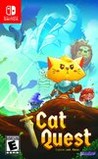 Summary:

Cat Quest is an open world RPG set in the pawsome world of cats! In search of your catnapped sister you pounce into the massive continent of Felingard -- a world crafted in the style of overworld maps of yore and purrrring with cat-tastic characters, stories, and puns!

Leap into a grandCat Quest is an open world RPG set in the pawsome world of cats! In search of your catnapped sister you pounce into the massive continent of Felingard -- a world crafted in the style of overworld maps of yore and purrrring with cat-tastic characters, stories, and puns!

Leap into a grand adventure in purrsuit of the evil Drakoth and your catnapped sister! Explore Felingard's huge overworld map, risk life and limb delving into dungeons for epic loot, and lend a paw to a furry cast of characters in a flurry of side quests.

…

Expand
Developer:

The Gentlebros

Genre(s):

Role-Playing

,

Action RPG

# of players:

No Online Multiplayer

Cheats:

On GameFAQs

Rating:

E10+
Whether you're a cat lover or not, Cat Quest creates an ideal blend of charming graphics and traditional hack-and-slash gameplay. Despite holding back on a few things, the satisfying combat and convenient loot system show that The Gentlebros have a tremendous understanding of RPG mechanics and – to let the cat out of the bag – it could pawsibly be my favourite game of the year.

Cat Quest is a simple and charming RPG that still manages to be deeper than it first appears and is a nice bite-size adventure compared to the many all-consuming ones you can already find on your Nintendo Switch.

Cat Quest is a lightweight action-RPG that doesn't demand a lot of your precious time yet provides a deep enough experience to scratch a much deeper itch. It's a purrfect addition to the Nintendo Switch lineup.

Cat Quest is a game that stays with the roots of the ARPG genre and makes fun of it in every aspect. A brave and rogue game that is really fun and nice due to its simplicity and duration.

As polished as Cat Quest may be, it does have a few downsides. The strong focus on cats and endless supply of cat puns is obviously not a world everyone will want to immerse themselves in – especially if you are a dog lover. However, if you are willing to overlook this and the basic design, what is on offer is a functional role-playing game that can be played for short or longer periods of time by players of all ages and cat lovers alike.

This is a game that is aware of its goofy setup and relishes in a sea of cat puns and insanity. It's not a terribly long game - I rolled credits within a few hours - but it's a fun romp with a straightforward and entertaining action RPG style. Cat Quest is a game that likely won't stick with me for too long, but it was a pleasant time basking in cat gags and beating up on foes with swords and magic.

It remains true that Cat Quest is a hugely reductive game that strips the RPG formula to its very roots, and that lack of depth becomes tiresome towards the end. I'm glad that this is not a game that outstays its welcome, but at the same time it's not a game I'll remember, beyond that adorable skipping run of my adorable little furrball.
What a surprise. The game is an excellent adventure RPG, with fantastic graphics, smooth animation and most of all great playability. A really

What a surprise. The game is an excellent adventure RPG, with fantastic graphics, smooth animation and most of all great playability. A really polished game for the Switch.

…

Expand

this is my favorite game! played it through twice I always enjoyed it. the epilogue was the best part just because it was sad and nice i

this is my favorite game! played it through twice I always enjoyed it. the epilogue was the best part just because it was sad and nice i recommend this game to everyone that is the best game i have ever played

…

Expand

There were so many good things I wanted to say about the game while playing it. Like how the combat is simplistic yet engaging, and how the

There were so many good things I wanted to say about the game while playing it. Like how the combat is simplistic yet engaging, and how the loot system and spell system are diverse in terms of verity. This game was made to be accessible even to those who don't play role playing games, and that the story of the campaign and even side quests have gotten plenty of attention.

While there are some requests, rather then issues the game has like a way to buy multiple chests at once, more diverse dungeons, and more meaningful non-playable characters, things the second game could fix, I must say this game is worth every penny they ask for, every time I picked it up I have a hard time putting it back down and I'm more then eager to 100% the game as well.

I would like to give the game a 9/10 because it has so much room to grow, but I can't neglect the fact about how much fun I had playing this game.

…

Expand

I bought it on PS4 after this because I wanted to get a diamond (?) trophy and this game was so much fun I didn't mind starting over. Do I

I bought it on PS4 after this because I wanted to get a diamond (?) trophy and this game was so much fun I didn't mind starting over. Do I need to say more? Okay, it could be bigger. I've had some minor performance stutters in handheld, but it's not that big of a deal, the design is great, the cat wordplay is cute and everything looks adorable. Even the gameplay is rather fun. It's also cheap so I highly recommend it. 99% you'll get your moneys worth.

…

Expand

Lo compré en una rebaja, y la verdad me arrepiento de no haberlo probado antes. Es sencillo de entender en su mecánica jugable estilo RPG,

Lo compré en una rebaja, y la verdad me arrepiento de no haberlo probado antes. Es sencillo de entender en su mecánica jugable estilo RPG, pero además es precioso: dibujado a mano, pareciese que se trata de un libo para niños, de esos 3D que se abren a medida que vas leyendo, cómo si fuese un diorama. Tiene un banda sonora relajante y épica, y sobre todo es una excelente alternativa para quienes se quieren entrar a juegos de tipo mazmorras y RPG sencillos (antes de entrar de lleno a experiencias como Diablo u otro del mismo género). Ahh, y lo otro que se me olvidaba: tiene gatos, y muchos gatos. Esto puede sonar banal, pero es sin duda la esencia y elemento central que configura el viaje y la belleza de Cat Quest.

…

Expand

This game is NOT meant for gamers. It is very much meant for children. However, the game is fun nonetheless, but it is very easy and very

This game is NOT meant for gamers. It is very much meant for children. However, the game is fun nonetheless, but it is very easy and very overpriced on switch. I got it 70 percent off on switch for 3 dollars instead of 13 and this is the perfect price for a slightly above average game that happens to be very cute.

…

Expand

It was fun for a little while, but the game overall feels too short and I would have liked more content. It's nice that it has a new game plus

It was fun for a little while, but the game overall feels too short and I would have liked more content. It's nice that it has a new game plus mode, but I felt content having played it once that I didn't bother with a second attempt.

Cat Quest
Gameplay Enjoyability (0 - worst, 10 - best)

Story - 5
Lore - 4
Looting/equipment finding - 6
Questing/variety - 6
Combat - 7
Music/soundtrack - 5
Visuals - 8

…

Expand