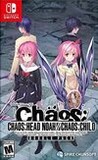 Summary:

Chaos;Head Noah - "If you were God, and your delusions could become reality. What kind of delusions would you imagine? A sensual world? A dystopic society? Destructive punishment? Or..."

Nishijou Takumi, a shut-in gamer and anime otaku, spends his days locked away in a shipping containerChaos;Head Noah - "If you were God, and your delusions could become reality. What kind of delusions would you imagine? A sensual world? A dystopic society? Destructive punishment? Or..."

Nishijou Takumi, a shut-in gamer and anime otaku, spends his days locked away in a shipping container while occasionally attending classes. In his place of residence, Shibuya, a bizarre string of serial killings is set in motion as he is dragged into the ordeal.

Chaos;Child - It's been six years since a massive earthquake leveled the city of Shibuya. Now, in October 2015, while researching a number of recent murders, Takuru Miyashiro realizes a horrible truth. These murders are the return of a series of killings that plunged Shibuya into terror six years ago. And at the same time, people called gigalomaniacs, with the powers to make their delusions real, are beginning to awaken.

…

Expand
Developer:

Mages.

Genre(s):

Miscellaneous

,

Compilation

# of players:

No Online Multiplayer

Cheats:

On GameFAQs

Rating:

M
Chaos;Head Noah and Chaos;Child are two magnificent entries in the consistently compelling Science Adventure series. Unfortunately, both are burdened by a few blemishes at launch.

The Chaos; series has remained one of the most iconic visual novel series for years, and with good reason - despite some dated visuals and slow pacing, both titles offer jaw-dropping stories full of winding twists and incredibly well developed characters. The pacing hiccups, length and obtuse ending requirements won't be for everyone, but if you're trying to explore the history of visual novels and want to play the biggest ones, you owe it to yourself to add this double pack to the list.

As upset as I am about the censorship thing, I still can't help but love everything that's going on overall. The Chaos;Head Noah/Chaos;Child Double Pack is an enthralling, terrifying, and occasionally humorous double-dose of Science Adventure goodness. You've got to take the bad with bad with the good, and trust me when I say the good outweighs the bad by a considerable amount in this case.

Wonky translations aside, both Chaos;Head NoAH and Chaos;Child are filled with great characters, fantastic murder mystery whodunit stories and some twists that blew my mind. These games certainly won't be for everyone though. If you can stomach the disturbing subject matter of the games I highly recommend giving them a shot, especially if you are a fan of Steins;Gate or Robotics;Notes. It's finally great that the entire Science Adventure series is now available to play in preparation of the next game Anonymous;Code releasing next year.

These titles may not be enjoyed by everyone due to their highly erotic or bloody content. Therefore, we recommend you take a look at this double pack if you like mystery visual novels or have been wanting to discover other titles from the same universe as Steins;Gate.

I adore both of these games, and if you have the stomach for their contents I think they could be as formative to you as they were for me. They're thought-provoking and beautiful games that spoke to me in a time when I needed them. But the issues introduced with these official Nintendo Switch releases make it hard to give them a glowing recommendation as they are now. Some of these problems, like Chaos;Head not having speaker tags, aren't really something that could be fixed. I get it, but there are strange oversights I think could be addressed in a patch. Will they be? I'm not entirely sure. What I do know is that these games are great at their core, and deserve better.

Chaos;Head Noah / Chaos;Child Double Pack is a long title but one that encapsulates an enveloping experience delivering two stories of suspense and mystery. Its most pressing issue is the translation, especially with regards to Chaos;Head Noah where many of the double entendres get lost, but nonetheless both games represent a very engaging effort with a good amount of disturbing moments that will grab the players' attention.