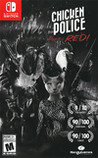 Summary:

Sonny Featherland and Marty MacChicken were once legendary detective partners in Clawville PD. Predatory division, nicknamed as the Chicken Police. But that was a decade ago and time had passed them by... Sonny is a semi-alcoholic wreck of a bird on paid leave, while Marty still hides behind

Sonny Featherland and Marty MacChicken were once legendary detective partners in Clawville PD. Predatory division, nicknamed as the Chicken Police. But that was a decade ago and time had passed them by... Sonny is a semi-alcoholic wreck of a bird on paid leave, while Marty still hides behind the facade of a star-detective.

On the night of New Year's Eve, a mysterious woman visits Sonny with an errand which goes back to a dark corner of his past. Now, Sonny and Marty are back together again on a case stranger than anything they've ever encountered before!

Chicken Police is an "Orwellesque Buddycop Noir Adventure", with a carefully crafted world, a gritty, dark story, and absurd humor. The game mixes elements of story-rich adventures with visual novel style dialogue-heavy storytelling, complete with a complex interrogation system, detective gameplay, and an ever-changing city.

…

Expand
Developer:

HandyGames

Genre(s):

Adventure

,

Visual Novel

# of players:

No Online Multiplayer

Cheats:

On GameFAQs

Available On:

Stadia

Rating:

M
Chicken Police is an off-kilter approach to a well-worn genre, but it's so well done that it's worth playing if you're any kind of fan of adventure games or visual novels.

Chicken Police - Paint it Red! is a total good surprise. It hits every nail squarely on the head and leaves the player with a satisfying sense of accomplishment, while being a ruddy good time all the way through. Yes, the English written script leaves something to be desired and should totally be fixed as soon as possible, meaning it's not perfect in that sense. It is also somewhat short for the price but this is something we can more easily let slide when a game is just consistently enjoyable all the way through like it is here. Lovers of animals, film noir, adult humour, police mysteries and point n' click adventures... all of the above are likely to find a lot to be liked about this piece of software.

Chicken Police isn't a game in which you can expect multiple endings, but you can expect a very engaging detective noir visual novel with a healthy dose of wit, gorgeous music, and intriguing characters. Without giving too much away, it took me about 10 or 11 hours to finish the game, since I took my time and experienced all of the side content and didn't speed through any dialogue. Even conversations you thought were already over sometimes have additional quips and voice lines if you bothered to visit the character again. I'd highly suggest taking your time and enjoying the ride because it will not disappoint. Chicken Police is the guilty animal film-noir treasure that I didn't know I needed in my life until I took flight into the Wilderness and experienced it for myself.

An intriguing noir story starring detective partners who, like the dark city, want to improve their situation. An indispensable point & click game for lovers of the genre and classic cinema due to its narrative and visual section.

Chicken Police – Paint it RED! is a well done and unique film noir video game experience. The gameplay mechanics are one of the weaker parts of the game, with the interrogation sequences not always being clear on what the best line of questioning is and the minigames feel tacked on, but despite these issues Chicken Police is an enjoyable and memorable experience, particularly for noir fans. The attention to the detail in recreating classic film noir atmosphere with superb voice acting, soundtrack and visuals make the overall experience engaging enough where the other shortcomings can be overlooked.

Chicken Police is a noire style point and click visual novel. It features a dark and compelling central mystery and a superbly voice-acted cast of bizarre characters. It is a clucking good time!

Chicken Police – Paint it RED! combines the storytelling of a visual novel with the puzzle-solving of a point-and-click adventure to create a decidedly different gaming experience. The slick, cinema noir style and distinctive anthropomorphic presentation do enough to cover up any shortcomings that would otherwise dissuade you from seeing this case through to its exciting end.
The game is a film noir adventure which isn't a total disaster but it has some serious flaws:
1. The story is extremely linear and theThe game is a film noir adventure which isn't a total disaster but it has some serious flaws:
1. The story is extremely linear and the gameplay not challenging to the point of being almost like a novel with minor exceptions
2. The choices that score the interrogations are poorly designed and half of the time they are unintentionally misleading
3. Several characters and dialogues are completely redundant or out place making the game half of the time just boring
At the end of the day if you're extremely into film noir adventuring you might like it but it's generally a flawed game.

…

Expand