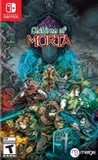 Summary:

Children of Morta is a narrative-based roguelike hack'n slash game for PC, Mac and Linux which will involve you in the adventures of a family.
Developer:

Dead Mage

Genre(s):

Role-Playing

,

Adventure

,

General

,

Action RPG

# of players:

No Online Multiplayer

Cheats:

On GameFAQs

Rating:

T
Children of Morta is one of the most wonderful surprises of 2019, and it needs to be on your radar. The progression system and unlockables mean that even an unsuccessful 20-minute run will yield tangible growth to make the next run easier. Those who aren't wholly into rogue-lites, like me, will still enjoy the variety and action of the gameplay. Better still, it's impossible not to be captivated by the Bergson family's struggle for survival and togetherness against a formidable evil. A two-player co-op option is the cherry on top of this exquisitely-crafted experience. However you choose to go through it, Children of Morta is an absolute must-play.

Since it's polished in almost every regard with its gameplay and presentation, it's possible Children of Morta would've benefited from a more focused design direction rather than a rogue-lite dungeon-crawling experience. Nevertheless, in a sea of games for the rogue-lite genre, it's refreshing to see developers do something unique and tell a meaningful story. The emotional heights that the game reaches goes farther than many narrative-focused games. If you're looking for a story-driven ARPG, then Children of Morta needs to be at the top of your list.

Between the dungeon size, the bite-size story chunks, and the clear objectives, this is a game meant for picking up at a moment's notice. Ultimately, players torn between this version and a home console one are choosing either function or form. Dedicated Switch gamers, on the other hand, would be fools to pass this one up.

Children Of Morta is a nice, story-driven action RPG that plays very well on the Nintendo Switch, especially in undocked mode. The hurdle is getting past the pixel art graphics. You'll either not like them, and skip over this game, or embrace them and be treated to a hefty action RPG and story-driven experience.

Children of Morta is a gem of a roguelike that often behaves like an action RPG and with its exquisite art style, simple but fun combat system and enormous variety of customization and character experimentation, it makes for a marvelous game that gets its job done in a very satisfying way. On top of that, it even features a wonderful co-op component.

Roguelite RPG, that invites you not only with its coop-option, but also the charming pixel design and the well constructed story. Technical issues, loading times and a high grind-factor provide a setback, though.

It may not quite hit the highs of the likes of Hyper Light Drifter or Dead Cells, but it's not far off and its zippy dungeon runs and slices of family drama feel like a perfect fit for Nintendo's portable console. If you're a fan of the genre this is certainly an addition to the Switch's library that's well worth checking out.
Nice pixelated graphics, if you love the messenger, dead cell & hyperlight drifter then by all means buy this game. Great on switch. Won't

Nice pixelated graphics, if you love the messenger, dead cell & hyperlight drifter then by all means buy this game. Great on switch. Won't regret your purchase.

…

Expand

Excellent story,awesome pixel graphics! The game runs decent on the Switch.(it stuttered at a few points,but nothing crippling). Each member

Excellent story,awesome pixel graphics! The game runs decent on the Switch.(it stuttered at a few points,but nothing crippling). Each member of the Bergsons has their pros/cons. I would recommend this to anyone liking rogue-lite games. You progress just long enough to get a few unlocks, not making it feel like a huge grind. The overall sound adds just the right amount of atmosphere. highly recommended for any who like hack-n-slash as well!

…

Expand

Just completed this for the first time. Absolutely stunning story arc, the most beautiful pixel art I've seen and a fanatically rewarding

Just completed this for the first time. Absolutely stunning story arc, the most beautiful pixel art I've seen and a fanatically rewarding upgrade system make this one of my absolute favourite switch games. I can't wait to see what this team does next. A sequel hopefully!

…

Expand

I love this game, extremely rewarding gameplay loops and quick action. Minus points for long load times and random audio glitches crashes, but

I love this game, extremely rewarding gameplay loops and quick action. Minus points for long load times and random audio glitches crashes, but from what I've read those problems exist on other platforms. Glad I bought it on the Switch instead of PS4, it's nice to be able to jump into a game quickly and it looks great in portable mode

…

Expand

This was a really fun play. You have a lot of space to personalise your play by choosing which characters to play as and which of their skills

This was a really fun play. You have a lot of space to personalise your play by choosing which characters to play as and which of their skills to level up and what other abilities you want to upgrade. It keeps you hooked, when you think you might be about to get bored the dungeons offer you a new short side quest that sort of -wakes you up- again after just going through enemies. The storytelling by the narrator is great, the visuals are great, and you should definitely pick this game up! You really get your money's worth with the time you can spend playing the game as you can also play another mode after you finish the main story.

My only complaints about this game are that it has quite a few sound issues, the main ones I encountered were glitches in the storytelling during cutscenes and when there are a lot of enemies on the scream the creatures' sounds would just keep repeating even when you take them all out and even during loading screens.. it leaves you playing the game with the sound off sometimes. In the final stages of the game it also starts lagging a bit.

…

Expand

The stress mechanic is an unnecessary restriction on character choice, individual character progression is needlessly stretched out to

The stress mechanic is an unnecessary restriction on character choice, individual character progression is needlessly stretched out to increase replayability metrics, bizarre controller input lag in the home area, **** enemy spawns if you don't play fast enough for the devs. The entire mechanical design of the progression is the developers telling you how THEY want the game to be played. You WILL level up everyone at the same, ungodly slow rate, and Heaven forbid you like any one character more than the others.

…

Expand

I don't understand how you can do a 10/10 review here. I opt to do a 0/10 to compensate for it. This game is a lackluster roguelite rpg. You

I don't understand how you can do a 10/10 review here. I opt to do a 0/10 to compensate for it. This game is a lackluster roguelite rpg. You don't have much content, don't have much story, don't have many abilities, don't have anything that makes it good. You just a click and dodge, and sometimes b click. When compared to HADES, this is no roguelite because it doesn't even matter what of these **** perks you get. You grind till you match the linearly scaling damage requirements and you don't ever care about perks. Game is also very short and the characters are imbalanced and most are very boring.

…

Expand