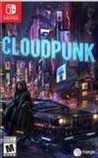 Summary:

Your name is Rania. This is your first night working for Cloudpunk, the semi-legal delivery company based in the sprawling city of Nivalis. You go everywhere, from the Marrow below to the spires that pierce the grey clouds high above before scraping the edge of the troposphere. No delivery

Your name is Rania. This is your first night working for Cloudpunk, the semi-legal delivery company based in the sprawling city of Nivalis. You go everywhere, from the Marrow below to the spires that pierce the grey clouds high above before scraping the edge of the troposphere. No delivery job is too dangerous, and no one is faster than a Cloudpunk driver.

In this story-based exploration game, you will meet a diverse range of characters including androids, AI and unscrupulous humans at every level of society. Everyone has a story, and in the course of one night in Nivalis, everything will change.

…

Expand
Developer:

ION LANDS

Genre(s):

Simulation

,

Vehicle

,

Civilian

# of players:

No Online Multiplayer

Cheats:

On GameFAQs

Rating:

M
Since I have picked up this title and I have found it extremely hard to put down. I have even found myself removing my switch from its comfy home on the dock and taking the adventure with me to work. If you are looking for a mid-tier priced game at $24.99 that has a great atmosphere and offers several hours of gameplay, look no further.

You'll likely be able to finish Cloudpunk without running into any game-breaking bugs, but the question is whether you'll want to. Fans of the cyberpunk genre may enjoy running and flying about for a while, but you'd be forgiven for abandoning ship before long.

CloudPunk remains a unique game by its proposal to offer us a primarily narrative trip in a universe which incorporates all the great codes of Cyberpunk. But this Switch port is handicapped by technical defects which largely spoil the pleasure of discovering the city of Nivalis. Long loading times, ridiculous viewing distance, fluidity that is not always there ... Arriving on the Nintendo console, the title of Ion Lands greatly loses its splendor. A version to be avoided, quite simply.

Cloudpunk has a great concept, but it never quite lives up to its potential. It has a fantastic atmosphere and world, but there isn't enough substance to back it up. A strong story could have held everything together, but the endless droning dialogue kills any enthusiasm we have for the setting. The technical issues with the game could be fixed in the future, but it's sorely lacking in key areas that aren't as simple to fix. Nivalis is a fun city to visit, but it was easy for the inhabitants to drive us away, and there's no reason the Nintendo Switch version should even be considered the best platform to experience it on.

In the end, Cloudpunk is no Cyberpunk 2077. That should come as a shock to absolutely no one. As an Indie game, I can forgive Cloudpunk for being smaller, simpler than a AAA blockbuster, and it would be unfair to judge it by the same standard. This Switch version has also undoubtedly lost some of its polish in the port from PC. But there still must be gameplay, and what is attempted must be followed through on. Cloudpunk looks gorgeous, especially in first hour of playtime. The ability to just visit and fly over that huge, neon-soaked city of Nivalis is quite an accomplishment and for some, that will be enough to make it worth playing. It's just a shame that there couldn't be more to actually do among those beautiful, sparkling towers above the clouds.

I'm pretty sure that underneath these performance issues there is an interesting world ready to be explored. But the game's problems run deeper than it's graphical shortcomings. The pacing feels slow and doesn't give the player many options to fully explore the world that is being presented. If Cloudpunk looks interesting to you, I'd highly recommend you look into other possible versions you might be able to play, because the Switch simply isn't the place to explore the city of Nivalis.

Cloudpunk on Switch is a hugely disappointing port that struggles technically and ultimately fails to deliver the game in a satisfactory manner on Nintendo's hybrid platform. Merge Games have made drastic cuts all over, with a massively reduced draw-distance sucking much of the life out of Nivalis, volumetric effects missing entirely, pixellation rampant and a framerate that still chugs along in the face of all of these concessions. If you've got a PC capable of playing this one we'd highly recommend you play on that platform as this is an adventure that's well worth experiencing in its original form. This particular version, however, should probably be avoided.
Firstly the good, there is an interesting game here, it's a slow burn storey but fun, picking up packages from point A delivering to point B,

Firstly the good, there is an interesting game here, it's a slow burn storey but fun, picking up packages from point A delivering to point B, never asking questions about what's in the package, there's zero combat so it's a game you can't really fail at. The voice acting is pretty decent all round, especially your AI dog. Now the bad, the draw distances are TERRIBLE, I mean only Superman 64 could compete with this, it's really bad that what they show on the Eshop is the PC version, this is really bad false advertising, as should be grounds for refunds for people who feel duped, the loads times are not really long, but long enough to be annoying, and you'll be seeing the load screen A LOT, going from one zone to another, which you do very frequently, you'll be seeing that load bar. if you can tolerate the fog/draw distance, and constant load screens, there's a decent game here, but if you've got a PC that can run this (alas I don't) then that would be the choice to go with.

…

Expand

Can't see far enough to fly/drive!
Whst i could play was fun, tho i had to use my imagination. Cool music. Dreadful frame rate locks up sndCan't see far enough to fly/drive!
Whst i could play was fun, tho i had to use my imagination. Cool music. Dreadful frame rate locks up snd crashes you into stuff. Poorly ported to switch, looks amazing on pc, no reason for it to perform so poorly, when compared to other open world games on switch.
It's like going back in time to N64 so much fog

…

Expand

Barely playable because of the insanely low framerate. Really boggles the mind that the developers thought this was acceptable as port. Do not

Barely playable because of the insanely low framerate. Really boggles the mind that the developers thought this was acceptable as port. Do not buy unless there's a patch that optimizes the game, in which case I'll edit the review.

…

Expand

Trash port. That's all I wanted to write but Metacritic requires seventy-five characters post.

This version is unplayable. The draw distance is too close and the frame rate is unacceptable.

Game doesn't look at all as advertised in eshop. Very low distance draw is completely ruining graphics aspect of game. And it still runs like

Game doesn't look at all as advertised in eshop. Very low distance draw is completely ruining graphics aspect of game. And it still runs like garbage. This is something that shouldn't be released at all.

…

Expand