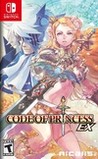 Summary:

Code of Princess EX brings a unique combination of hack-and-slash beat-'em-up action and role-playing depth to Nintendo Switch!

The story follows Princess Solange of DeLuxia as she fights to restore order in a world where monsters are trying to overtake the human race. Armed with theCode of Princess EX brings a unique combination of hack-and-slash beat-'em-up action and role-playing depth to Nintendo Switch!

The story follows Princess Solange of DeLuxia as she fights to restore order in a world where monsters are trying to overtake the human race. Armed with the legendary sword DeLuxcalibur, Solange assembles a team of talented fighters to join her quest. Together, they embark on an epic journey where they will confront the monster uprising and try to discover it's secret origins.

…

Expand
Developer:

Nicalis

Genre(s):

Role-Playing

,

Action RPG

# of players:

No Online Multiplayer

Cheats:

On GameFAQs

Rating:

T
Code of Princess EX is a wonderful remaster of an already great game. The rebalancing of enemies and heros makes it easier to pick up and play and the ability to play on a TV makes the HD graphics really pop. If you had missed this on the 3DS, and are a fan of anime, do yourself a favor and pick this title up.

The humour tries a little too hard at points, but generally speaking, there's a genuinely great spirit to the game, and with the addition of multiplayer, you'd be hard pressed to find a more enjoyable brawler on the Nintendo Switch.

Code of Princess EX is pleasantly playable, finally fluid compared to the 3DS version, and the combo fans will find a very flexible game system. Unfortunately, it is also repetitive to the bone, and the visual impact on a big TV screen doesn't look so great.

The combat feels smooth and responsive, yet there wasn't enough variety. I like the characters, though I quickly got tired of listening to them. The RPG component was the worst offender. A system meant to create depth instead offered frustration in high doses.

Code of Princess EX is fun in spurts, but is otherwise a mixed bag. I enjoyed the cast's jabs at the story more than the plot itself. The mechanics are empowering and fun to play out, but lead to a repetitive and predictable gameplay loop. Likewise, the plethora of playable characters is offset by limited movesets. The relatively high price for a port of a 3DS game may not win many fans over either. Ultimately, Code of Princess EX is most tailored to enthusiasts of the beat-em 'up genre and to players seeking a cathartic experience.

Code of Princess EX is a bit of a mixed bag for. It looks great, never missing a beat no matter how action-packed things get, and it's certainly very accessible. And it's fun – for a time. It simply isn't a game that will stay with you for any length of time. It's more a palate cleanser between meatier fare, or for those times you want to relive your youth with some Streets of Rage-style bashing.

From an aesthetic and button layout perspective, Code of Princess EX is really good. If its story was more layered, its characters were more fleshed out, and you could split the Joy-Con, this would have easily been one of the top games of the year.
It is fun for what it is enjoy it and If you can afford to support the devs good.

I finished the game. The main story is short, and there was maybe one boss that I had to grind to fight twice. The online is abysmal no one is

I finished the game. The main story is short, and there was maybe one boss that I had to grind to fight twice. The online is abysmal no one is ever on, or in the lobby. I felt changing lanes should put distance between you, and your enemies but it did not. Only thing it was good for was breaking objects for rations. There are tons of characters to unlock, but I found 2 that met my play style and stuck with them all game. The story line is easily forgotten. There are bonus missions that have increased difficulty over the main game. You can just button mash, and hug enemies and cruise through this game in 15-20 hours. Disappointing a lot of the items your purchase in store are useless for character, and you end up carrying a lot of the same equipment for long periods of time.

…

Expand

The thing that made me buy this game was the original cover of Bengus (from Capcom fame) and Solange's design which I really liked it, the

The thing that made me buy this game was the original cover of Bengus (from Capcom fame) and Solange's design which I really liked it, the next thing that I noticed was that this game was pretty bland in almost everything.

I didn't have a bad time playing this game but it wasn't great either, the game feels so rudimentary in a lot of aspects, like the "3D" models, for instance, I think that they're sprites similar to DK on SNES the problem is that maybe that worked in 3DS but in a big HD screen that doesn't translate well, also the gameplay has some issues, my biggest one is that you advance through "rails" or something like that, and the way you change from the three of them is kind of annoying and unresponsive sometimes, also, I'm not that good at action games like DMC or Bayonetta but I sure like them, but the combos in here felt very limited and simple, that, or maybe I didn't play well, the problem is that there is no combo "manuals" or something, so you have to figure it out the combinations.

The story and characters are pretty generic also, it has this trope of "I know this is an RPG and you know that this story is going to some generic places but who cares?" and it's pretty forgetful, aside from a few lines and the ending that has some charm and twist but that's it. You can control the other side characters in the main quest, but the story is so short and the combat is really weak that probably you don't want to bother with the grinding. Speaking of grinding, there are like 2 bosses in this game that make me grind for like 15 minutes but that's all. When you finish the game, that's that, it has zero replayability or at least for me, the online modes were pretty dead and no one showed up so I'm not sure how good was that.

I wasn't bored by this game but I didn't have a good time in its 5 hours lifespan, so if you want to have this game just for the cover and add it to your collection you maybe want to buy it like for 10 dlls or something, aside from that you can just pass it.

…

Expand

The games looks like an okay game at first, until you realize some of the models look real bad when viewing them in a cut-scene. This game was

The games looks like an okay game at first, until you realize some of the models look real bad when viewing them in a cut-scene. This game was made for the 3DS, and the price stayed the same which is bad, this game is not worth the $40 when this game is not really responsive. Honestly the game only worth it if you find it for $5 or less.

…

Expand

Do you like being stun-locked for 20-30 seconds while two enemies hit you for 30+ hit combos? Do you like horrible boss fights (seriously,

Do you like being stun-locked for 20-30 seconds while two enemies hit you for 30+ hit combos? Do you like horrible boss fights (seriously, wrong gear makes bosses impossible, right gear and you end the fight in 10 seconds. What the hell...)? Do you like fighting wave after wave after wave of spongy tanky enemies that don't bother attacking you and just stand there soaking up damage?
I have a lot of positive things to say about the dialog and the humor and the character design, but this is a game, not an anime and if the gameplay is crap than the game is crap.

…

Expand

This is an absolutely atrocious port of the already mediocre 3DS title. The controls are very stiff and often unresponsive and the issues

This is an absolutely atrocious port of the already mediocre 3DS title. The controls are very stiff and often unresponsive and the issues plaguing the 3DS version, such as horrible balancing and ridiculous difficulty spikes and dips, still persist in this version. If you enjoyed the 3DS version, as I did enough to say it's a solid 6/10, this port will not only give you absolutely nothing new, but it will give you control issues on top of that.

…

Expand