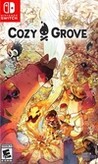 Summary:

Welcome to Cozy Grove, a life-sim game about camping on a haunted, ever-changing island. As a Spirit Scout, you'll wander the island's forest each day, finding new hidden secrets and helping soothe the local ghosts. With a little time and a lot of crafting, you'll bring color and joy back to

Welcome to Cozy Grove, a life-sim game about camping on a haunted, ever-changing island. As a Spirit Scout, you'll wander the island's forest each day, finding new hidden secrets and helping soothe the local ghosts. With a little time and a lot of crafting, you'll bring color and joy back to Cozy Grove!

Features:

* Beautiful, dynamic, hand-drawn landscapes that come alive when you help a spirit in need.
* Dozens of memorable characters and spirits for you to find and befriend. Each spirit has a unique, extensive story for you to unravel over time.
* Collect spirit animals, craft decorations, go fishing and more!
* 40+ hour campaign filled with side quests, designed to span months of playtime.

…

Expand
Developer:

Spry Fox

Genre(s):

Simulation

,

Adventure

,

General

,

Virtual

,

Virtual Life

# of players:

No Online Multiplayer

Cheats:

On GameFAQs

Rating:

E10+
Please enter your birth date to watch this video:
You are not allowed to view this material at this time.
Cozy Grove: New Neighbears DLC - Launch Trailer
Cozy Grove succeeds on all notes, especially on the Nintendo Switch. Having put time into both the Steam and Switch versions of the game, the latter is the perfect home for this game. As cheesy as this may sound, turning on your Switch, curling up with some coffee, and getting cozy with Cozy Grove is just what you need. Whether you're looking for a game to play in bursts or a new world to just never leave, this is a title you need to pick up.

Cozy Grove is great to look at, and only having to spend 20 minutes a day doing so doesn't make it feel like a chore. Gameplay can eventually feel repetitive, alas, such is the struggle with life sim games, and this one does it better than most.

If you are looking for a new game to chill out with, Cozy Grove is definitely going to scratch that itch. It has enough in common with other life simulation games to make you feel comfortable, whilst still being different enough to have its own identity. I can't speak to how much longevity this title has, but I do know that every moment for me has been a joy. So put on your Spirit Scout sash and head to the island, you're going to love it!

Cozy Grove is charming, to be certain. It definitely gives you a sense of purpose with its ghosts you can help find peace, collection to fill, and island to decorate. But there are also times when it can feel quite limiting. Once you complete your tasks for the day, you're really done and your immediately available storage space can discourage you from prep work for ensuing days. Your supernatural neighbors aren't good for socializing in the same way Animal Crossing's villagers are. It can also feel a bit cluttered and difficult to find what to do, due to the color palette and environment. It is for certain a thing people interested in life sims would likely enjoy, but it feels very structured and interested in keeping you on its timeline.

Like Animal Crossing: New Horizons, Cozy Grove's leitmotif is to take your time, while taking advantage of breathtaking artistic direction. Its positive attitude and its very chill side will delight fans but are unlikely to change the minds of those who do not appreciate the genre.

Stardew Valley fans will feel right at home in this charming and beautiful game. Unfortunately, the more I played, the more flaws I noticed (e.g. fetch quests being the main course) and the more I was annoyed by poor optimization. Problems with the latter intensified as my base grew and they're the main reason I couldn't rate Cozy Grove higher. [07/2021, p.70]

Cozy Grove measures out its game sessions in snack-size portions, and its gorgeous artwork and genuinely laugh-worthy dialogue almost make up for its metered-out gameplay. Sadly, with a few technical issues on Switch, and the game's refusal to let players set the pace, it's one best played on a mobile device for now.
DISCLAIMER: The game has a real time daily task pace like in Animal Crossing. If you do not like this, then this game might not be for you.

DISCLAIMER: The game has a real time daily task pace like in Animal Crossing. If you do not like this, then this game might not be for you.
Cozy Grove is an incredibly relaxing and soothing game with a beautiful art style, lovely characters and a ton of things to do. I am usually very critical with the games I play but somehow Cozy Grove is so heartwarming and offers so much to do (daily quests, fishing, crafting, bird pets to care for, alot of characters) for such an incredibly low price. I really don't want to sound as if I got bought or something, but I am really rooting for this game, because you really see how much care and effort the developers put into it. In my opinion Cozy Grove is for you, if you want a nice and beautiful game you can play daily for some time to relax, forget the issues of real life and feel cozy. Also, I want to mention there is really a lot of content there. I mean there are 180 fish, over 150 plants atleast, things to cook, so many craftables and every bear (there are atleast 20 from what I know) has a unique story and some personal problems you can easily help them with (their stories so far were not depressing per se, more like funny quirky weirdly relatable). The first days might be a bit slow, since there isn't that much to do (still like 30-60 mins gameplay), but after lets say day 3 there is really a lot to do every day. Thanks for reading!

…

Expand

O jogo é muito bem feito, ele te faz relaxar enquanto joga e não ficar com a mente acelerada pensando em como subir de nível.

I love it! Its so calm and engaging. I was looking for something similar to Wild at Heart and I would say I like this game even more!

A beautiful little game, so charming and saddening at the same time. It feels like a blend between Animal Crossing and Spiritfarer, your

A beautiful little game, so charming and saddening at the same time. It feels like a blend between Animal Crossing and Spiritfarer, your typical Animal Crossing grindy gameplay mechanics but this time they serve a higher purpose other than buying furniture. You'll be helping spirits trapped on your island handle unfinished business while learning about their past lives. I've seen alot of complaints about the game limiting you on story progression on each playthrough, i don't necessarily see this as a bad thing, it keeps the grinding to a minimum while offering plenty of peaceful music and story to leave you satisfied until the next day. Highly recommend, they're few games that do the Animal Crossing formula well, this is one of them.

…

Expand

The game is very well put together from what I gather so far (I'm on day 3) the music is wonderful and each of the bears has a great story to

The game is very well put together from what I gather so far (I'm on day 3) the music is wonderful and each of the bears has a great story to tell. It's nice to be able to hop in and complete your tasks for the day and not have to grind for hours. I'm very happy with Cozy Grove

…

Expand

I bought this game thinking it would be a nice change of pace from Animal Crossing, but it's literally just Animal Crossing but full 2D and a

I bought this game thinking it would be a nice change of pace from Animal Crossing, but it's literally just Animal Crossing but full 2D and a little more progression based (and ghosts) . If you want a better game, and you're not on a budget, just get Animal Crossing New Horizons. However if you are on a budget, it's actually a pretty good game.

…

Expand

EDIT: A game-breaking bug has appeared. Certain types of items keep vanishing from my backpack, making some quests impossible to finish. They

EDIT: A game-breaking bug has appeared. Certain types of items keep vanishing from my backpack, making some quests impossible to finish. They are the kinds of items you either find by foraging or buy from Mr. Kit, so they aren't "replaced" by mail. One such quest, I have been trying to complete for three days. I get the items I need, and by the time I get to the questgiver, they've gone from my backpack.

Lovely little game, marred by some technical issues. It is prone to slowing down a fair bit, especially when you are running across the island. There's also a fair old bit of sudden pop-in for background object.

Other than that, it's a nifty little thing, that's meant to be played for 30 to 60 minutes per day. That might not suit some people, but I'm sure I wont be the only person who finds this suitable.

Pro-Tip : When placing objects, put them in your hand first, then throw them to the spot you want them to be in. It's so much more accurate than just dropping them where you stand.

…

Expand