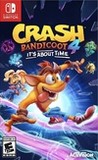 Summary:

It's About Time - for a brand-wumping new Crash Bandicoot game! Crash fourward into a time shattered adventure with your favorite marsupials. Neo Cortex and N. Tropy are back at it again and launching an all-out assault on not just this universe, but the entire multiverse! Crash and Coco are

It's About Time - for a brand-wumping new Crash Bandicoot game! Crash fourward into a time shattered adventure with your favorite marsupials. Neo Cortex and N. Tropy are back at it again and launching an all-out assault on not just this universe, but the entire multiverse! Crash and Coco are here to save the day by reuniting the four Quantum Masks and bending the rules of reality. New abilities? Check. More playable characters? Yep. Alternate dimensions? Obviously. Ridonkulous bosses? For sure. Same awesome sauce? You bet your sweet jorts. Wait, are they actually jorts? Not in this universe!

…

Expand
Developer:

Toys for Bob

Genre(s):

Action

,

Platformer

,

3D

# of players:

No Online Multiplayer

Cheats:

On GameFAQs

Rating:

E10+
Please enter your birth date to watch this video:
You are not allowed to view this material at this time.
Crash Bandicoot 4: It's About Time – New Platforms Launch Trailer
While the sharp difficulty spikes and commitment required for completion can be daunting, Crash 4 miraculously succeeds as both a direct successor to the original 90s trilogy, and a modernised reimagining of the franchise. It might be the best Crash game yet.

If you haven't played Crash 4 yet, this is a competent version of the game if you don't mind the drastically reduced visuals. However, it is slightly more glitchy and more difficult due to reduced visual clarity and the halved frame rate.

Like all Nintendo Switch ports, Crash 4: It's About Time makes concessions to run on the less-powerful hardware. Ultimately, though, the concessions are more than worth it to get a great game with a wealth of content running on the Nintendo Switch.

Yes, because of its lower definition, It's About Time exhibits sluggish panoramas. Nothing too intrusive for overall readability, except perhaps for times when the character is sliding from one rail to another at full speed, but the downgrade should be noted.

Overall, Crash Bandicoot 4: It's About Time on Nintendo Switch is well worth picking up if you liked the version that came out on console earlier this year and want a portable copy. It holds up very well on Nintendo's system, and springs a few surprises with how well it handles everything. As for newcomers, this is probably as close to Warped as we're going to get, so classic Crash fans should grab it too, even if it's not quite Crash with all the trimmings.

I know, I know - it ain't pretty, but looks aren't everything, and for what it's worth, this is an extremely solid port of an excellent game. Switch players should definitely give this one a try.

Crash Bandicoot 4 is a raving success when it comes to producing a sequel worthy of the franchise's original trilogy. Any fan should have no hesitations in picking this up. The content on offer is huge, with tons to collect and aim for in every stage, costumes to unlock, different characters to play as, fresh gameplay that compliments the familiar, and bundles of humour and charm. This is not an easy game, however. Getting to the end is one thing, but be prepared for one of the toughest tasks in modern games if attempting to 100% every level. Despite the performance cutbacks on Switch, it runs and looks well enough, but if portable play doesn't matter to you, it might be wiser to opt for one of the other versions.
this game has consumed my life i have tried to 100% for 20 hours and im only 20% done

Good game for my , and the port is excellent with good Quality and Texture , Recommended.

It was a nostalgic trip into the frustrating world of Crash Bandicoot. There were a lot of times where it wasn't easy, but I enjoyed it. I

It was a nostalgic trip into the frustrating world of Crash Bandicoot. There were a lot of times where it wasn't easy, but I enjoyed it. I enjoyed dying a lot, and that says something about a game. The story isn't what keeps you playing this game; but i'm not here for the story, I'm here for good platforming and this game delivers.

Overall: 7.5
Graphics: 8.5
Gameplay: 9
Audio: 7.5
Story: 5

…

Expand

Let me start this review off by saying that I think that Crash 4 is an enjoyable game, especially for casual gamers. While it doesn't have a

Let me start this review off by saying that I think that Crash 4 is an enjoyable game, especially for casual gamers. While it doesn't have a truly engaging story, it has plenty of levels to enjoy that looks great, sounds great and offer a decent challenge most of the time. The levels also have fun gimmicks like slowing down time, making boxes appear/disappear on command and rail grinding sections that will make playing through the considerably long levels more enjoyable. Overall, if you only want to get through the base game without collecting everything, you have a pretty nice package here that should last you around 10-15 hours.

However, if you're the type of gamer that likes to experience everything that a game has to offer, like me, then that nice little package starts to stink of **** Each level offers a lot of replay value, some good but mostly bad. You have the good, like completing time trials, collecting all crates and making it through the level without dying. Then you have the bad like collecting a set percentage of Wumpa fruit (which is not all that different than collecting all crates and feels like extra padding to artificially lengthen your play time) and finding hidden gems. What could be bad about finding hidden gems, something that normally enhances one's game experience with exploration (like Mario or the older Crash games for example)?

Well it seems Toys for Bob went out of their way to make finding these gems as obnoxious as possible. While a few of these gems are genuinely well hidden with good visual cues, most are placed in spots that don't make sense or are flat out off the screen. Players with lots of patience may be able to find these gems on their own, but most will likely have to rely on a strategy guide to find them (myself included), which really hurts the experience by taking away the satisfaction of finding said gems on your own with well thought out visual cues.

The last thing I want to focus on are the levels, and specifically their pacing. These levels are LONG, like I mentioned earlier, and significantly more so than the older Crash games. While this should normally be a good thing, it isn't for this game. Failing a time trial or dying more than 3 times (if you're trying to get the gem for low deaths) means having to restart a level all over, which can take 10 to 15 minutes to complete in real life. This is especially demoralizing if you run into these unfortunate circumstances near the end of a level (made worse by the long load time when you hit the restart button).

In conclusion, Crash 4 is enjoyable ONLY IF you play through the base game. Trying to get `100% (or 106% for this game) quickly sours the game experience with artificial difficulty (made worse with the inverted levels, which are primarily reskins of the original level with barely noticeable changes to enemies and crate placements). I only recommend this game if you only want to play through the main story or if you really want the satisfaction of fully completing the game with the nsane 106% requirements.

…

Expand

This game is by far the worst waste of time you can hope for. It was developed so poorly and last generation that there is simply no way to

This game is by far the worst waste of time you can hope for. It was developed so poorly and last generation that there is simply no way to enjoy time spent in this game. I am incredibly disappointed in everyone who worked on this piece of junk. May they never develop another game.

…

Expand