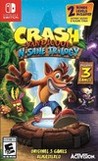 Summary:

Your favorite marsupial, Crash Bandicoot, is back! He's enhanced, entranced & ready-to-dance with the N. Sane Trilogy game collection. Now you can experience Crash Bandicoot like never before in Fur-K. Spin, jump, wump and repeat as you take on the epic challenges and adventures through the

Your favorite marsupial, Crash Bandicoot, is back! He's enhanced, entranced & ready-to-dance with the N. Sane Trilogy game collection. Now you can experience Crash Bandicoot like never before in Fur-K. Spin, jump, wump and repeat as you take on the epic challenges and adventures through the three games that started it all, Crash Bandicoot, Crash Bandicoot 2: Cortex Strikes Back and Crash Bandicoot: Warped. Relive all your favorite Crash moments in their fully-remastered HD graphical glory and get ready to put some UMPH in your WUMP!

…

Expand
Developer:

Vicarious Visions, Toys for Bob

Genre(s):

Miscellaneous

,

Compilation

# of players:

No Online Multiplayer

Cheats:

On GameFAQs

Rating:

E10+
Please enter your birth date to watch this video:
You are not allowed to view this material at this time.
Crash Bandicoot N. Sane Trilogy - Nintendo Switch Announcement Trailer
Crash Bandicoot N.Sane Trilogy can be compared to a good, old Chardonnay. It gives players the ability to enjoy an excellent remaster of three classic platformers and the adventures of an iconic character in one, single package. This is a collection that all Switch owners should be looking forward to.

Crash Bandicoot returns with new graphics and the classic gameplay (which is sometimes unforgiving due to the camera movement). Nintendo Switch version offers lower resolution than PS4 or Xbox One, but the game still looks great and we love the possibility to play anywhere in portable mode.

At the fair price of $40, the Crash Bandicoot N. Sane Trilogy offers three fun platforming classics that have been re-created from the ground up, and only minor adjustments have been made for the Switch. The first title suffer from its unification strategy, so it's a more frustrating experience, but Cortex Strikes Back and Warped play really well. The visual style and graphical performance on the Switch are fantastic thanks to the minor adjustments, making this a well-deserved port for the handheld's library.

Crash Bandicoot N. Sane Trilogy is a loving remaster of a series of fan-favorite games. If you need a dose of 32-bit nostalgia, or if you want to see where one of gaming's iconic characters started you can't go wrong here.

Crash Bandicoot: N. Sane Trilogy is a fun collection of titles filled with nostalgia value, presented in a wonderful looking HD package. It runs well and overall is a perfectly competent platformer. If you can forgive that some aspects of these games haven't aged well in the last 20 years, then this can be a pretty fun throwback experience.

The culprit behind Crash's dated feel is the passage of time. Vicarious Visions, for its part, succeeded in revitalizing Crash from an artistic perspective while preserving the charm that made him appealing when he first showed up, but years have passed since the original PlayStation was relevant, and we are well past the formative years of 3D gaming.
One of the best Ports to The Nintendo Switch, as many people complain about Crash's Difficultly I didn't run into parts why it was to

One of the best Ports to The Nintendo Switch, as many people complain about Crash's Difficultly I didn't run into parts why it was to difficult, I am glad that the creators decided to change somethings that many people found annoying in the original PS4 release such as Longer Load Times which now don't take their time to load, certain lighting effects like why Cortex is Speak to you in Crash 2 and 3 his head now clashes well with the background. Even though the Switch Port isn't as powerful as the PS4 release it is still a must buy for any Switch Owner the Trilogy's Three Games are all amazing and play well Docked and Portable the N Sane Trilogy was a great choice for Switch, Now we can only hope that Spyro get's a release on Switch or Crash Joins the Battle in the Smash Ultimate.

…

Expand

Muito bom os gráficos são muitos bonitos, e os controles são competentes nunca morri por-causa do controle ou de um bug adorei recomendo

Crash Bandicoot N. Sane Trilogy is one of the best made ports to the Switch so far. Very good quality and enjoyable games with a few kinks of

Crash Bandicoot N. Sane Trilogy is one of the best made ports to the Switch so far. Very good quality and enjoyable games with a few kinks of the past still lingering like the controls being a little bit slippery and trouble with depth perception. However, it does not take away from how fun and classic these games feel even in a high definition polish. Three games definitely worth $40.

…

Expand

I never played Crash Bandicoot for the Playstation, so this game is somewhat new to my playing (I know that is sad but true). However I really

I never played Crash Bandicoot for the Playstation, so this game is somewhat new to my playing (I know that is sad but true). However I really enjoyed playing it on the Switch. The challenge level is tougher than I ever imagined but just enough not to make it impossible. It is a great throwback game and one you should get if you are nostalgic on the 64-bit era.

…

Expand

I remember playing all three of these Crash games back in the 90s when I had better hair and reflexes. I bought this game on PS4 last year and

I remember playing all three of these Crash games back in the 90s when I had better hair and reflexes. I bought this game on PS4 last year and was hesitant to plop another 30-40 bucks on a technically inferior Switch version. But one of the Switch's selling points is its portability and that makes one's 'definitive' version of a cross-platform the Switch version one can take anywhere.

First, the graphics are noticeably worse than the PS4 version. No fancy hair effects on Crash, poorer shadows, and less vegetation are all easily recognized with a point of comparison. After playing for a few hours on a proper monitor though, those differences become less and less important. The resolution is a bummer however, I really wish they could have hit 1080p on docked. The frame-rate is solid and I haven't noticed any slowdown at all so far. The 30fps target isn't stellar but that's all this port had to aim for. ONE HUGE IMPROVEMENT comes with the load times. Holy cow! One of the main reasons I didn't like booting up or playing this game on PS4, was the obscene loadtimes for the games themselves and every level in and out. That hasn't been patched out as far as I know. On Switch everything loads quickly and is no longer an annoyance.

As far as the games themselves, they are still a blast if you like more old-school platformers. I've read some reviews that pain these games as out-dated or otherwise showing their age with regards to gameplay. I think that's an absurd argument. Certainly, these games are harder than a lot of more modern games, especially certain sections of Crash 1. The mechanics are more simple but they are tight and pushed to the hilt. The games challenge relies on precision jumping in both time and space.

I personally enjoy this style of gameplay. The levels are varied aesthetically and filled with secrets. For completionists there are plenty of very challenging activities in nearly every level.

It's not like Switch is hurting for platformers, but, if you like them this is definitely worth looking into because with 3 whole games in the package, you're getting some serious bang for your bucks.

…

Expand

Игра сама хорошая и для своего времени была великолепной. Буквально культовой.
Но ремастер изменил графику и все. Он не избавился отИгра сама хорошая и для своего времени была великолепной. Буквально культовой.
Но ремастер изменил графику и все. Он не избавился от многочисленных проблем игры.
Игра была сложной. Ремастер эту сложность оставил. Только вся сложность заключается в кривизне самой игре. Разработчики тогда даже не знали что такое геймдизайн, не говоря о том, чтобы пытаться сделать правильно. Они просто сделали игру. Для того времени это было хорошо.
Но для сейчас куча настолько банальных ошибок в игре все портит. В день я прохожу по 1-2 уровня. Мне приходится заставлять себя. Мне нравится игра, но порой она максимально не честна, а сложность ее не адекватна.
Это нормально, когда тебя заставляют проходить один уровень на 100% при этом не умирая, чтобы получить особый бонус?
Да.
Только в этой игре есть много проблем. Например, ОЧЕНЬ сложно оценивать расстояние. И 30% всех смертей основываются только на этом.
Потом идет камера, ибо она порой стоит так, что не видно врагов, на которых ты идешь, или дороги, по которой надо тебе идти. Это еще около 15% смертей.
Еще около 5% это прыжки. Прыжки в этой игре нужно делать абсолютно идеально, иначе ты просто не допрыгнешь. И я преувеличиваю, но только чуть-чуть. Надо делать прыжок в последние моменты соприкосновения с землей. Иначе ты просто не допрыгнешь. Нормальное дело, скажете?
Да, нормальное. Только если из этих прыжков не состоит вся игра и вся механика игры. Причем игры скоростной, где некоторые уровни надо проходить на скорости и тебе нет дела до подчета пикселей.
А любая ошибка отправляет тебя на последний чекпоинт. Здесь нет жизней или типа того. Ошибся - умер.

Я все еще получаю удовольствие от игры, но многие такие проблемы отбивают желание играть в нее уже через полчаса запуска.

…

Expand

Delayed controls , frustrating and broken gameplay with crash 1 and 2 , do yourself a favor and play the original PlayStation 1 versions