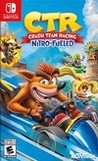 Summary:

Crash is back in the driver's seat. Get ready to go fur-throttle with Crash Team Racing Nitro-Fueled. It's the authentic CTR experience plus a whole lot more, now fully-remastered and revved up to the max:

• Start your engines with the original game modes, characters, tracks, power-ups,Crash is back in the driver's seat. Get ready to go fur-throttle with Crash Team Racing Nitro-Fueled. It's the authentic CTR experience plus a whole lot more, now fully-remastered and revved up to the max:

• Start your engines with the original game modes, characters, tracks, power-ups, weapons and controls

• Power slide to glory in additional karts and tracks from beyond the original game

• Race online with friends and Crash the competition with online leaderboards

With Crash Team Racing Nitro-Fueled, the stakes are high and the competition is fierce. It's the CTR you love, now kicked into the highest gear.

…

Expand
Developer:

Beenox

Genre(s):

Racing

,

Arcade

,

Automobile

# of players:

Up to 8

Cheats:

On GameFAQs

Rating:

E10+
Please enter your birth date to watch this video:
You are not allowed to view this material at this time.
Crash Team Racing Nitro-Fueled Gameplay: Speeding Across 4 Rad Tracks
Nitro-Fueled is an excellent racing game and an excellent remake of a classic. It's gameplay rewards player's skill and it's great success is to always make the player come back for more while gradually improving their performance.

Crash Team Racing Nitro-Fueled on the Switch is my favorite kart racer, even managing to outshine Mario Kart. The focus on tight and challenging gameplay that requires skill over luck was a nice change of pace. Add to that the great presentation and amount of content, and there's not much else that you could wish for. At this point, the only real complaints are the long loading screens, the microtransactions that Activision is rolling out, and the sometimes-broken multiplayer component. It's enough to make it anything but a perfect game, but it's a good title, especially for the $40 price tag.

Crash Team Racing: Nitro-Fueled has the thrilling speed and the addictive gameplay of the original and adds a metric ton of extra content for fans and newcomers to enjoy. Whether you're new to the frantic frenzy of Crash Team Racing or you've been hankering for a chance to play as Nitros Oxide himself, there's a whole lot of things to love.

It's always going to be a tough ask going up against the near-perfect Mario Kart 8, but Crash Team Racing: Nitro-Fueled is an excellent kart racing alternative for those looking for something different. It looks great, packs plenty of great content and offers and quality kart racing experience. There's certainly a learning curve, and some cheap AI and painful loading times can be frustrating, but there's a lot of fun to be had here regardless of whether you have nostalgic memories for the 90s original or not.

Crash Team Racing Nitro-Fueled is a fast, frantic and rewarding kart racer that's generously packed with a wealth of content. Its long load times and difficulty spikes may prove frustrating but it's never enough to detract from what is otherwise a brilliant remaster and another strong addition to the Switch's slowly growing lineup of racers.

I can't shake the feeling that if Nintendo's online infrastructure was more robust, the loading minimized, and the coins were able to be earned when offline, Crash Team Racing Nitro-Fueled would be an instant masterpiece and torch-bearer for remakes of beloved games. Sadly, it falls just short of such a title.

While the roughshod nature of the Switch port doesn't quite make Crash Team Racing a dominant kart racer on the system, the solid single-player mode and finicky yet rewarding boosting and driving still adds up to an enjoyable time, as long as you're fine with a visual downgrade and a long wait between races. I really enjoyed revisiting Crash Team Racing with Nitro-Fueled and it reminded me of how great the single-player component of this game is. I just wish there weren't such large caveats that held it back on Switch.
For $40, the amount of content you get in this game is outstanding.
A remake of a ps1 classic
a competitor to Mario Kart Stunning Graphics,For $40, the amount of content you get in this game is outstanding.
A remake of a ps1 classic
a competitor to Mario Kart
Stunning Graphics, smooth 60 fps gameplay, tons of fun local or online. This game is a must if your a fan of Mario Kart or Crash Bandicoot. Over 100 hours of gameplay easy

…

Expand

Very fun addictive game with lots of content. Best kart racing game on the Switch imo. Yes, better than Mario Kart too. It has better tracks,

Very fun addictive game with lots of content. Best kart racing game on the Switch imo. Yes, better than Mario Kart too. It has better tracks, the weapons and power-ups are better, battle mode is better. Mario Kart is great but CTR is amazing and way more fun.

…

Expand

Is a Great Game, with free DLC, is a complete game, only bad is a charge time.

Its ok but then again I'm not really into racing games but nevertheless if your a fan of crash bandicoot its a cool game to pick up

Muy mal port: Rompimientos (crashes), FPS bajísimos (me iba entre 20 y 30fps), calidad gráfica baja, borrosa y con dientes de cierra y CARGAS

Muy mal port: Rompimientos (crashes), FPS bajísimos (me iba entre 20 y 30fps), calidad gráfica baja, borrosa y con dientes de cierra y CARGAS ETERNAS (aunque tengo entendido que es así en todas las versiones, pero en Switch sigue siendo demasiado tiempo de espera de cargas).
Ya están avisados, es de lo peor en port que he probado en Nintendo Switch (junto al FE y a Rocket League) y es una pena porque el juego es muy entretenido, tanto así que me pasé todo el modo historia incluso con todos esos problemas mencionados, pero ya no puedo seguir jugando al juego de esta forma.
En cuanto al juego: Muy bueno, me encantaron los nuevos diseños y cómo rehicieron la música y efectos de sonido. No es el juego de Kart definitivo, ya que se nota que quedó muy anticuado sobre todo con el Mario Kart 8 y el Sonic & All Star Racing Transformed en frente, pero sigue siendo muy divertido. Eso sí, no es tan abierto como otros juegos de Kart, en este juego se necesita bastante práctica para que sea divertido jugar con amigos, lo cual puede alejar un poco a los nuevos jugadores.
Pero lamentablemente mucha de estas cosas buenas del juego se ven empañadas por unas políticas de micropagos abusivas de parte de Activision, una vez más, el cual le baja bastante nota al juego.
En "compulsión": Huyan de la versión de Switch. Lo ideal es esperarlo en Steam si es que tienen un ordenador (está cantado que saldrá en cualquier momento, yo optaré por esperar esta versión), o comprarlo en la versión de Xbox One, pero NUNCA en el de Switch (ya de por sí la potencia del Wi-Fi para online de Switch es lamentable si pensamos para multijugador también).

…

Expand

This review contains spoilers

, click expand to view

.

Activision games are neo-arcade garbage; Crash Bandicoot games are some of the worst platforming games that ever existed, Bubsy included; this game is nothing original, nothing good, and nothing worth doing. I'm glad they had a free trial on Nintendo Online. I'm not here to praise Mario Kart, either. Cart games are just party games and party games are for the same people who go to Michael Bay movies. Those are the same people that made Wii Sports and Guitar Hero huge.

…

Expand

Activision-Blizzard pulled a Blops4: they waited about a month to rack up goodwill reviews, then injected egregious, anti-consumer

Activision-Blizzard pulled a Blops4: they waited about a month to rack up goodwill reviews, then injected egregious, anti-consumer microtransactions after the overwhelming majority of people were done reviewing the game, and after promising not to add MTX. This is a long-standing pattern of behavior for them. NEVER trust an Activision-Blizzard product and their lies.

…

Expand