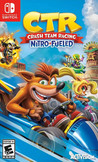 Summary:

Crash is back in the driver's seat. Get ready to go fur-throttle with Crash Team Racing Nitro-Fueled. It's the authentic CTR experience plus a whole lot more, now fully-remastered and revved up to the max:

• Start your engines with the original game modes, characters, tracks, power-ups,Crash is back in the driver's seat. Get ready to go fur-throttle with Crash Team Racing Nitro-Fueled. It's the authentic CTR experience plus a whole lot more, now fully-remastered and revved up to the max:

• Start your engines with the original game modes, characters, tracks, power-ups, weapons and controls

• Power slide to glory in additional karts and tracks from beyond the original game

• Race online with friends and Crash the competition with online leaderboards

With Crash Team Racing Nitro-Fueled, the stakes are high and the competition is fierce. It's the CTR you love, now kicked into the highest gear.

…

Expand
Developer:

Beenox

Genre(s):

Racing

,

Arcade

,

Automobile

# of players:

Up to 8

Cheats:

On GameFAQs

Rating:

E10+
Please enter your birth date to watch this video:
You are not allowed to view this material at this time.
Crash Team Racing Nitro-Fueled Gameplay: Speeding Across 4 Rad Tracks
Crash Team Racing was a giant in its day, and now, 20 years later, Crash Team Racing: Nitro-Fueled has reasserted the original's greatness. It is a faithful rebuild of one of the most beloved kart racers from an era that had greats such as Diddy Kong Racing and Mario Kart 64. Behind a fresh coat of paint, a great soundtrack, and a lot more tracks, Crash's racing adventure holds up pristinely and is worth a look for any fan of kart racing.

Realistically if you have the choice of which format to get many would plump for the PS4 or Xbox One versions, but I think it's the Switch version you should plump for, the portability and ease of multiplayer being considerable selling points should you fancy a quick race with a friend. Games like this make you realise that there are quickly becoming less and less reasons why games shouldn't be ported to Nintendo's great little machine.

The Nintendo Switch version of Crash Team Racing Nitro-Fueled isn't quite as sharp as the PS4 version I reviewed it on. In docked mode the difference is noticeable but doesn't detract from the overall experience. The Nintendo Switch version is a bit more jagged.

Crash Team Racing: Nitro-Fueled is a visually phenomenal upgrade on a PlayStation karting classic, and one that faithfully recreates both its positives (its unique drift boosting system) and its potential irritants (30fps, tricky AI). It does bring a whole new set of issues – mainly lengthy loading times and the fact that playing offline stops you making any progress towards unlocking anything – but while these prevent the game from becoming an absolute must-have, they don't sour the experience enough to stop us wholeheartedly recommending it regardless.

Take away the absurd loading times and choice of opting for a more enhanced version on other platforms, and Crash Team Racing Nitro-Fueled is everything a bandicoot lover could have hoped for.

Crash Team Racing Nitro-Fueled is a good arcade racing game, fun and very entertaining thanks to its game modes and the large amount of content that will delight those players who want to play many hours of the title.

While the roughshod nature of the Switch port doesn't quite make Crash Team Racing a dominant kart racer on the system, the solid single-player mode and finicky yet rewarding boosting and driving still adds up to an enjoyable time, as long as you're fine with a visual downgrade and a long wait between races. I really enjoyed revisiting Crash Team Racing with Nitro-Fueled and it reminded me of how great the single-player component of this game is. I just wish there weren't such large caveats that held it back on Switch.
For $40, the amount of content you get in this game is outstanding.
A remake of a ps1 classic
a competitor to Mario Kart Stunning Graphics,For $40, the amount of content you get in this game is outstanding.
A remake of a ps1 classic
a competitor to Mario Kart
Stunning Graphics, smooth 60 fps gameplay, tons of fun local or online. This game is a must if your a fan of Mario Kart or Crash Bandicoot. Over 100 hours of gameplay easy

…

Expand

Great game really fun works great in switch i really enjoyed this game back on ps1 I got this for switch because i can play in portable mode

Great game really fun works great in switch i really enjoyed this game back on ps1 I got this for switch because i can play in portable mode and works great

…

Expand

A great game if you played this game on the ps1 you will be right at home with this game. Also there is so much content in this game that at

A great game if you played this game on the ps1 you will be right at home with this game. Also there is so much content in this game that at this point im not even sure if you can call this a remake or just a whole new ctr. The only thing the need to fix is the increase of the wumpa coins a bit and the online experience but all around the same ctr. Also for the people who are rating this game a 1 out of 10 all I can tell you is GIT GUD.

…

Expand

No online split screen multiplayer!!
Only two modes race or battle. Not even a tournament or cup mode.
Very disappointing

Do not buy this game. Even though it's a single player game, it needs to always be online. You cannot earn cosmetics while offline, so it

Do not buy this game. Even though it's a single player game, it needs to always be online. You cannot earn cosmetics while offline, so it basically doesn't work while in portable mode. Plus, there is a 45 second load time to get to the main game hub, not to mention each race.

It's an unfinished mess that I hope gets patched one day, because the races aren't bad. But this port is unplayable.

…

Expand

DO NOT BUY THIS GAME!!!! AVOID AT ALL COSTS!!! This "game" is full of glitches like data corruption, lobbies crashing when hosts leave, tracks

DO NOT BUY THIS GAME!!!! AVOID AT ALL COSTS!!! This "game" is full of glitches like data corruption, lobbies crashing when hosts leave, tracks that don't work right, placement of racers getting jumbled after a race, etc. The whole point of the game is to win races to get coins to buy new racers, carts, and cosmetics. However, the coin payout is atrocious and gives you barely anything, so the game becomes a boring, grindy slog to play through. You're also required to play online if you actually want to earn any too. Of course, instead of actually fixing the game, Activision decided it would be a good idea to add in greedy, predatory microtransactions after they said they wouldn't and the game somehow got good reviews despite being a broken mess. Total waste of $40!!! Save yourself the trouble and money, and go buy a better kart racing game like either Mario Kart 8 Deluxe or Team Sonic Racing!!!

…

Expand

So the game itself is pretty good when it first came out, until greedy Activi$ion decided to screw over their fans by putting

So the game itself is pretty good when it first came out, until greedy Activi$ion decided to screw over their fans by putting microtransactions in a remake of a 20 year-old game before fixing the problems with online.
#RemoveMicrotransactionsFromCTR

…

Expand