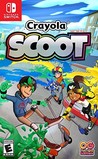 Summary:

Creativity wins in this colorful freestyle scooter championship. In Crayola Scoot, more tricks mean more color – and color can change the world in impossible ways. It's time to make your mark on the scootpark.
Crayola Scoot is a wonderful hidden gem that caters towards an all-ages demographic with a snazzy sense of style. With a great mix of missions, a killer soundtrack, and challenging opponents, you can color me shocked: This is something that kids and adults will love.

Crayola Scoot is one part Splatoon and one part classic Tony Hawk Pro Skater, but lacks online play and longevity if playing solo.

Crayola Scoot is a totally fine kid-centric extreme sports video game peppered with some nice touches, like the Splatoon-esque combo system or the gentle progression nestled within a harder series of challenges.

Licensed games that are genuinely fantastic are a rarity, to say the least. Unfortunately, Crayola Scoot is not one of these top-tier titles, due to poor presentation and the matter that everything it does has been done better before. Crayola Scoot is not without its merits, though. An interesting approach to scalable difficulty and polished gameplay mean that, although it is no replacement for Splatoon 2 or the classic Tony Hawk games, it's a fun title worth your time.

Crayola Scoot is a fun title and well-rounded package. The control system can be confusing at first, but becomes easier with time. With a single-player campaign and multiplayer to take in, it should have your attention for a while.
Es un bueno juego muy entretenido es muy divertido poder jugar con amigos en una misma pantalla tiene variedad de niveles y una historia que

Es un bueno juego muy entretenido es muy divertido poder jugar con amigos en una misma pantalla tiene variedad de niveles y una historia que lleva su tiempo completar

…

Expand

After missing the Tony Hawk Franchise for so long, and for wanting more from the foundation of Splatoon, I have finally found something that

After missing the Tony Hawk Franchise for so long, and for wanting more from the foundation of Splatoon, I have finally found something that unexpectedly combined both needs. Crayola Scoot is a fun interesting game about tricking with a scooter and leaving as much goop stuff as possible. I beat the game in two days and while I had a lot of fun there was a few things that the game left to be desired. The character creation feels very empty, having even less options than Splatoon. Having an option for face shape, eye shape, and nose shape would go a long ways. My only other complaint is the lack of online play. I feel the game would greatly benefit if all game modes also had an online capability to it. If in the future the game is updated these are some things that would take this 6/10 game up to an 8/10 game.

…

Expand

A abysmal game, nothing else to say! Stay away from this dogsh.t game! Dont buy this game