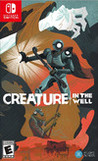 Summary:

Creature in the Well is a top-down, pinball-inspired, hack-and-slash dungeon crawler. As the last remaining BOT-C unit, venture deep into a desert mountain to restore power to an ancient facility, haunted by a desperate Creature. Uncover and upgrade powerful gear in order to free the city of

Creature in the Well is a top-down, pinball-inspired, hack-and-slash dungeon crawler. As the last remaining BOT-C unit, venture deep into a desert mountain to restore power to an ancient facility, haunted by a desperate Creature. Uncover and upgrade powerful gear in order to free the city of Mirage from a deadly sandstorm.

…

Expand
Developer:

Flight School Studio

Genre(s):

Action Adventure

,

General

# of players:

No Online Multiplayer

Cheats:

On GameFAQs

Rating:

E
Please enter your birth date to watch this video:
You are not allowed to view this material at this time.
Creature In The Well: The First 10 Minutes Of Pinball Action
Overall, I had an amazing time with Creature in the Well. It's one of the best dungeon crawlers on the Switch and most certainly deserves to be the pioneer in a new genre that Flight School is calling the "Pinbrawler." It's a game I can easily see myself coming back to multiple times.

Creature in the Well is a pleasant change to the usual dungeon crawler formula. While it can be punishing at times, its challenges can be overcome. If you enjoy Pinball, Breakout, Tennis or even games like Windjammers and would like to try a different spin on them, Creature in the Well is for you. There are at least five hours of fun genre mash-up here, that happens to have a really nice art style too. I'd love to see more like this from developer Flight School Studio in the future.

It's tough at times, there no denying that, but figuring out how to use each sector's layout to your advantage will soon make you appreciate the subtly implemented progression system and impeccably designed rooms, adding to the pinball hack and slash gameplay that feels fantastic in all its forms from the moment you step foot in the mountain.

Creature in the Well is a strange invention but one that ends up being much more than just a curious mixup of genres. It's a mysterious journey through a weirdly beautiful mechanical world, the pinball-esque hook constantly driving you forward as you explore deeper. It's an enjoyable venture sprinkled with moments of frustration, confusion, and repetition but that doesn't stop it being any less engaging and a true one of a kind experience for Switch.

Creature in the Well is unique, creative, and original, and we love original games. it is easy to understand and to play, and it provides a very well thought-out mix between hitting the ball and exploring the dungeon-like environments with minimalism approach.The experience didn't evolve as much as we hoped though, and we felt there is room for improvements.

Pinball-inspired dungeon crawler/hack-and-slash Creature in the Well is short, sweet, and satisfying, whatever that word means.

Creature in the Well is a clever and challenging original take on dungeon-crawl pinball. It might be too tricky at times, and irritating when you have to trek back to the point you died, but the action sure is fun.
The looks and gameplay of Creature in the Well are very unique, I really enjoyed the art style, it's nothing like I've seen before in a game.

The looks and gameplay of Creature in the Well are very unique, I really enjoyed the art style, it's nothing like I've seen before in a game. I find the controls feel tight and responsive, and they will need to be because this is a precision-based game, it gets intense. I'm positive it would be much easier with a keyboard and mouse though.

Other than my frustration with the switch pro controller, I really did enjoy the game. It is unique in a lot of ways, I've played pinball and I've played dungeon crawlers, but never both in the same game.

there is no traditional enemies to kill, instead there are bumpers and robots that shoot you, and, with a top down view, you have to very precisely eliminate the current sequence of bumpers without getting hit by the hostile turrets.

This is the frustrating part, it's very hard for me to aim with careful precision with the analog sticks, imagine playing an FPS with a mouse and then trying to get headshots with a switch pro controller, it's no contest.

with the difficulty of some of the objectives, it feels like the developers originally decided they were a PC release.

Don't let my slight frustration keep you from buying this, at it's current price it is a great time, and don't worry, you can skip objectives if you have enough electrical charge so you wont get stuck.

Get this on Steam

…

Expand

Very fun game, took me about 7 hours to get 99%. Gorgeous, unique visuals (that can get a bit repetitive but remain readable and appealing).

Very fun game, took me about 7 hours to get 99%. Gorgeous, unique visuals (that can get a bit repetitive but remain readable and appealing). Encountered a small bug where I got stuck in some bumpers by running too fast. Would be nice to be able to retry rooms, but running back after death wasn't a deal breaker. Would like to give it an 8.5, but it deserves the props for being so unique

…

Expand

I was looking forward to playing a blend of pinball and a dungeon crawler. The actual gameplay experience was very disappointing though. I'd

I was looking forward to playing a blend of pinball and a dungeon crawler. The actual gameplay experience was very disappointing though. I'd much rather have played regular Pinball instead as that would've been much more exciting and motivating.
Creature in the Well gets old really fast. It lacks the thrill of reaching high scores in Pinball and it lacks the depth and loot that you'd find in a dungeon crawler. There is also nothing else to do in the game except for moving from one room to the next while trying to hit targets so you can move to the next room and so on. This became immediatly apparent in the opening sequence where your character wakes up in the desert. I naturally tried to explore the area but immediatly got reset to the starting position whenever I moved too far from the intended path, which caused a lot of confusion as well as trial and error within the first 5 minutes of playing.
Also the graphics, while being stylised, are so incredbibly minimalistic that at times it makes it hard to navigate and differentiate which objects are in the foreground or in the background.

All in all, the game delivers exactly what it advertised. The actual gameplay experience however was quite disappointing.

…

Expand

Creature in the Well started off pretty fun but I only made it half way through.

Game(s) like: Pinball w/Hyper Light Drifter Pros: -Creature in the Well started off pretty fun but I only made it half way through.

Game(s) like: Pinball w/Hyper Light Drifter

Pros:
- Fairly unique gameplay in you use a pinball like action to get through rooms

Cons:
- I thought there would be more puzzles but it was really just hitting the ball into things
- Could have done so much more with different ball types and stick types that did interesting things

…

Expand

When you first start hitting the ball with your stick its fun, but after an hour its boring, after 2 hours its just pain boring. The game

When you first start hitting the ball with your stick its fun, but after an hour its boring, after 2 hours its just pain boring. The game doesn't change or get better, you just run around mashing the button of hold the ball then let go, thats it..

…

Expand