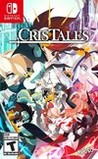 Summary:

Cris Tales is a gorgeous, indie love letter to classic JRPGs with a new perspective. Peer into the past, act in the present, and watch as your choices dynamically change the future -- all on one screen as you play! Join the newly awakened Time Mage Crisbell and her fantastical companions on

Cris Tales is a gorgeous, indie love letter to classic JRPGs with a new perspective. Peer into the past, act in the present, and watch as your choices dynamically change the future -- all on one screen as you play! Join the newly awakened Time Mage Crisbell and her fantastical companions on their journey across a dark, fairytale world facing a grim future.

Crisbell must embark across Crystallis and the four Kingdoms in a bid to stop the powerful Time Empress and rewrite the future of the world and all those living in it. Along the way, she'll meet and recruit powerful allies with their own unique stories and skills like Matias the Frog and Willhelm the Child Mage.

As she explores the world and meets her unique companions, Crisbell will have to make choices with far-reaching consequences for the people she meets consequences that will impact the world you'll experience in real-time throughout your journey. Each companion will be invaluable as you face these choices and the myriad enemies who stand in your way. Will you buffet them with attacks, or discover creative ways to use Crisbell's time powers to alter the reality of each fight?

…

Expand
Developer:

Dreams Uncorporated

Genre(s):

Role-Playing

,

Japanese-Style

# of players:

No Online Multiplayer

Cheats:

On GameFAQs

Available On:

Stadia

Rating:

T
Please enter your birth date to watch this video:
You are not allowed to view this material at this time.
E3 2019: Cris Tales - E3 Announcement Trailer
The developers of Cris Tales set out to make a love letter to the genre. When writing a love letter it's easy to cloud your judgement at times. You're after all so head over heels into it. Do you really care what others think? The load times, basic story, and unsatisfying ending are easy to overlook when you're in love with the genre. Cris Tales is too pretty to pass up if you want a taste of a nostalgic JRPG.

If you listen to Cris Tales talk, it sings with love for its influences. But sometimes, maybe we can love too many things. The game is remarkable on a variety of fronts, notably its look, its sound, and its love for Colombia. All of that works. But it feels the weight of its many influences. Eventually, when the developers throw so many things at the wall, it starts to get messy, with a story that tries to do too many things, combat that never fully lives up to its potential, and a bloated run time. Still, I'd rather love too much than not enough. Cris Tales might talk about more than it should, but I kind of love it for that.

Cris Tales is a fantastic JRPG that blends enough traditional mechanics with new ideas to keep it feeling fresh and innovative. It features an engrossing world you'll long for more hours to explore and absorb.

Cris Tales tells a charming JRPG tale in a gorgeous and weird world, but it's hobbled by incredibly monotonous combat. Its battles undoubtedly overstay their welcome, but this unique odyssey still manages to shine through them a bit thanks to its style, characters, and the inspired (non-combat) time travel mechanics that make it so memorable.

Overall, this is a great game that is bogged down by a handful of issues. Many of the problems with this game come from the genre it's replicating but Cris Tales still manages to add some new and exciting mechanics. Going forward it will be exciting to see what new and creative ideas Dreams Uncorporated thinks of next.

Cris Tales is a game I was hoping I could heartily recommend. The game's lovely visuals deserve praise; they deliver even on the Switch. The adventures of Crisbell, the time mage and friends are more than suitably grand for an epic JRPG. Unfortunately, the loading times absolutely drain all of the magic out of this game on the Switch. If the other consoles perform better, then definitely check it out there. It truly is a shame technical issues like this hamper the game; it draws even more attention to other problems. I really do hope devs Dreams Uncorporated bring us some more fantastic game worlds. We might have to wait for an upgraded Switch, however.

I really don't know if the time Cris Tales has taken from my life was fully worth it. There were definite ups throughout my adventure, but the frustrations mitigated my excitement somewhat.
Cris Tales is a really unusual rpg. Exceptional in many ways, it is a breath of fresh air in the rather conservative genre of jrpg. Benefiting

Cris Tales is a really unusual rpg. Exceptional in many ways, it is a breath of fresh air in the rather conservative genre of jrpg. Benefiting from many inspirations among the most legendary games of the genre, Cris Tales is one of the nicest surprises of 2021 and deserves to be played and discovered by the greatest number of players ...

Full review, in french, on my blog Nintendo Legacy. You can follow me on Twitter @NintendoLegacy1

…

Expand

Gran RPG con estilo de lucha clásico, y el arte personalmente me encanta, para mi imprescindible

+ :
DA et chara design sublimes !
Bande son au top Le gameplay est vraiment plaisant, avec son système de temporalité, autant dans les+ :
DA et chara design sublimes !
Bande son au top
Le gameplay est vraiment plaisant, avec son système de temporalité, autant dans les villes et donjons qu'en combats
Dialogues entièrement doublés (doublages en anglais uniquement mais de qualité)

- :
Quelques quêtes fedex qui rallongent artificiellement la durée de vie
Petit défaut en portable, dans les équipements, très difficile de lire les +/-
Les temps de chargement abusivement longs sur Switch

…

Expand

This game has an amazing art direction, but the problem is just that, yeah has a tons of mechanics from FF, chrono etc. but has the cons of

This game has an amazing art direction, but the problem is just that, yeah has a tons of mechanics from FF, chrono etc. but has the cons of this games and honestly is predictable and this has been seen in the oldies , after shin megami tensei and doesnt have an autobattle option make the turn based slower than other turn based rpg, it's not a bad game but octopath traveler does the battle system better

…

Expand

There is an insane amount of loading screens in this game, even before and after every random encounter which is insanely annoying. Being

There is an insane amount of loading screens in this game, even before and after every random encounter which is insanely annoying. Being forced to wait 10-15 seconds before and after each battle just makes me want to quit playing.

…

Expand

I like this game, it's really pretty and the gameplay is unique and fun. My only problem is that the loading time takes forever and there is a

I like this game, it's really pretty and the gameplay is unique and fun. My only problem is that the loading time takes forever and there is a loading screen every time you get in to a battle, and battles are random encounters.

…

Expand

Ruined by excessive loading screens.

I love this game, the way it looks, sounds, plays, the awesome concept but I can no longer endure it.Ruined by excessive loading screens.

I love this game, the way it looks, sounds, plays, the awesome concept but I can no longer endure it.

Every single random encounter, will launch a 20-30 second loading screen. Same again when the fight is over. This utterly breaks the enjoyment of playing.

I can't bear it anymore. Deleted.

…

Expand