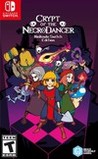 Summary:

Crypt of the NecroDancer is a hardcore rhythm-based roguelike game. Can you survive this deadly dungeon of dance, slay the NecroDancer, and recapture your still beating heart? Or will you be a slave to the rhythm for all eternity? Players must move on the beat to navigate procedurally

Crypt of the NecroDancer is a hardcore rhythm-based roguelike game. Can you survive this deadly dungeon of dance, slay the NecroDancer, and recapture your still beating heart? Or will you be a slave to the rhythm for all eternity? Players must move on the beat to navigate procedurally generated dungeons while battling dancing skeletons, zombies, dragons, and more! Groove with the game's epic dance soundtrack, or select songs from your own MP3 collection! You can even play with a dance pad to really shake your bones!

…

Expand
Developer:

Brace Yourself Games

Genre(s):

Action

,

Role-Playing

,

Rhythm

,

General

,

Action RPG

,

Music

# of players:

No Online Multiplayer

Cheats:

On GameFAQs

Rating:

T
Please enter your birth date to watch this video:
You are not allowed to view this material at this time.
Cadence Of Hyrule – Crypt Of The NecroDancer Featuring The Legend Of Zelda - Reveal Trailer
If you've never played Crypt of the Necrodancer, the Switch release is the definitive version without question.

At the end of the day, Crypt of the Necrodancer is a trip. You hop on for the ride, enjoy some groovy tunes, and overcome a slew of challenges along the way. Even though every run is different, I always felt I was in control. It's hard to get on the beat, but once over that initial hump, Crypt of the Necrodancer becomes one of the most intriguing experiences available on the Nintendo Switch eShop. Don't sleep on it.

CA roguelike at heart with a rhythm-game soul, Crypt Of The NecroDancer is a sublime experience that's a must-play for fans of the genre(s). Its upbeat, uptempo take on dungeon crawling is infectious, and there's enough content here to last even the savviest of spelunkers for many, many dance-fuelled dives into the depths — if you've never tangoed with the COTN, this fully-featured Switch edition is the perfect way to jump in.

It adds freshness and originality to a classic genre, mixing the best of rhythm and dungeon crawler games. Unfortunately, the overall look is weak, but the story is interesting and there is a variety of characters, together with a great soundtrack and the accessibility of the mechanics make it into an experience that is addictive and endearing that you can't miss.

Wonderfully hectic, exquisitely manic, we love this little jewel of a game. It's also jam-packed with content and a marvelous soundtrack.

Nintendo Force Magazine

Feb 27, 2020

Crypt of the NecroDancer will hurt you and then heal you with beautiful music for hours and hours. [Issue #40 – July/August 2019, p. 23]

Crypt of the NecroDancer has risen once again to bring a hefty amount of rhythm action goodness to Switch. If this is your jam, then its definitely worth picking up again for portable and local co-op play. If you haven't played before and aren't sure if you'll dig it then the Switch version is a content-rich way to give it a whirl and find out.
Crypt of the NecroDancer is one of the greatest indie games of all time, and, albeit rather pricey, holds up incredibly well on Nintendo

Crypt of the NecroDancer is one of the greatest indie games of all time, and, albeit rather pricey, holds up incredibly well on Nintendo Switch. The controls are incredibly responsive and it looks just as beautiful as the other versions of the game. The soundtrack is superb as always and is still the best part of the game. The addition of the new character is a rather nice addition too. I would highly recommend this if you have never played it, because once you have, you'll be humming along to the music for months to come.

10/10

…

Expand

It's a great perfectly solvable, low rng, rogue-like, that challenges you by only letting you move on the beat, and make quick decisions to

It's a great perfectly solvable, low rng, rogue-like, that challenges you by only letting you move on the beat, and make quick decisions to the tempo of sweet crunchy tunes.

…

Expand

Main reason I'm writing this review is to let you know that the trailer video on this page is actually for Cadence of Hyrule, a game

Main reason I'm writing this review is to let you know that the trailer video on this page is actually for Cadence of Hyrule, a game completely different from Crypt of the Necrodancer.
Really fun game, but I definitely recommend getting it on PC if you can, since the controls work so much better with a keyboard.

…

Expand

The main feature of this game is your state of mind, after you played it for 1h straight, listening to the rhythm... You may think you were

The main feature of this game is your state of mind, after you played it for 1h straight, listening to the rhythm... You may think you were playing it, but for real this game is playing you!

…

Expand

this is just hard and not funny. i would go to bed instead of this game. i wasted my ten dollars QQ

I tried really hard to like this game as it's incredibly charming and a very cool concept, but ended up finding it clunky, lacking in depth,

I tried really hard to like this game as it's incredibly charming and a very cool concept, but ended up finding it clunky, lacking in depth, and worst of all just very repetitive. Maybe if it was considerably cheaper I'd have expected a bit less from the game but definitely a disappointment all-around. Great soundtrack however.

…

Expand

Honestly, one of the worst games I have played. While it has potential, being a rogue like game. The introduction being okay. The game falls

Honestly, one of the worst games I have played. While it has potential, being a rogue like game. The introduction being okay. The game falls apart, when it gets into the dungeon itself. Everything moving to a beat, while on paper seems fun. In practice, it is awful. The game doesn't give you opportunities to learn, it doesn't explain anything last I remember.

To make things worse, it just punishes for missing a beat. This isn't a way to make a game, rather, it is one of the worst ways I have experienced. Would have been fine with just the music, and keep it real time, without the whole stupid beat mechanic. Maybe then I would have rated it higher. Though, after hours, I decided to just drop the game.

It was a waste of time, a waste of money, and overall, just not enjoyable.

…

Expand