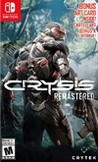 Summary:

The classic first person shooter from Crytek is back with the action-packed gameplay, sandbox world, and thrilling epic battles you loved the first time around. Suit up: Your Nanosuit's speed, strength, armor, and cloaking allow creative solutions for every kind of fight. Adapt: In an

The classic first person shooter from Crytek is back with the action-packed gameplay, sandbox world, and thrilling epic battles you loved the first time around. Suit up: Your Nanosuit's speed, strength, armor, and cloaking allow creative solutions for every kind of fight. Adapt: In an ever-changing environment, adapt your tactics to dominate on battlefields ranging from frozen jungle to alien environments. Customize: A huge arsenal of modular weaponry provides unprecedented control over play style, with options ranging from the experimental to the alien. Conquer: Life-like enemy AI require a strategic and flexible playstyle, as new challenges – including a zero-g battlefield– require players to take the offensive and be proactive. Explore: Choose your own path through the open world of Crysis, destroying obstacles, driving vehicles, and using the environment itself against your enemies. What begins as a simple rescue mission becomes the battleground of a new war as alien invaders swarm over a North Korean island chain. Armed with a powerful Nanosuit, players can become invisible to stalk enemy patrols, or boost strength to lay waste to vehicles. The Nanosuit's speed, strength, armor, and cloaking allow creative solutions for every kind of fight, while a huge arsenal of modular weaponry provides unprecedented control over play style. In the ever-changing environment, adapt tactics and gear to dominate your enemies, in an enormous sandbox world.

…

Expand
Developer:

Saber Interactive

Genre(s):

Action

,

Shooter

,

First-Person

,

Arcade

# of players:

No Online Multiplayer

Cheats:

On GameFAQs

Rating:

M
Please enter your birth date to watch this video:
You are not allowed to view this material at this time.
Crysis Remastered - Current Gen Console Ray Tracing Trailer
Crysis Remastered on the Nintendo Switch would have sounded nearly unthinkable a few years ago, but here we are. Even though it's been thirteen years since the original release, the game still looks slick, marvelous and vivid. With its vast world, sharp gameplay mechanics and a very good performance both on a television screen and on the Nintendo Switch screen, Crysis Remastered is one of the finest FPS experiences in the console's catalogue.

Crysis: Remastered on the Nintendo Switch proves that the hybrid console can handle a top-tier shooter with ease.

Crysis Remastered on the Switch laughs at our old PCs that couldn't run the original but still finds a few stumbling blocks all on its own.

As a sum of its parts, Crysis on the Switch is another "miracle" port that turned out less magical than others of its kind. It's a less extreme example of the dissonance between being able to run a game and whether it should have been ported in the first place. It's not as pared back as The Outer Worlds was, but it also doesn't offer a lot of content, and its shortcomings in different areas are enough to hamper the experience. If you cannot play Crysis on any other platform, this may be as good as it's going to get, but if you don't care about portable play, the Switch version isn't as good of a proposition as it should have been.

For those of you who are curious about this series and want to jump in, you could do a whole lot worse on the Nintendo Switch. If you want to play Crysis in the most shiny way possible and own another platform, it's best to wait.

Despite its remaster label the Switch version is rather comparable to its siblings on PS3 or Xbox 360. AI-problems, framerate issues and crashes take another toll on a theoratically solid port.

Crysis Remastered can be a good-looking FPS. It's just a shame that the act of actually playing it can feel like a chore thanks to a repetitive first half, poorly implemented stealth and unsatisfying gunplay.
What an amazing port and (half-way) remaster! The game looks gorgeous and runs so smooth!!! Soooo much vegetation without any noticeable

What an amazing port and (half-way) remaster! The game looks gorgeous and runs so smooth!!! Soooo much vegetation without any noticeable pop-in that alone is extremely impressive. Several times I thought I was playing on a PS4 or Xbox One. The game itself is extremely fun and innovative. I am having a blast and totally recommend!

…

Expand

One of the best game grafichs un switch and ir looks very very good, it's awesomeeeeeeeeee

I love it! Still a perfekt game!
Graphic is looking amazing and its cool to play it again in 2020 :)

Excelente juego es exactamente lo que debe ser un juego porteado a switch, se debe calificar al port de acuerdo a lo que nos está ofreciendo

Excelente juego es exactamente lo que debe ser un juego porteado a switch, se debe calificar al port de acuerdo a lo que nos está ofreciendo como juego de switch y sin duda explota al máximo el hardware de la consola dándonos una exprencia fluida, con detalle, sin pantallas de carga largas y entregándonos toda la experiencia de Crysis en la palma de nuestra mano.

…

Expand

The best port of all Switch games. I can agree on the Digital Foundry Review. The game plays and feels amazing. Visuals are great and I have a

The best port of all Switch games. I can agree on the Digital Foundry Review. The game plays and feels amazing. Visuals are great and I have a lot fun since the first 4 missions. For a price of 29,99 highly recommended.

…

Expand

Never played the original but being able to play it on the Switch (with the original being heavy on any PC) is amazing.

The framerate isNever played the original but being able to play it on the Switch (with the original being heavy on any PC) is amazing.

The framerate is not bad and the movement is good. The looking is a bit weird sometimes with over sensative aim assist.

Great game to play if you want a shooter and a big world to explore on the Switch.

…

Expand

Cheap cashgrap, looks way below modern standards, runs even worse than original. Cut mussions makes it even worse. It is not a Remaster, it is

Cheap cashgrap, looks way below modern standards, runs even worse than original. Cut mussions makes it even worse. It is not a Remaster, it is just an inferior relerease.

…

Expand