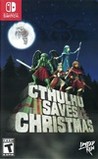 Summary:

The master of insanity, Cthulhu, has lost his powers (again!?) and the only way he can get them back is by rescuing Santa Claus from the League of Christmas Evil in this prequel to Cthulhu Saves the World! Join Cthulhu, the Snow Maiden, Baba Yaga-chan, and Belsnickel as they build

The master of insanity, Cthulhu, has lost his powers (again!?) and the only way he can get them back is by rescuing Santa Claus from the League of Christmas Evil in this prequel to Cthulhu Saves the World! Join Cthulhu, the Snow Maiden, Baba Yaga-chan, and Belsnickel as they build R'lyehtionships, fight the League of Christmas Evil, and catch the Christmas spirit! Fhtagn!

…

Expand
Developer:

Zeboyd Games

Genre(s):

Role-Playing

,

Japanese-Style

# of players:

No Online Multiplayer

Cheats:

On GameFAQs

Available On:

Stadia

Rating:

T
Who knew the holidays with Cthulhu could be so much fun? If you put one game on your Christmas list this year, make it this one.

After the exhausting dev process of Cosmic Star Heroine, I can see why Zeboyd Games went with a smaller project for this round. It's a simple game, with a hilarious cast of characters and it's about the length of the Home Alone duology. Cthulhu Saves Christmas is a nice way to wile away a snowy November day while trying to figure out how to convert to J.... planning your Christmas holidays.

Whether this is your first experience with the satirical duology or a revisit to the tale, Cthulhu Saves Christmas is a short and sweet RPG that will have you laughing until Santa decides to leave the North Pole for Christmas this year. (spoiler: that's a long time!) Its new and improved turn-based system will entertain even the most curmudgeonly jaded RPG fan.

I usually like more meat in my RPGs, but everything that Cthulhu Saves Christmas tries, it succeeds at. The game constantly put a smile on my face, and it felt like it was Christmas as I played and giggled at the Christmas puns or hummed along with the familiar jingles. It was a jolly time from start to finish, though like Christmas, I wish the experience lasted a tad longer.

Cthulhu Saves Christmas is a fun game with great dialogue, a combat system that's more hit than miss, and an overall amount of content that's way too short for its own good. If you're hungry for some JRPG action, appreciate a well-written comedic story, and don't mind something that's a quick burn, this is definitely something that you'll want to pick up this holiday season. Or, you know, sometime in November. Whatever works for you.
Awesome game. Pretty funny too. First time I've ever played a game like this and I thought it was cool as hell. Couldn't stop, beat it the

Awesome game. Pretty funny too. First time I've ever played a game like this and I thought it was cool as hell. Couldn't stop, beat it the day I started playing.

…

Expand

Coming fresh off of replaying Cosmic Star Heroine, and with the NG+ additions and changes, I feel like my Cthulhu Saves Christmas review

Coming fresh off of replaying Cosmic Star Heroine, and with the NG+ additions and changes, I feel like my Cthulhu Saves Christmas review (previously only on Steam, now also on Metacritic) is in need of an update. Both games have similar gameplay, each having positives and negatives.

First: buy the OST with the game. I did the game a disservice last time not talking about it in-depth. Several songs feel like Trans Siberian Orchestra Christmas songs in the best way, and others are more laid back and draw from other Christmasy experiences. In fact, buy the OST if nothing else, it's that good. Carol of the Bels is one of my favorites for being a twisted, haunting remix of a holiday classic, while Sleighing Bigger Enemies is my favorite of the originals.

The writing is a step up from the already witty humor of the original, with much better characterization for the side characters. Side characters feel more like real people than just tropes, and even the already decently-written Cthulhu feels a bit more consistent. Add to that the sheer amount of interactions and all the holiday scenarios Cthulhu gets hilariously thrown into and it's easily the best of the two for its wit alone, especially combined with NG+ dialogue.

Graphics also got a serious upgrade. The level of polish is astounding. Each area feels full of life in a way that the original never did.

Combat has changed almost entirely compared to CStW, but it's for the better overall, especially after the NG+ update. Enemies aren't as damage spongy as they were before the update and the combat system is far more unique and modern. But it's not where it should be.

Having now played Cosmic Star Heroine (CSH from here on), Cthulhu Saves Christmas (CSC) is overall a downgrade from it. Early game, all characters other than Cthulhu are very passive. Offense moves tend to all lack power in a way that CSH's moves didn't. Single target moves especially suffer in this game, barely beating damage of multi-target moves, so rarely being worthwhile. Any physical move with notable damage tends to have absurd conditions to work, such as being at negative HP, a feat much harder in CSC than CSH, and even then are weaker than CSH. At least multi-target moves in CSC actually hit more than one target, which can rarely be said for most in CSH due to enemy spacing. Low range moves were a joke. So that's one thing CSC has over CSH.

CSH also had several ways to further boost damage for characters outside of just Vulnerable, such as stat buffs, double damage buff for one turn, etc, letting you set up for a big hit. Status effects also feel harder to inflict in CSC compared to CSH, despite the ailment damage being roughly the same, which may be due to higher base ailment HP? Neither game has clear numbers for ailment HP/damage so it's hard to tell.

Cthulhu has passable damage and the only decent single-target moves, but compared to Alyssa from CSH is a notable downgrade, partly due to Hyper damage being less than it used to be, partly the lack of good damage buffs, and partly because even without Hyper, most moves are just weaker.

Crystal is a solid healer but painfully passive. Her offensive moves do pitiful damage, especially of course the single target moves, all of which have lower base damage than her mid-game multi-target move, which is absurd. Even healers in CSH had some pretty potent moves.

Baba is easily the most interesting due to her Chicken mechanic. She's both a damage and ailment nuke. However, her immediate damage is one-and-done until the endgame due to relying on a Unite. She needs a Chicken damage move way sooner. In fact, make Biting Winds a Chicken move. Also she really suffers from the lack of visible Ailment HP and may waste turns building Chicken power she doesn't need. Finally, Chicken should provide more of a boost, say +1.1x at 100%, +2.3x at 200%, +3.6x at 300%, and +5x at 400% to reward you for stockpiling.

Belsnickel is like a discount Sue with more support focus. Physical and Earth damage with buffs and debuffs. This wouldn't be bad if his support moves were way better than they are, if he could actually deal decent damage, and if everyone else wasn't so painfully passive too. He's especially weak for how late in the game he joins. His only good move is Celebrate, mainly because of exploit abuse.

That said, all these characters (except Belsnickel) do have good moves... they're just locked behind the Insane Ability mechanic which randomizes three slots. They're not even slightly reliable because normal attacks are thrown in the pool too. Several of these need to be normal level-up moves, if not all. There should also only be one Insane slot, maybe with a 1.25x damage bonus, as every character currently suffers from how few reliable options they get due to how restrictive move picking is.

Overall a really great RPG, but a step down from CSH's gameplay, otherwise I'd rate much higher. 77/100.

…

Expand

Loved this game! It is a quaint game that doesn't take its self seriously. The humor is very meta. If you like turn-based rpgs this is sure to excite.

"As a seasonal JRPG, Cthulhu Saves Christmas does a good job at creating a lighthearted compact experience that you can boot up yearly for a

"As a seasonal JRPG, Cthulhu Saves Christmas does a good job at creating a lighthearted compact experience that you can boot up yearly for a bit of Christmas joy. With varying difficulty settings, it's even perfect for a JRPG humbug like myself. Whilst it may not have the same level of level design as the original game, it certainly matches it in the narrative. Iä! Iä! Christmas fhtagn!"

https://theeliteinstitute.net/2021/12/22/cthulhu-saves-christmas/

…

Expand