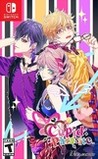 Summary:

A story about a cupid who ran away from her family after a fight to become the most successful bridal adviser in the human world. One day the heroine's boss calls her up for a job to find 5 hopeless guys (aka parasites) in desperate need of fixing their love life (and prolly their

A story about a cupid who ran away from her family after a fight to become the most successful bridal adviser in the human world. One day the heroine's boss calls her up for a job to find 5 hopeless guys (aka parasites) in desperate need of fixing their love life (and prolly their personalities in some cases).

…

Expand
Developer:

Otomate

Genre(s):

Adventure

,

Visual Novel

# of players:

No Online Multiplayer

Cheats:

On GameFAQs

Rating:

T
I haven't played a visual novel that goes about its thing with quite so much glee in quite a long time. Comedy's always hard to get right, especially when there's an underlying subversive quality to it, but Cupid Parasite never falters. It tells a great story in there among the humour and backs it up with an impeccable style and verve. This is one of Otomate's finest.

Cupid Parasite is one of the most engaging experiences I've ever had with an otome game. From my second playthrough to my fourth, I found myself shaking in my chair, wanting to know what would happen next. Its comedic romance kept me up until the late hours of the night, and I haven't had a game that made me feel like this in quite a long time. Aside from affected routes, the translation work is solid, and I'm looking forward to the developer fixing the present bugs.

Barring a few issues, Cupid Parasite is another fantastic otome game from Idea Factory and one that is a great way to get into the genre if you've wanted more of a romantic comedy than the usual beats in otome games. I hope we get more otome games like this in the future.

Cupid Parasite is a lengthy game with a decent-sized common route and suitor-specific routes that tend to be just as long. Given that there are five suitors initially and a secret character route once you've completed the others, along with the various alternate outcomes you can uncover, there is quite a lot of replayabilty to be had here! The sheer amount of energy in the story, combined with a likable cast of characters and well-written developing romances, makes this a rom-com worth perusing if that happens to be your thing. If nothing else, Cupid Parasite certainly knows how to entertain its target audience!

Cupid Parasite is a good otome game that feels fresh with charismatic characters and a very cool visual style.

Otomate knows how nonsensical the concept for Cupid Parasite is, rolls with it, and I am here for it. It is absolutely a lot. But it's so different that it's refreshing. Especially since Cupid is a great heroine. That does mean that, for some, it's so ridiculous that it might be distracting. Especially since part of the game is dedicated to making the men seem incredibly weird. But the real heartache comes from the fact that it launched in such a state. Especially since, a month later, it is still like this. I enjoyed it, but I strongly recommend waiting for the patch.

Now that a third of the game isn't enough to make my inner English teacher want to have someone at the publisher see me after class, I think there's a decent effort in Cupid Parasite. There's still typos which I'm becoming more sensitive to, and the controls are a bit irritating if you're trying to do anything beyond advancing text, but it's a unique take on the legends of Cupid.
Lighthearted, fun, colourful and sweet. Wonderful art and cool characters. A lot of romance for the sake of romance which I thoroughly

Lighthearted, fun, colourful and sweet. Wonderful art and cool characters. A lot of romance for the sake of romance which I thoroughly enjoyed! A breath of fresh air after darker stories like CollarxMalice.

PS the UI is obnoxious. The only gripe I have with this game.

…

Expand

As past few otomes I played had darker tone (Piofiore/CxM), I decided to go for something lighter and CupiPara doesn't disappoint! Art is

As past few otomes I played had darker tone (Piofiore/CxM), I decided to go for something lighter and CupiPara doesn't disappoint! Art is gorgeous, characters are pretty well written and story is interesting, though ridiculous at times (which is also part of the charm when it comes to this game!).
My only con with the game is colour scheme of bgs and menu from time to time. Characters themselves are designed with vibrant colours but when you add really bright and even more colourful bgs, it becomes a bit too much at times. Menu as well, while I love the design, UI feels more clunky compared to other Otomate games + colours overload. I'm not against colourful interface, but it's strains the eyes.

…

Expand

Overhyped and overrated game. Everything was less than mediocre, from the story's cogency to CG art and music. The navigation was a nightmare.

Overhyped and overrated game. Everything was less than mediocre, from the story's cogency to CG art and music. The navigation was a nightmare. Why were joysticks mainly disabled for navigation? Being forced to use directional buttons including scrolling of text log is irritating. The sex jokes were also lame. This is one of the most disappointing otome games I have played in a while.

…

Expand