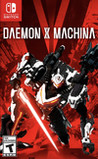 Summary:

The future of mech-actions games is here. Defend the planet and defeat corrupted A.I. controlled robots using your Arsenal, a fully customizable mechanized battle suit. Choose and equip your Arsenal with a multitude of weapons, obtain more from downed enemy Arsenals, and swap them on the fly

The future of mech-actions games is here. Defend the planet and defeat corrupted A.I. controlled robots using your Arsenal, a fully customizable mechanized battle suit. Choose and equip your Arsenal with a multitude of weapons, obtain more from downed enemy Arsenals, and swap them on the fly to suit your strategy in the face of ever-changing threats that may bring the end of the world. It was the greatest disaster in recorded history The moon tore apart, turning the sky into a kaleidoscope of red light that illuminated all who watched from below. Survive this apocalyptic new age as a mercenary and pilot powerful mechs in this brand-new action game from Kenichiro Tsukuda (Armored Core) and mech designer Shoji Kawamori (Super Dimensional Fortress Macross).

Features:

* The player's avatar is customizable with a variety of options
* Each Arsenal can be equipped with different weapons on its arms and shoulders, as well as reserve weaponry on its back that can be swapped out during battle
* Defeated enemies drop ammo and weapons, which the player can obtain and use on the fly
* Online and local wireless multiplayer modes support up to 4 players

…

Expand
Developer:

First Studio

Genre(s):

Simulation

,

Vehicle

,

Combat

# of players:

No Online Multiplayer

Cheats:

On GameFAQs

Rating:

T
Please enter your birth date to watch this video:
You are not allowed to view this material at this time.
Daemon X Machina - Official Teaser Trailer | Gamescom 2018
Daemon X Machina sets the bar for robot action games. The addictive mecha fighting is almost flawless, but it's complemented by so many other incredible parts to the game. There's a rich, unique world filled with incredible and memorable characters, endless and addictive customisation, gorgeous visuals and a jaw-dropping soundtrack. Daemon X Machina rarely stumbles, and even when it did, I still couldn't help but be impressed by this amazing new experience.

Daemon X Machina makes the player feel like a futuristic mech pilot, but they can never escape a dull story that keeps interrupting the action.

A passion project for its developers, this game has been originally dismissed by the players, but has managed to revive from its ashes due to constructive feedback from the community. Despite its drawbacks, regarding technical restrictions and the underperforming A.I, Daemon X Machina is a game suited to genre lovers and those who enjoy co-op action, and has all the requirements to develop even more.

With an intriguing story, pretty solid gameplay, vigorous customization options and a promising online component, Daemon X Machina is a welcome addition to the arsenal of third-person shooters on Nintendo Switch. All in all, it's a fresh take for Nintendo fans and – for the most part – an enjoyable experience.

It's a good Mecha video game, hindered a bit by an overly convoluted story and a very slow pacing to its gameplay and world building.

When it's great, Daemon X Machina is a fast and frenetic mech action game with deep customisation options and a killer artistic direction that sets it apart from the rest. But when it's not, it's repetitive mission structure, nonsensical story and facile combat stop it from being the best it could be.

Daemon X Machina has its ups and downs, with some amazing action and an impressive amount of weapons. Unfortunately the worlds are completely empty and it is not strong in the graphical department.
i like the game the story is great i give it a 7/10 game play 9/10 but one thing that could make this game way better is a pvp mode that more

i like the game the story is great i give it a 7/10 game play 9/10 but one thing that could make this game way better is a pvp mode that more like pilots vs pilots

…

Expand

Gran juego de mechas. Apartado visual bastante original, buena música, gran variedad de armas y partes para personalizar tu robot. Ademas pese

Gran juego de mechas. Apartado visual bastante original, buena música, gran variedad de armas y partes para personalizar tu robot. Ademas pese a ser un juego de su género el personaje humano también tiene relevancia en el gameplay y que se puede ir mejorando. Modo historia para un jugador, modo multijugador online y local. Probablemente de lo mejorcito en su género.

…

Expand

As a mecha fan I can say this game is everything I can ask for. Armored team is back and we should support them.

Daemon X Machina is not for everyone. However, if you like deep customization, min-maxing armor and weapons, as well as collecting and

Daemon X Machina is not for everyone. However, if you like deep customization, min-maxing armor and weapons, as well as collecting and applying mods and collectibles, the endless loop of what basically is a third view looter shooter will keep you hooked. its a cool game. I have spent already over 30 hours, mostly in co-op multiplayer and halfway though the campaign and have had a lot of fun. Love the art style and the gameplay. It could have some QoL improvements and more end game content, but those will most likely come in future game patches and DLCs.

…

Expand

Its colorful, has great controls, the mission enviroments are varied and there is an extreme depth in customisation for the mech and player.

Its colorful, has great controls, the mission enviroments are varied and there is an extreme depth in customisation for the mech and player. Just your pilot can be upgraded with mechanical arms that let you flip tanks, or use a giant laser sword.

…

Expand

Game so far seems fairly generic in gameplay and story. Better than the initial demo but not great.

The combat system is quite weird and difficult to control, the gameplay when you are out of the mecha is poorly implemented, and I find the

The combat system is quite weird and difficult to control, the gameplay when you are out of the mecha is poorly implemented, and I find the missions somewhat repetitive, the game inflates its duration in a creeping way, it's fun at the beginning but after a while it bores.

…

Expand