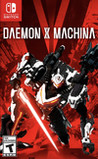 Summary:

The future of mech-actions games is here. Defend the planet and defeat corrupted A.I. controlled robots using your Arsenal, a fully customizable mechanized battle suit. Choose and equip your Arsenal with a multitude of weapons, obtain more from downed enemy Arsenals, and swap them on the fly

The future of mech-actions games is here. Defend the planet and defeat corrupted A.I. controlled robots using your Arsenal, a fully customizable mechanized battle suit. Choose and equip your Arsenal with a multitude of weapons, obtain more from downed enemy Arsenals, and swap them on the fly to suit your strategy in the face of ever-changing threats that may bring the end of the world. It was the greatest disaster in recorded history The moon tore apart, turning the sky into a kaleidoscope of red light that illuminated all who watched from below. Survive this apocalyptic new age as a mercenary and pilot powerful mechs in this brand-new action game from Kenichiro Tsukuda (Armored Core) and mech designer Shoji Kawamori (Super Dimensional Fortress Macross).

Features:

* The player's avatar is customizable with a variety of options
* Each Arsenal can be equipped with different weapons on its arms and shoulders, as well as reserve weaponry on its back that can be swapped out during battle
* Defeated enemies drop ammo and weapons, which the player can obtain and use on the fly
* Online and local wireless multiplayer modes support up to 4 players

…

Expand
Developer:

First Studio, Marvelous First Studio

Genre(s):

Simulation

,

Vehicle

,

Combat

# of players:

No Online Multiplayer

Cheats:

On GameFAQs

Rating:

T
Please enter your birth date to watch this video:
You are not allowed to view this material at this time.
Daemon x Machina Release Date Trailer | Nintendo Direct E3 2019
Daemon X Machina sets the bar for robot action games. The addictive mecha fighting is almost flawless, but it's complemented by so many other incredible parts to the game. There's a rich, unique world filled with incredible and memorable characters, endless and addictive customisation, gorgeous visuals and a jaw-dropping soundtrack. Daemon X Machina rarely stumbles, and even when it did, I still couldn't help but be impressed by this amazing new experience.

Daemon X Machina is one of the biggest surprises of this year on Nintendo Switch: a third person shooter that is much more of the sum of its parts, recommended not only to mech and anime fans but to anyone looking for a good mission-based shoot'em up.

A modern mech title that can easily be a gateway drug to hours of fast-paced action, there's nothing else quite like Daemon X Machina on Switch. While its story falls a bit short, it's still enjoyable and intriguing enough of a ride to keep up with even when confusing. It shines strongest in its amount of replayability and sheer mountain of additional content that can be unlocked. Daemon X Machina is a title that's hard to put down and is easy to get sucked in and just want to keep going further and see what other crazy things it has waiting around the corner. It's obvious that a ton of time and dedication was put into Daemon X Machina, and it's one that fans of the genre or those with the tiniest bit of interest should check out.

There's plenty of content to wade through with the lengthy story, assortment of side missions, and multiplayer options with friends or strangers (strictly co-op not versus).

There's much to applaud about Daemon X Machina. The third-person mech action game delivers an experience unlike any other on Nintendo Switch, thanks to the striking mech designs and red-drenched world merging with combat that can readily thrill in the game's many large-scale encounters. However, shortcomings such as the convoluted plot and repetition let it down – holding it back from reaching the brilliance that Marvelous nearly achieved.

Despite what Nintendo has tried to sold us, Daemon x Machina is a low budget game that have potential, but its lack of ambition is the reason for not being successful.

All that's cool about flying a giant world-saving robot has been executed in the most leaden, user-unfriendly, nonsensical manner possible.
If your an Armored core fan buy it you know what your here for. I do want to see it go further but am more than happy with how it is.

A lot of people are sleeping on this game and they will regret not playing it ! Once competitive mode is released this game will destroy my

A lot of people are sleeping on this game and they will regret not playing it ! Once competitive mode is released this game will destroy my social life in its entirety! If you ever played an armored core game you will feel right at home ! One thing i need to mention though, this is NOT a game for casuals. You will see a lot of people complaining saying the game is not " user friendly " or " too hard to understand "... Just ignore these people amd give the game a chamce your self ! You wont regret it

English is not my main language but hopefully i got my message across

…

Expand

As a mecha fan I can say this game is everything I can ask for. Armored team is back and we should support them.

For those Players who waited for years for a solid mech game, the wait is over. Very good gameplay and story. Customization is really good!

A mech game in the spirit of Armored Core, it does an great job solving the 3D movement issue that've plagued mech games, and it does manage

A mech game in the spirit of Armored Core, it does an great job solving the 3D movement issue that've plagued mech games, and it does manage to look good in a slightly stylized way. Combat is reptitive, but you can mix it up with different weapon loadouts. But man, the story is just a mess. The characters are generally fine, with english voice acting ranging from good to not good. The story in Daemon x Machina is like, the most amazing collection of words. You'd think that if you put that many words together they'd have to have either some structure or be a dead giveaway that they were assembed at random. But somehow, it's clear that someone has arranged these words, yet it is also not possible that anyone wrote this story. It has no purpose other than to seemingly keep the rest of the game from collapsing in on itself and crushing the solid gameplay and loot collecting. It's like story equivalent of packing peanuts.

If you want a new Armored Core game, this is it, but if you're looking for a game with a story that explains itself or does something, this game is not for you.

…

Expand

Es divertido pero no más allá de eso, para los amantes del Mecha sin duda debe ser un tesoro, se agradece que sigan apostando por este genero

Es divertido pero no más allá de eso, para los amantes del Mecha sin duda debe ser un tesoro, se agradece que sigan apostando por este genero para que llegue a occidente. Vale la pena probarlo solo por el gameplay. La historia es mala y la música cumple.

…

Expand

A mindless experience with a vapid story, unlikeable characters, stilted controls, constantly reused objectives / mission types, and one of

A mindless experience with a vapid story, unlikeable characters, stilted controls, constantly reused objectives / mission types, and one of the most infuriatingly unfair, grind-encouraging final bosses in recent memory. Avoid at all costs.

…

Expand