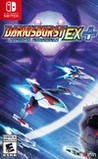 Summary:

Taito's Darius series began with the titular arcade game, Darius, in 1986 and comprises numerous side-scrolling shooting games released in arcades, many of which were later ported to game consoles.

This game is a port of the 2010 arcade game, DariusBurst Another Chronicle EX, including theTaito's Darius series began with the titular arcade game, Darius, in 1986 and comprises numerous side-scrolling shooting games released in arcades, many of which were later ported to game consoles.

This game is a port of the 2010 arcade game, DariusBurst Another Chronicle EX, including the final update and exclusive new features for this version.

It adds the previously omitted Event Mode, with brand new events too, and also includes the Murakumo ship, playable across all modes.

…

Expand
Developer:

Taito Corporation

Genre(s):

Action

,

Shooter

,

Shoot-'Em-Up

,

Horizontal

# of players:

No Online Multiplayer

Cheats:

On GameFAQs

Rating:

E10+
Dariusburst: Another Chronicle EX+ is a great release for Darius fans with its varied modes and stages, but a hard sell for newcomers who should get the Darius Cozmic Arcade and Console Collections instead as more accessible introductions to the series.

While there are many questionable choices present, DariusBurst: Another Chronicle EX+ remains an enjoyable shmup.

Play it on your TV and you'll enjoy this fish fry well enough, but those who primarily play in handheld will want to proceed with caution.

I reviewed a compilation of Darius arcade games last year and found that it handled the use of multi-screen gaming better; if Another Chronicle was more in that fashion it would be a bit more comfortable to play. Still, it's another solid shooter in a system that's chock-a-block with them.

Dariusburst: Another Chronicle EX+ is a lot of fun to play in the moment. While I don't love every design choice the development team made, I completely see what so many fans love about it. This Switch port, however, is a cheap one, not doing a great job of utilizing the platform or providing the sort of content expected of a home port. If you're desperate for more Darius on your Switch, it's not a bad option. With two different Darius collections releasing last year, however (One for the series' arcade history, another for its console history), and with Darius Cozmic Revelation on the way, which will include this title and a remaster of the excellent G-Darius, there may be better options for you to enjoy killing robot fish on the go.
The developers of "DariusBurst Another Chronicle EX+" have put a lot of effort into it. Thus, the title is a lot of fun for newcomers and pros

The developers of "DariusBurst Another Chronicle EX+" have put a lot of effort into it. Thus, the title is a lot of fun for newcomers and pros alike, and only in some places does frustration arise. The story is a nice addition. The controls are very easy to use and you can kill your opponents in a flash. Playing together with friends on the couch is also fun, and there's a lot going on on the screen. The graphics and sound are also good and round off the good overall impression. Those who would like to test their skills again should take a closer look at "DariusBurst Another Chronicle EX+".

…

Expand

The Darius series has been one of the consistently challenging and impressive arcade classics that has evolved while retaining its core charms

The Darius series has been one of the consistently challenging and impressive arcade classics that has evolved while retaining its core charms over the years. The collections released previously in the year point to this legacy both from the arcades and home consoles, so the Switch has gotten a great taste of what it has had to offer over the years. This much newer iteration is impressive in its own right but perhaps not as well-suited to the Switch as you'd hope. Certainly it has a great overall look and plays faithfully to the series, but the screen scaling coming over from the arcades is simply an issue even when playing in docked mode but I'd almost consider it unplayable in handheld as the details just end up being too small to see well. The play is there, including the branching paths and some other elements, but in this case perhaps faithfulness to the source material is more of an impediment than a strength, though fans of the arcade unit will no doubt disagree.

https://www.nindiespotlight.com/2021/07/mini-reviews-july-27th-edition-nintendo.html

…

Expand