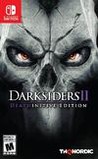 Summary:

What starts with War, ends in Death.
Awakened by the End of Days, Death, the most feared of the legendary Four Horsemen, embarks upon a quest to restore mankind, and redeem his brother's name. Along the way, the Horseman discovers that there are far worse things than an earthlyWhat starts with War, ends in Death.
Awakened by the End of Days, Death, the most feared of the legendary Four Horsemen, embarks upon a quest to restore mankind, and redeem his brother's name. Along the way, the Horseman discovers that there are far worse things than an earthly Apocalypse, and that an ancient grudge may threaten all of Creation ...
Deathinitive Edition Features:
- Darksiders II with all DLC included and integrated into the game which offers a total playtime of more than 30 hours
- Improved Graphic Render Engine for higher visual quality especially in terms of lighting and shadows
- Improved and reworked level, character and environment graphics
- Running in native 1080p resolution
- Reworked and tuned game balancing and loot distribution

…

Expand
Developer:

Gunfire Games

Genre(s):

Action Adventure

,

Open-World

# of players:

No Online Multiplayer

Cheats:

On GameFAQs

Available On:

Stadia

Rating:

M
Darksiders 2 is the best entry in the current Darksiders trilogy, and the Switch version, while not perfect, is a great way to experience it. Now we just need Darksiders 3 on Switch so I can take this entire excellent series everywhere I go.

It's mostly okay, but if you go in expecting a flawless experience, you'll be disappointed. If, however, you go in hoping for a game that's merely fun, then Darksiders II: Deathinitive Edition will more than fit the bill. It's a good reminder of why people were so pleased when the series was reborn last year, and it's a solid action game to have in your Switch library.

It feels like it's been a long time coming and thankfully, any concerns fans may have had ahead of a Switch release can be laid to rest by Death himself. Darksiders II Deathinitive Edition is a visual feast, offering little to those who have already played through elsewhere but holding nothing back for the purists and new players alike. Age-old camera issues remain, but if you've been waiting to get on board with Death and his Horsemen, this late-to-the-party package is an easy recommendation.

Like most games ported to Switch, if you have a PS4, Xbox One or PC and plan on playing Darksiders II: Deathinitive Edition solely in docked mode you may as well get it on another format instead. It's cheaper, and both looks and plays better. If the Switch is all that you've got, however, or you plan on playing in handheld mode, you should definitely pick it up. It was one of the best games released last-gen, and with its enhancements it's still a great game now.

A decent port of a good game let down by technical issues.

Should it not have been for the unfortunate technical issues found in the larger areas, Darksiders II would have been an easy recommendation on the Switch. Unfortunately, should you still want to experience this grand adventure, it's best done elsewhere.
Another game that I skipped on day one due to some reviewers' opinions on YouTube. Glad I finally picked it up. It looks good, plays smoothly

Another game that I skipped on day one due to some reviewers' opinions on YouTube. Glad I finally picked it up. It looks good, plays smoothly and has a lot of fun environmental puzzles(less annoying than DS1 portal ones) and platforming-I love the Prince of Persia style platforming. I can only agree with reviewers in that world one can drop in FPS and resolution sometimes. After world one everything looks nice and plays so too. I had a lot of fun with this game.

…

Expand

Another amazing port for Nintendo Switch. Framerate stable, grapichs ok. I liked

Introduced in the days of the PS3/Xbox 360 (back in 2012), so its had seven years to age and this gets us the Deathinitive edition we see here

Introduced in the days of the PS3/Xbox 360 (back in 2012), so its had seven years to age and this gets us the Deathinitive edition we see here on Switch. Darksiders follows a unique mixture of lore -- from the biblical nephilim to the more Nordic-inspired Makers, the game does a great job drawing inspiration from many sources and stitching it together in a rich and lush world.

This game totes action RPG combat where you can string along combos to stagger enemies and rack up damage. Fans of games like God of War or even Kingdom hearts will be right at home here, as the combat is super easy to get into, but customizable based on the speed of the weapons you equip and the skills you choose to use.

Weapon and armor upgrades are plentiful, and you'll get drops from enemies fairly frequently, in addition to being able to find more rare equipment from chests scattered throughout the world or as rewards from quests given by NPC's. This allows you to steadily get stronger in addtion to the level up system. You're able to unlock perks on a skill tree not unlike in your standard MMORPG, allowing you to further tailor gameplay to a style you enjoy.

The combat is fluid and the world is vast, but I did notice quite of bit of issues with loading environments as well as some framerate drops in some areas. The game doesn't upscale well in docked mode, and the limitations of the Switch hardware becomes a lot more obvious. THQ Nordic has done more than just a decent job on this port, so if low resolution enviornments aren't a deal breaker, I'd definitely pick this game up. I give it a hard earned 8.5/10

…

Expand

On peut estimer que Darksiders est une série de jeux vidéo plutôt sous évaluée et qui n'a pas grand chose à envier à certaines grandes sagas

On peut estimer que Darksiders est une série de jeux vidéo plutôt sous évaluée et qui n'a pas grand chose à envier à certaines grandes sagas du Jeu Vidéo. Darksiders 2 Deathinitive Edition est un excellent jeu, complet, généreux et avec des idées de gameplay qui font mouches. Pour moins de 30 euros, la Switch accueille un portage qui mérite bien plus que son statut de Zelda-Like un peu bourrin et mature. En attendant la suite de la série (un éventuel portage de Darksiders 3 et d'ici la fin de l'année Darksiders Genesis), je ne peux que vous encourager à jouer à Darksiders 2 ou bien à découvrir la série avec Darksiders 1 Warmastered Edition.

…

Expand

I never played this when it originally came out but after loving the first one on switch I jumped on this one. Its no where near as good as

I never played this when it originally came out but after loving the first one on switch I jumped on this one. Its no where near as good as the first one in my opinion. The story is a lot weaker and the dungeon designs are too. Maybe its just me, but I feel like they made most of the dungeons smaller, and then they just added more. The game does pick up in the final act and if you enjoyed the gameplay of the first one, you will enjoy this. This one runs much worse on switch then the first one. In any of the big open areas the resolution tanks and I had this game freeze on me at least 10 times and my full play through was around 20-25hrs. I also had it out right crash another 2 or 3 times too.

…

Expand

I wanna love this game but it's a very very clunky port. Music is great, visuals are pretty bad, combat just doesn't feel right. I also had

I wanna love this game but it's a very very clunky port. Music is great, visuals are pretty bad, combat just doesn't feel right. I also had multiple crashes through my gameplay. I finally finished it and have no desire to replay it so I shall be selling it.

…

Expand

this game has a very low quality, bad and repetitive gameplay with no good story