Publisher:

Nintendo

Release Date:

Jun 4, 2021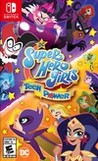 Summary:

Suit up as the DC Super Hero Girls and save Metropolis. Join the fight as Wonder Woman, Supergirl, and Batgirl from the animated series DC Super Hero Girls, and save Metropolis from some of DC's most notorious Super-Villains! Each hero can battle baddies with a unique set of abilities:

Suit up as the DC Super Hero Girls and save Metropolis. Join the fight as Wonder Woman, Supergirl, and Batgirl from the animated series DC Super Hero Girls, and save Metropolis from some of DC's most notorious Super-Villains! Each hero can battle baddies with a unique set of abilities: Wonder Woman uses her warrior skills with the Lasso of Truth and Flying Shield, Supergirl has Heat Vision and Super-Breath, and Batgirl can invent crime-fighting gadgets like the Batarang and Bat-Hook. But when you're not out fighting crime, you have to balance the super life with their lives as teenagers!

Freely explore the city as teenage Super Heroes

Don't forget to meet up at the best hangout spots from the show like Metropolis High School and Sweet Justice, which also happen to be great places where you can snap photos to share on Superstapost. But stay alert because you always have to protect your secret identity and you might even run into some of the city's most mischievous Super-Villains like Harley Quinn, Catwoman, and Star Sapphire.

…

Expand
Genre(s):

Action Adventure

,

Open-World

# of players:

No Online Multiplayer

Cheats:

On GameFAQs

Rating:

E10+
As a whole, I found DC Super Hero Girls: Teen Power extremely enjoyable. I'd argue it to be fun for anyone who picks it up as it's definitely something I haven't got around to putting down yet. If you're looking for something bursting with personality and something to enjoy for hours, this is definitely a game for you.

DC Super Hero Girls: Teen Power successfully translates the beloved animated TV show into the video game space. While the game might feel a bit fluffy for adults, playing with kids is a blast. With reasonably well-done combat and a ton of side activities, Teen Power is a meatier (and more fun) experience than one might assume—an absolute win for a licensed game.

DC Super Hero Girls: Teen Power succeeds in not feeling like a simple cash-grab. Much like its source material, it has genuine heart, plenty of activities to take part in, and a cast of characters who are simply adorable. Some of its more social open-world gameplay may feel a touch slapdash, but its colourful and explosive action more than makes up for it by being a blast of addictive and easy-to-grasp fun.

Impressively, this superhero action game isn't just a cash-grab, shovelware release for kids. Batgirl, Supergirl, Wonder Woman, and friends are charming representations of their cartoon and comic-book counterparts with heaps of flair. The slice of life elements are decent, with humorous stories and meaningful drama peppered throughout, but not without superficial parts. Exploring the handful of open-world levels invites plenty of picture-taking and collect-a-thon fun, even if the rewards aren't much more than levelling up, shopping for lacking clothing options, and a poorly implemented city-building mechanic. On the other hand, combat is addictive with notable scalability and satisfying skills to decimate an array of pesky robots and possessed toys across varied missions. Altogether, DC Super Hero Girls: Teen Power is a surprisingly entertaining action and social game for the whole family.

It is fun to play as these iconic characters on the streets and in battle, clunky as they may be. The locations and dress-up options are colorful and interesting. Fans of the TV show will definitely like wielding Wonder Woman's sword and shield, Catwoman's whip, and Batgirl's gadgets.

DC Super Hero Girls: Teen Power is a fun, simple, and accessible animation-licensed game that will without a doubt appeal to its target-audience. While veteran players will more likely be put off by the game's simplicity, fans of the animated series will find a good representation of the source material, an intuitive gameplay, and a very fun - if not very challenging - combat system.

We are faced with a game that can only attract the attention of big fans of the TV series or those who do not give up on any product focused on the DC Universe.
Love this game summer vibe!! Loved playing it so much i really needed this for the summer!!

Потрясающая игра. Очень нравится мультсериал, удивлен, что по нему сделали игру. Отличная графика, боевая система, живой открытый мир. Но

Потрясающая игра. Очень нравится мультсериал, удивлен, что по нему сделали игру. Отличная графика, боевая система, живой открытый мир. Но самое грандиозное это фотосъёмка. Как только достаешь фотоаппарат, всё вокруг специально для тебя начинает приходить в движение! А социальная сеть в игре позволяет чувствовать себя инстаблогером. Просидел в игре большое количество времени чисто на фотосьемке. Для фанатов мульта, да и фанов дс обязательно к покупке

…

Expand

The developers managed to make a decent game for the Nintendo Switch with the small license. The tasks and the storyline in DC Super Hero

The developers managed to make a decent game for the Nintendo Switch with the small license. The tasks and the storyline in DC Super Hero Girls: Teen Power are really fun. The missions are nicely varied and the fights add a good mix to the game in places. The graphical performance and controls aren't the highlights, but they aren't bad and the sound is also successful. If you want to play with superheroines or let your little sister play, you should take a closer look at "DC Super Hero Girls: Teen Power".

…

Expand

Despite this Game's Mediocere Story as well as its Debut Showing, Even saying this is a First Party Nintendo Title makes me get shivers. I can

Despite this Game's Mediocere Story as well as its Debut Showing, Even saying this is a First Party Nintendo Title makes me get shivers. I can also admid when i am wrong. This game has that typical Nintendo Charm even though it wasnt made by Nintendo. The Graphics are that of the source material and the music is also half decent. The way you aquire stars for powering up is based on how good you do in combat.There were a decent amount of side quests and having the Supersta can be a useful al be it a boring way to take stupid pictures of you and the world. The followers mechanic needed for some sidequests is very interesting. The combat is in my opinion is just like a B-. Only a 4 hit combo and some unlockable moves, but the Just Roll is a good way of keeping your combo so you get more stars and money. The Controls are fine although there is a big delay when jumping as the Girls outside of Costume. This game surprised me and has forced me to give it the nickname: Persona Jr.

…

Expand

DC Super Hero Girls: Teen Power
Not so super
DC Super Hero Girls: Teen power is a 6 and a half hour long mission based beat em up game whereDC Super Hero Girls: Teen Power
Not so super
DC Super Hero Girls: Teen power is a 6 and a half hour long mission based beat em up game where you can play as 6 different characters, Super girl, Wonder woman, and batgirl from the hero side, Harley Quinn, Cat Woman, and Star Saphhire
Youll unlock these characters as yopu progress htrough the game, as the heros and villians team up to take on the toys terrorizing the town.. In a way I was getting persona vibes here.. you can run around the 3 different mini locations as any of the girls in their civilian form any time youd like, go shopping, get smoothies..take pictures of stuff around town to get likes on social media you know… stuff teen girls do
or just stick to the mission, beat up some toys, defend buildings as you rebuild the town, complete hallenges to level up your characters.. coins to once again buy new outfits.. all of this on paper sounds great.. but dc super hero girls is ultimately a really empty and repetitive game.. combat and controls especially for the flying characters and catwoman feel loose rather than tight and controlled, making them just awkward to play as or complete their character focused missions, and combat in general aside from when you finally unlock star sapphire just isn't fun… each charcter feels unique and you can unlock new moves for the girls to use, but enemies feel so spongy, that the combat never feels satisfying, and actually starts to get annoying toward the end… as enemies just get more and more annoying to deal with.. and mission wise, back to the repetitiveness… it all feels rinse and repeat, go to this location, defet enmeies or defend a building.. that's the entire game.. going back to the same locations, rarely anything new… making the 6 hours or so game length feel just right.. it doesn't over stay its welcome… it leaves right when it feels like it needs to…
Furthermore if you havnt seenthe tv show, don't expect a coherent tory and world building.. it doesn't exist here.. the game expects you to know the charatcers and their relationships.. this feels very much like a tv show tie in and not its own standalone thing for the female dc heroes and villians…
I didn't refret my time spent with this game, but its not one I can recommend to those not buying soley on the face they want a game based on a show they love.
I give DC Super Hero Girls: Teen Power
a 6/10

…

Expand

DC Super Hero Girls: Teen Power is charming, but it has much more cons than pros, in general. The combat is extremely repetitive and lacks

DC Super Hero Girls: Teen Power is charming, but it has much more cons than pros, in general. The combat is extremely repetitive and lacks polish, the controls are clunky and the co-op gameplay is non-existent. Stick with the cartoon, it's probably a better idea.

…

Expand

This is easily the worst game of 2021 so far! I'd much rather play Balan Wonderworld than this boring lazy shameless cash grab! I get that

This is easily the worst game of 2021 so far! I'd much rather play Balan Wonderworld than this boring lazy shameless cash grab! I get that it's meant for little kids, but even kids would get bored of playing it after 5 minutes!

…

Expand