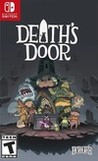 Summary:

Reaping souls of the dead and punching a clock might get monotonous but it's honest work for a Crow. The job gets lively when your assigned soul is stolen and you must track down a desperate thief to a realm untouched by death - where creatures grow far past their expiry and overflow with

Reaping souls of the dead and punching a clock might get monotonous but it's honest work for a Crow. The job gets lively when your assigned soul is stolen and you must track down a desperate thief to a realm untouched by death - where creatures grow far past their expiry and overflow with greed and power.

Talon Sharp Combat: Utilize melee weapons, arrows and magic to overcome a fantastic array of beasts and demigods. Mistakes are punished and victory is rewarded. Gain an edge by customizing your character stats and mastering the abilities and upgrades you obtain.

A Beautifully Bleak World: Venture beyond the Doors and explore a land full of twisted inhabitants and countless secrets, bringing hope to the weird and wonderful characters you'll meet along the way.

A Dark Mystery to Unravel: Track down and defeat colossal tyrants with stories and motivations of their own. Experience a somber yet darkly comedic tale, uncovering the truths behind the flow of souls, the role of the Crows and the origin of the Doors.

…

Expand
Developer:

Acid Nerve

Genre(s):

Action Adventure

,

General

# of players:

No Online Multiplayer

Cheats:

On GameFAQs

Rating:

T
Death's Door is a fun and unique action-adventure game with appealing scenery and music. You can pick it up and play on the go, and although the controls require skill, it's easy to master.

It is likely one of the best action games of 2021 and stands apart using its beautifully varied areas to explore. The soundtrack is also fantastic, with composer David Fenn managing to strike a perfect balance between high energy action and peaceful contemplation. Not to mention the crow you're controlling is just a cute little bird. If you are a fan of action games and have an itch for one that will kill around 8 hours, Death's Door is a pretty good place to clock in and get to work.

Death's Door is a modern classic, utilizing old gameplay ideas in a new setting to make for a short and sweet experience you won't want to miss. The snappy combat, rewarding exploration, and relaxing music will stick with you once you've finished, and while it may not have anything 'new' to offer, Death's Door is so high quality that you'll hardly have time to think about it's lack of innovation. We'd give this one a very high recommendation, especially to any fans of Zelda or Soulslike games — Acid Nerve has crafted an experience that's absolutely worth your time and money.

With a moody map just begging to be explored, satisfying secrets in every corner, and some immensely rewarding combat that pushes you to your limits; Death's Door is a sublime action game wrapped in an amazing well realised world.

Death's Door tightly packs a challenging action-adventure into some of the more enjoyable ten hours of 2021. It's a game deserving of the hype and spots on game of the year lists. Unfortunately, there aren't any difficulty options to help make the game more accessible. While it is a challenging game, it's a challenge that you feel you can overcome as you unravel what is going on in the department.

Nintendo Force Magazine

May 13, 2022

All in all, Death's Door is itself quite a Shiny Thing. [Issue #58 – March/April 2022, p. 19]

Death's Door is a delightful action-adventure indie. It has a lot of heart, great combat, and fantastic exploration, though its difficulty and lack of a map can be off-putting.
After completing this game to 100% in about 17 hours I can say that this game is honestly a gem.
Simple to play with good controls,After completing this game to 100% in about 17 hours I can say that this game is honestly a gem.
Simple to play with good controls, controller support is also not that bad either but I feel keyboard is the best.
A charming game that really captures that old adventure from classic TLoZ games. Pretty straight forward dungeons and boss fights that can provide enough of a challenge, while not being overly difficult. Had many secrets to find, items to collect, as well as a nice "true ending" to really tie the story all together. I would highly recommend this to anyone.

…

Expand

So far this game is pretty sweet, cool graphics, awesome sound track, can be difficult but nothing you won't eventually get, I'd say it's

So far this game is pretty sweet, cool graphics, awesome sound track, can be difficult but nothing you won't eventually get, I'd say it's worth the 20$

…

Expand

Amazing! Beautiful and really fun! One of the best games I ever played. The bosses are great, the enemies are also great and you will love all

Amazing! Beautiful and really fun! One of the best games I ever played. The bosses are great, the enemies are also great and you will love all the characters. This is a game you should play. I finish the game (is a good challenge but nothing frustrating) and I will finish all the post game stuff. Really really great game! I saw comments about the controls but I enjoy them, very responsive and an amazing combat system, you have magic and melee weapons. The dungeons are well created also, you will find shortcuts, some puzzles, group fights, mini boss fights, boss fights and secrets. As a Dark Souls and Zelda fan, this game exceed my expectations, again is one of my favorites this year.

…

Expand

This is an amazing game. The music, the story and the fights are awesome.
It looks like the wind waker zelda game.

Good game. I really loved the art design and the music. There's a good mix of mood and humour going on. Decent challenge (you might let loose

Good game. I really loved the art design and the music. There's a good mix of mood and humour going on. Decent challenge (you might let loose the occasional expletive in frustration), and, for the most part, interesting areas to explore and goodies to find. Not "souls-like"- but rather "Zelda-like". Some repetitive areas, but for me it was short enough not to wear on me and kill my interest.

…

Expand

"Death's Door" é um bom jogo que traz consigo algumas horas de diversão devido ao seu sistema de combate e história. Em alguns momentos

"Death's Door" é um bom jogo que traz consigo algumas horas de diversão devido ao seu sistema de combate e história. Em alguns momentos diverto, em outros provocador, "Death's Door" é uma aventura em um mundo esvaziado que desestimula a exploração das regiões (Por que colocar caixas em todos os lugares se em 90% dos casos não há nada dentro delas???). A ausência de um mapa ou de alguma ferramente que nos auxilie a acompanhar o progresso ao longo do jogo dificulta a vida do jogador que quer saber o que já foi explorado e o que não foi. É um bom jogo, mas existem outros indies de valor similar que vão garantir uma experiência mais significativa aos apaixonados pelo gênero.

…

Expand

this game is so terrible. there are no challenges. the game dont run smooth on switch