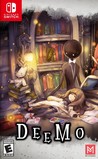 Summary:

Experience Deemo: The Last Recital, a music rhythm game and story of urban fantasy.

Deemo is a mystic being that lives in solitude in a castle all by itself. His life changes when a little girl who lost her memories, unknowingly falls from the sky, not knowing who she is and where sheExperience Deemo: The Last Recital, a music rhythm game and story of urban fantasy.

Deemo is a mystic being that lives in solitude in a castle all by itself. His life changes when a little girl who lost her memories, unknowingly falls from the sky, not knowing who she is and where she came from. Deemo comes to realize that whenever he plays the piano, a tree in front of him grows taller and taller. Confident that the tree can grow tall enough to help the little girl reach the sky from where she came from, the two come together to play the piano together. Can Deemo help the little girl regain her memories and help her get back home?

…

Expand
Developer:

Flyhigh Works

Genre(s):

Action

,

Rhythm

,

Music

# of players:

No Online Multiplayer

Cheats:

On GameFAQs

Rating:

E
Flyhigh Works' second Switch symphony hits all the same highs as the first; Deemo is a fantastic rhythm game, with an incredible soundtrack, fun mechanics, and a surprisingly touching tale to tell. Its lovely art and piano focus give it a unique feel — without at all restricting its musical horizons — and excellent pacing and difficulty options make it accessible and fun for a wide range of skill levels. Music fans shouldn't miss this — Deemo is a hit.

Deemo is a very gentle game. Its minimalist aesthetic aims to connect with players emotionally rather than intellectually or physically, and the end effect is akin to sitting down at a piano and playing a favourite song; but not for the benefit of an audience, and not as an examination or other test of musical skill. Sometimes people play music purely for the joy of music, and that's what Deemo succeeds in tapping into. Sometimes, just sometimes, people play music simply for the joy of it.

This is easily the best version of the game and a fantastic rhythm game that I'd put alongside Superbeat Xonic which is my favourite one on the platform.

Deemo excels in every aspect for a game of its genre. On the surface it may seem like any other rhythm game, however its musical accuracy combined with a stellar and diverse song selection makes it an incredibly captivating experience - it even has an emotional story! The premium package will seem a lot to those not into the genre, but it's an easy recommendation for anyone who is.
This publication does not provide a score for their reviews.

This publication has not posted a final review score yet.

These unscored reviews do not factor into the Metascore calculation.
If you're a rhythm action fan and you've more or less rinsed VOEZ by now, Deemo is a brilliant successor. Its gentle soundtrack makes it a more laid back rhythm game and while its in-game design is maybe a little too minimalist the music takes centre stage wonderfully.
This review contains spoilers

, click expand to view

. Beaiful Music and melody

I have been playing this game on app I am so glad its on ps4 now!!

100% recommend

…

Expand

This game is an absolute delight to play. All of the playable songs are beautiful in their composition and a lot of them will have you coming

This game is an absolute delight to play. All of the playable songs are beautiful in their composition and a lot of them will have you coming back, not even necessarily to beat your score or 100% it, but just because they can be so much fun just to pull off and play. There is a story here that unfolds as you play through songs and it is very touching, but I wouldn't say its center stage, which is honestly just praise for how good the gameplay is. I genuinely love that you can use the touch controls on the screen to play the notes just like on the phone version it started as. Highly recommend this game, easily my favourite rhythm/music game

…

Expand

Too many third-party games on the Nintendo Switch are something you'd play for an hour, say: "Well, that was a fun little time", then never

Too many third-party games on the Nintendo Switch are something you'd play for an hour, say: "Well, that was a fun little time", then never pick it up again. Examples include Untitled Goose Game, Doughnut County, A Short Hike, etc. Deemo isn't like this. Deemo is a game that will last and resonate with you for the rest of your life. A mark of a true piece of art!

…

Expand

It's an awesome rhythm game with cute and well-done visuals, good story and music that you will re-listen over and over. Worth every penny and

It's an awesome rhythm game with cute and well-done visuals, good story and music that you will re-listen over and over. Worth every penny and absolutely recommend it.

…

Expand

This feels like a triple A rhythm game with top notch presentation, original songs and simple but refined gameplay.

The song is very good and well made, but there is no reason to enjoy it with the switch.

Played the Deemo demo. Most of the notes are not sync with the melody. Not on easy, nor on hard. I have gotten better scores playin it on

Played the Deemo demo. Most of the notes are not sync with the melody. Not on easy, nor on hard. I have gotten better scores playin it on mute, just looking to the precise time to press the buttons. I cannot enjoy a game, no matter how good visual and story it has, if the main purpose and core, rythm genre, doesn't have decent and polished gameplay.

…

Expand