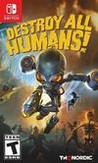 Summary:

The cult-classic returns! Terrorise the people of 1950's Earth in the role of the evil alien Crypto-137. Harvest their DNA and bring down the US government in the faithful remake of the legendary alien invasion action adventure. Annihilate puny humans using an assortment of alien weaponry

The cult-classic returns! Terrorise the people of 1950's Earth in the role of the evil alien Crypto-137. Harvest their DNA and bring down the US government in the faithful remake of the legendary alien invasion action adventure. Annihilate puny humans using an assortment of alien weaponry and psychic abilities. Reduce their cities to rubble with your flying Saucer! One giant step on mankind!

…

Expand
Developer:

Black Forest Games

Genre(s):

Action Adventure

,

General

# of players:

No Online Multiplayer

Cheats:

On GameFAQs

Available On:

Stadia

Rating:

T
I try to give each game a fair shake regardless of whether it's new or a port, reboots, etc. So, all by itself, Destroy All Humans for the Nintendo Switch is a romp. It isn't quite as long as I hoped, but playing a jet pack wearing, Elvis impersonator looking, little green (gray, actually) man from outer space with a Zap-O-Matic and a flying saucer capable of blowing up tanks is a barrel of fun.

Destroy All Humans! it's a fun title with a simple plot. It is a good remake of the title that was released more than a decade ago, but it still has issues to improve, such as certain textures that don't look completely clean or controls that could be more precise.

Still, even though I arguably enjoyed my time with this version a little less, it's still a great port of a great game that more people need to play. If you can play it in a slightly more stable format then I'd still recommend that, but if you can't or fancy pretending to be an alien wherever you are, then this is a great way to play.

Destroy All Humans returns in a remake that refreshes the original's visuals, modernises its controls and adds a few new weapon and traversal upgrades to proceedings, all whilst failing to make any meaningful changes to the game's rather outdated core gameplay. What's here is still silly fun, for sure — decimating dullard humans with Crypto's high tech alien gadgets and unstoppable flying saucer can still provide some chaotic catharsis — but there's no denying this one's showing its age mechanically and newcomers to the series may well be left feeling a little underwhelmed.

Destroy All Humans! is beat for beat a remake of the original title with the exception of one new mission that manages to blend right in with the rest of the game. The biggest concern with this port is that it crashed a number of times and there never seemed to be a consistent reason for why - hopefully this is something that will be addressed in early updates. While it's awesome to see Switch players get access to this cult classic and all its new content, it would be better to purchase the port on another console if possible, as doing so will likely provide a more consistent and enjoyable experience.

Destroy All Humans! has an interesting premise that helped it stand out back when it first released in spite of not exactly being a top-shelf game. Oddly enough, that premise is still quite unique more than fifteen years later. But the things that were rough then feel even rougher now, and I'm just not sure it's going to impress anyone coming to it for the first time. When the mayhem hits a high and you're blasting away humans, their structures, and their defenses with your otherworldly weapons, it's still a lot of fun. What happens between those bits isn't as interesting, unfortunately. In fact, it can sometimes be outright dull. Add in some technical issues with this port and you have a rather lukewarm invasion all-around.

The biggest selling point for Destroy All Humans! on the Nintendo Switch is the ability to play the game on the go, and it is perfectly playable that way. In fact, I actually enjoyed playing it handheld more than I did docked. There wasn't a very noticeable difference between the two outside of screen resolution. If you have not purchased the game on another system or the idea of playing it on the go is the most important thing to you, then I would say the game is worth checking out. With that said, I would not recommend anyone just looking to play the game purchase it on the Switch if they have the ability to play on another platform. Switch ports are always going to suffer from being a slight step down from their other console counterparts, and Destroy All Humans! is no different.
I actually really like this game, you play as a villain and take over the planet. The switch doesn't have many good games, but this is

I actually really like this game, you play as a villain and take over the planet. The switch doesn't have many good games, but this is definitely one of them. The weapons are dope especially the anal probe. Fly around f ish up, good game for the switch

…

Expand

THQ Nordic created an all-around great implementation with "Destroy All Humans! Even though the game is already 15 years old, the storyline

THQ Nordic created an all-around great implementation with "Destroy All Humans! Even though the game is already 15 years old, the storyline and game concept can still completely convince fans and children today. The story of the game is well done and drives you through the pretty levels. In addition, the many loving characters and pleasant tasks come at you. The loving additions and innovations also successfully round off the positive overall impression. If you would like to dive into the world of Crypto-137, you should take a closer look at Destroy All Humans! for the Nintendo Switch.

…

Expand

Ignore the haters. This game is a blast to play. I am through the 5th mission now. Yes, the difficulty borders on milquetoast and the

Ignore the haters. This game is a blast to play. I am through the 5th mission now. Yes, the difficulty borders on milquetoast and the average play through time for all missions is listed at less than 20 hours, but it makes up it for with the "Mars Attacks" dark satirical humor, the updated graphics, the smooth controls and gameplay, and the numerous references to 1950's / 1960's movies, politics, music, and culture.

…

Expand

It's just okay.

I loved Destroy all Humans on my original Xbox way back in the day, and this remake IMO is really great on the otherIt's just okay.

I loved Destroy all Humans on my original Xbox way back in the day, and this remake IMO is really great on the other consoles, but there are downsides on switch.

Surprisingly it runs relatively well all things considered (sticks to 30fps most of the time) at a reasonably good resolution most of the time, but the game made some serious sacrifices to get to this point. Firstly, there is a serious problem with textures not loading properly, particularly in cutscenes, which can be very distracting. There's also quite a lot of pop-in, and what appears to be the lowest resolution ambient occlusion ever put to screen which can make the visuals look really muddy and strange (I don't understand why they didn't remove ambient occlusion entirely). The physics on the switch version are also kind of broken. If you pick up an enemy and throw them at the ground right in front of you or at a nearby building more often then not the NPC will completely spaz and glitch out, getting stick in buildings and that sort of thing. Other times when I threw objects at NPC's they wouldn't even react or take damage. A lot of the weapon animations are bugged as well. When you use the anal probe the animation gets pretty laggy at the end, and when you're in the saucer incoming bullets appear to phase in and out of existence with super jittery movement, making dodging them pretty frustrating.

If you're more of a casual player who doesn't pay as much attention to the smaller details in games you may not notice these issues so much, but for me, all these problems really added up and really took me out of a lot of the experience. All things considered I'd probably give this port a 6.5/10 but since metacritic made me choose it's more of a 6 than a 7 to me.

It's a real shame. This game holds a special place in my heart and the remake is otherwise great. In this day and age with so many games full of microtransactions, and large, aimless, bloated open worlds, the simple structure, gameplay, and story set in a well realized world with a runtime that doesn't overstay its welcome is incredibly refreshing. The short mission structure and casual nature of the game would also make it great for portable play if it didn't have these issues. I really got the sense the devs did everything they could to make the performance and resolution of this port decent, but at the end of the day I think they made too many sacrifices.

As with pretty much every 8th gen switch port, just because you can port it, doesn't mean you should. Some of these issues could be fixed with updates but I doubt it would make a night and day difference. Get it on another platform if you have the chance, it's worth it.

As a side note I haven't experienced any crashes during my playtime as some other reviewers have pointed out.

…

Expand