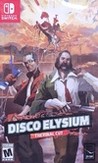 Summary:

Disco Elysium - The Final Cut is the definitive edition of the smash-hit RPG. Pursue your political dreams in new quests, meet and question more of the city's locals, and explore a whole extra area. Full voice-acting, controller support, and expanded language options also included.

Get evenDisco Elysium - The Final Cut is the definitive edition of the smash-hit RPG. Pursue your political dreams in new quests, meet and question more of the city's locals, and explore a whole extra area. Full voice-acting, controller support, and expanded language options also included.

Get even more out of this award-winning open world. You're a detective with a unique skill system at your disposal and a whole city block to carve your path across. Interrogate unforgettable characters, crack murders, or take bribes. Become a hero or an absolute disaster of a human being.

…

Expand
Developer:

ZA/UM

Genre(s):

Role-Playing

,

General

,

Western-Style

# of players:

No Online Multiplayer

Cheats:

On GameFAQs

Available On:

Stadia

Rating:

M
Please enter your birth date to watch this video:
You are not allowed to view this material at this time.
Disco Elysium - The Final Cut - Date Reveal Trailer
Thought provoking, confronting and gripping – Disco Elysium: The Final Cut is a triumph of interactive storytelling.

Disco Elysium on Switch manages to keep the enjoyment of the original game intact, with excellent readability of text and interface, even in portable mode. The grip on the controller is also well thought out and no point of friction taints the experience. The only downsides: a stable framerate, but which will struggle to exceed 30 FPS and long loading times between each zone. But if not, if you like (very good) reading and universes as original as they are dense, you can go for it: you will surely live one of your best role-playing experiences.

Disco Elysium remains an incredible RPG on Switch, and plays perfectly on this portable console. If you haven't tried it yet, now is the best time to do so and on the go.

Disco Elysium: The Final Cut is an absolute triumph. The narrative and dialogue, which is already wonderfully compelling on its own, has been given a massive boost thanks to the excellent voice acting introduced for the Final Cut. The gameplay features a host of branching paths for you to explore, and while the slow, methodical approach may turn a few people off, this is nevertheless one of the most well-told stories in any medium from the last few years. The performance issues at the time of writing slightly took the shine off things — and we hope they're ironed out soon via updates — but even with them present, Disco Elysium: The Final Cut stands as one of the best RPGs available on Switch.

Disco Elysium is not a game for the masses, it is an old-school PC niche experience that is now available on Nintendo. Unlike other similar ports, this one is very playable and it is perhaps the second-best way to experience this strange RPG game outside of the PC environment.

If you can't play it elsewhere, Disco Elysium: The Final Cut on Nintendo Switch is a great option, especially if it's your first time playing. Returning Revacholians will find the long loading times to be an extra annoyance, but it's not like we didn't put up with worse when the PS5 version launched. There's just nothing quite like Disco Elysium.

While a terrific game in it's own right, Disco Elysium: The Final Cut just doesn't cut it on Nintendo Switch. Lengthy loading times between small rooms and different floors of buildings makes the game drag enough to completely lose the narrative flow, which is a big problem considering narrative is its primary focus. If load times get fixed alongside the poor A.I. that tends to get your character lost while trying to look at something two feet in front of them, you got a great portable game. Until then, it's all some what of a bummer.
This is one of the best games out there, hands down. It's so rich of storytelling, gameplay mechanics are spot on, let's not forget about the

This is one of the best games out there, hands down. It's so rich of storytelling, gameplay mechanics are spot on, let's not forget about the fact it has some great voice-acting in it as well. For anyone that loves detective stuff, puzzling, multiple choice and so on, it's a must-play.

…

Expand

Just 4 days after one of the best games ever made(being Metriod Dread) They put out this Materpiece on the Switch. I cant explain how much

Just 4 days after one of the best games ever made(being Metriod Dread) They put out this Materpiece on the Switch. I cant explain how much content is in this game. The story alone is great. The type of game is like were you are alone so u can pick up on everything going on wit the diolog. Looks very nice on the Switch, and its nice that it all is voiced. I mean nearly everything about this game is out of this world.! Thank you for bringing this to the Switch

…

Expand

Unfortunately the game doesn't run smooth at all, crashed 4 times during my playthrough and the music occasionally stuttered. I like the idea

Unfortunately the game doesn't run smooth at all, crashed 4 times during my playthrough and the music occasionally stuttered. I like the idea of playing this in handheld and it felt like reading an interactive novel so without the technical difficulties the switch would be my prefered platform. Despite all that the game is so good that I still rate it a 9/10 experience despite all the technical shortcomings. I don't want to spoil too much but you can expect many dialogues with stellar writing and point and click rpg gameplay paired with an excellent story.

…

Expand

Incredible writing, fascinating and constantly original story, beautiful game world and generally a game brimming with passion and wonder. I

Incredible writing, fascinating and constantly original story, beautiful game world and generally a game brimming with passion and wonder. I wish there were more games like this. This is almost like a piece of art. If it were not for the awful performance issues on the switch and the massive amounts of bugs, it would be a 10/10.

…

Expand

Disco elysium es uno de los juegos con mejor historia, especialmente si te gustan las novelas negras policiacas, metiéndote de lleno dentro de

Disco elysium es uno de los juegos con mejor historia, especialmente si te gustan las novelas negras policiacas, metiéndote de lleno dentro de una en mitad de un mundo distopico que se cae a pedazos, con un protagonista si cabe más roto aún.
El sistema de progresión del juego es genial, pero en última instancia no os equivoquéis de genero al juzgar el juego: esto es una aventura de rol conversacional.
Tiene muchos puntos buenos: el doblaje, la música, la historia, la progresión del personaje, la libertad...
Sin embargo hay dos puntos que le hacen desmerecer mucho:
- Primero, el rendimiento en switch. El juego esa bastante mal optimizada, con bajadas importantes y crasheos puntuales. La mala optimización aumenta además el siguiente problema.
- Moverte por el mundo NO ES DIVERTIDO. Me refiero al control de nuestro personaje mientras va de un punto a otro investigando. No puedo explicarlo de otra manera, simplemente el control se hace tedioso. Sumale los lugares donde el rendimiento baja y en ocasiones ir del punto A al punto B puede ser un coñazo (y el teletransporte podría estar mejor explicado una vez lo desbloqueas por cierto...).

Son errores desde mi punto de vista bastante graves, sin embargo la calidad del juego en todos los otros puntos hacen de este igualmente un juego imperdible para los amantes del genero o de las novelas negras.

…

Expand

One of the most boring games I've ever played with huge amounts of uningaging filler text. And it crashes every hour. Unfortunately it's

One of the most boring games I've ever played with huge amounts of uningaging filler text. And it crashes every hour. Unfortunately it's impossible to get refund on Switch..

I'm quicksaving after every fn dialogue, it crashes every hour or so. And how is this game is considered masterpiece is beyond me. At some point you have to run from one character to another within the same fn building back and forth like 5 times and there are 3 30 second loading screens between them with a 20% chance to crash. What the f!

…

Expand

this is one of the games that has nothing fun to offer on switch, very bad game