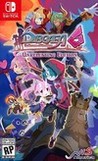 Summary:

SRPGs are gonna get a serious punch in the throat. The first new DISGAEA game in six years is here! Meet Zed, a zombie that has risen above them all except one - a God of Destruction. Can a mere Netherworld zombie rise up and destroy a god? Find out in the newest installment of the DISGAEA

SRPGs are gonna get a serious punch in the throat. The first new DISGAEA game in six years is here! Meet Zed, a zombie that has risen above them all except one - a God of Destruction. Can a mere Netherworld zombie rise up and destroy a god? Find out in the newest installment of the DISGAEA series! Features such as Super Reincarnation, 3D visuals (a first for this series), and adjustable gameplay settings make this the perfect game for both new and old DISGAEA fans!

…

Expand
Developer:

Nippon Ichi Software

Genre(s):

Role-Playing

,

General

,

Strategy

,

Turn-Based

,

Tactics

# of players:

No Online Multiplayer

Cheats:

On GameFAQs

Rating:

T
Please enter your birth date to watch this video:
You are not allowed to view this material at this time.
Disgaea 6 Complete - Character Trailer
As an existing fan of Disgaea, this new one is, despite the incredible focus on big numbers, more of the same, and that is fine by me. The extended level cap is hugely indulgent and entirely unnecessary to the tactics JRPG format, but at the same time it's part of Disgaea's inherent self-awareness and genre-transgressive humour. It very much wants you to see it as a silly indulgence. Couple that with the genuinely funny, satirical script and the rich tactical core that, once you peel back the excess is as compelling as always, and Disgaea 6 shows that the developers at Nippon Ichi still know how to get a player both deeply invested and laughing along with the thing. I want to say that I don't think there's much more that can be done with Disgaea. To me it seems that the hyperbolic potential of the series must have peaked now. But then I thought that exact same thing after Disgaea 5 and this new entry has certainly corrected me on that count.

Disgaea 6: Defiance of Destiny is an awesome entry in the series that brings forth new characters and 3D graphics. The battle animations and tactical systems are as prominent as ever, with a cast that carries the story campaign from beginning to end. There are some moments of growing pains found in this updated graphical direction and added auto systems, but I still found plenty of enjoyment taking down the God of Destruction and showing my SRPG skills. Too bad so many Prinnies had to die along the way.

Disgaea 6 doesn't break the mold from its predecessors but what it does add are welcome inclusions. The art is gorgeous and the story is fantastically written, being both hilarious and heartwarming. Unfortunately, the story does slow down the action to a screeching halt. As always with the series, there are systems on systems that can become quickly overwhelming if not taken in stride, but when engaged they let you customize the game in infinite ways. Overall, I enjoyed my time with the game. It has a consistent quality that has remained interesting over the years. It may not be the best tactical RPG, but the Disgaea name still holds weight within the genre, and this entry is no different.

Disgaea 6: Defiance of Destiny may not be the best game in the series, but the strategy gameplay is still amazing if you can handle the technical issues.

Disgaea 6 is full of fun characters and addictive grinding, but as a package it feels like a stepping stone entry in the series - a not-quite-complete game that will hopefully pave the way for bigger and better things in the next sequel.

I suppose it's fitting that Zed should be the protagonist of Disgaea 6: Defiance of Destiny because, much like a zombie itself, this game feels lost and incomplete. I know I've been harsh, but none of this has been fun for me. I wanted Disgaea 6 to be the best Disgaea yet. But it isn't. What makes this even more ironic is that Disgaea 6, by normal SRPG standards, is fine. It's really not bad at all. But Disgaea games have never been "normal SRPGs." They're Disgaea games. And, as far as that's concerned, Disgaea 6 can't so much as hold a candle to its predecessors. That's not something that I can overlook so easily, especially after a six-year wait.

Disgaea 6 is the weakest entry in the series thanks to poor performance, bland combat, and a forgettable story.
A very good game but on the switch it has framerate issues and a bit of lag, but i really liked the story and the characters i'm a big fan

A very good game but on the switch it has framerate issues and a bit of lag, but i really liked the story and the characters i'm a big fan since disgaea 1 and i'm never disappointed with nis america games

…

Expand

I've played every game up until this one, NIS took a lot of risks with this one. In my opinion I like the direction they are taking which is

I've played every game up until this one, NIS took a lot of risks with this one. In my opinion I like the direction they are taking which is the introduction of accessibility into the series. The writing is in my opinion the best since Disgaea 1, and I genuinely enjoy the dialogue and cutscenes that go on in between battles. I like the changes with weapons, it puts monsters and humans on a more even playing field, and with the exclusion of weapon skills humans arent immediately overpowered in everyway compared to monsters. Not sure why everyone is getting super butthurt by the graphics, maybe change the settings so it looks better to you. I think people freak out when things are changed, and in my opinion the game is changed compared to others, not worse. Give the game a few chapters before you immediately write it off because its different, I dont think this game deserves the level of hate its receiving.

…

Expand

I've played all the Disgaea games before, and this is one of my favorites. The story is fun, the cast of characters is great and the gameplay

I've played all the Disgaea games before, and this is one of my favorites. The story is fun, the cast of characters is great and the gameplay is top. They removed things that some die hard fans would not like but for normal people is an improvement.

…

Expand

This is really juts a watered down version of Disgaea. It really feels like the game wants to be played like an idle game, where the game

This is really juts a watered down version of Disgaea. It really feels like the game wants to be played like an idle game, where the game basically plays itself. It can be fun, but it also becomes boring pretty easy. The story also appears to be like a confusing mess.
But by far the worst thing is the technical side. If you want to play with the "good" graphic settings, the game has such a poor framerate, the term slideshow is not an exaggeration. So you have the option to turn on the performance mode, but here the resolution of the game is so terrible that it's sometimes hard to make out any details. And the controls...my goodness, the controls. They are nothing but a clunky mess.
What did I like about this game? Well, I really liked the characers and the interactions between them. Those can be really funny and the humor is great in general. And if this is your first Digaea, the game may not be that bad. But even then it's more mediocre.

…

Expand

This review contains spoilers

, click expand to view

. As a hardcore Disgaea fan, as much as I super excited about Disgaea 6. For me this is the worst Disgaea game.

OPENING.
Every disgaea game got an anime opening except disgaea 1. Seems like Disgaea 6 also trying to follow Disgaea 1 pattern, so yeah no anime opening for Disgaea 6. I bet they are trying to minimize their budget

STORYWISE,
To be honest. Disgaea story started with great story for the first title and began to decline in quality throughout the series but I was expecting Disgaea 6 would fix it or make it back on par with Disgaea 1 or 4. Unfortunately no, the story were bad as Disgaea 5 or even worse (again, this is my preference storywise). Disgaea 6 got 2 arc. the first arc was rubbish. 10 chapters but the story doesn't have the flow and felt unnatural, not to mention the diversity of staging/areas aset were reused back and the story delivery were the same for each chapter, repetitive. the characters felt bland and somehow felt unrelated. 2nd arc, felt like disgaea story like previous one. The skits inbetween each chapter were horrible. imagine hearing and seeing the same skit start up "previously, on Disgaea 6" "Super reincarnated Zed and company found themselves in a BRAND NEW WORLD!" "the wheels of reincarnation never stop, and thus, a new story begins..." for 14 freaking chapters, so lame.

Game Stage
BORING, less challenging, no brainer stages, not optimize the usage of geo panel to make the stages more challenging, can just bulldoze all the stages using auto-battle. The most annoying thing about Disgaea 6. You fight the SAME FREAKING BOSS FOR 14 CHAPTERS. imagine it for 14 chapters fighting same boss. Post game also same with story mode. No creativity, no puzzle like previous series. just grind with auto battle and you good to go. nothing complicated and over simplify.

Gameplay Mechanism
Pros
- Monster can Lift
- Can Lifting and move at the same time

Semi-pros? (Some would probably find this feature a good thing, some might find it the killjoy of the game)
- Auto-battle. I would say this is a killjoy for the game. I mean, disgaea were famous for it insane grinding. I can see it be useful for post game content where as you have to keep repeating the stages for leveling. I think auto-battle should be unlock with after the story mode with some hard to get requirement. otherwise, it defeat the purpose of the game. Would it be a game if it all have been autoed?
- Auto-repeat. same case with auto-battle

Cons
-They cut down so many classes
-No more weapon skill
-There are unique character but because of no more weapon skill and each character and classes have their own set of skill. Everyone are unique character lol. no more "generic" character.
-No more tower attack and animation
-No more team attack and animation
-Countering skill, apparently in Disgaea 6 you can counter attack skill.
-Level, character class level, weapon proficiency level all can be bought to the max using HL. again, it's defeating the purpose of Disgaea grinding system.
-auto-battle with proper A.I set up make the item world a joke.

Overall
-They over simplify the game
-too much automation. it's like disgaea now become an idle mobile game where you just turn on the game and let it play by itself. no more pleasure of grinding the game and defeating the last post game boss.

This is what I felt playing Disgaea 6 till post game. Not gonna lie, I even felt wanna drop the games in 1st arc but thinking it would be better eventually when progress, I was wrong

Well everyone are entitle to their opinion but this my review about the games. yes I am salty with the way the game goes.

…

Expand

Needs significant touchup work done; odd freezes at the beginning of conversations (usually after returning from missions); audio skips/cuts

Needs significant touchup work done; odd freezes at the beginning of conversations (usually after returning from missions); audio skips/cuts out during dialogue; the graphics are incredibly poorly optimized for the Switch (yeah, sure, you can reduce the graphics quality in the settings, but it's absurd that it isn't optimized for the platform it's meant to run on in the first place).

…

Expand

There is a multitude of issues with Disgaea 6, both negatively impacting the casual & veteran players of Disgaea. I will keep this review

There is a multitude of issues with Disgaea 6, both negatively impacting the casual & veteran players of Disgaea. I will keep this review spoiler free in terms of plot but I will briefly mention the boss setups as they're incredibly cheap.

A good chunk of Disgaea players disliked Disgaea 6 right from the announcement trailer, this reason being because of the art style change. While I'm willing to accept this is a subjective topic, there was no reason to change the art style to something only a chunk of people like when Disgaea 5's art style was universally praised.

But there is a massive objective issue with Disgaea 6 that has impacted everyone's playthrough, the **** optimisation. This game costs £54, so the price of a triple AAA game so you expect a decent product.

But you don't get that, this game has severe frame rate issues and the only work around to get a stable frame rate is by lowering the settings to performance mode which will provide you with a decent FPS but at the cost of making the graphics go literally blurry.

For a game of this price-point it's unacceptable, even if this was the only issue this game had it'd be enough for me to not recommend this game to people. The game has been out for OVER A YEAR and there is yet a patch to be issued for this, the game does not look demanding at all so this is more of a case of the devs issuing out a poorly optimised game. They thrown out a half ass game, charge us full price and **** off.

Most of Disgaea 6's issues likely come from budgeting issues & time constraints, the developers just wasn't given enough time to create a product such as Disgaea 6. In previous Disgaea games you had unique bosses, but with Disgaea 6 the bosses are just different colour schemes of existing units.

If you aren't fighting alternate colour scheme of units then you'll be fighting 1 boss over and over again called "God of Destruction". Trust me when I say this boss gets repetitive FAST.

There is a different form of this boss but you only fight it for the final boss, in previous Disgaea games there were variety but that just doesn't exist in this game.

Talking about variety, this is something that is extremely lacking in this game. They have took so many steps back in this game that it's objectively the worst Disgaea game in my opinion.

First issue is item world, in previous Disgaea games each floor of the item world is randomized. This is a great design choice from the developers considering how grindy Disgaea is, you'll easily spend 100s of hours in the Disgaea games if you want to 100% them, by randomising each item world floor this provides some fresh air and helps in avoiding the game from becoming repetitive.

But in Disgaea 6 I am pretty sure for the item world floors they reuse already existing levels, I am baffled for what reason the developers thought of to choose this design decision. This is a massive issue in Disgaea 6 because they increased item's level to 9999 alongside item world floors reaching 9999. This means the item world will become repetitive fast, there's literally no variability here.

I believe this issue comes down to the developers working in a new game engine and not having the time/resources needed to replicate the item world we're so familiar with. But this begs the question if that's the case, why change the game engine at all? Disgaea 5 was perfect in certain areas, the developers should've focused on refining all of that instead of shooting themselves in the foot.

The lack of time/resources provided to the developers also shines through the characters themselves, this is also one of the biggest issues I have with this game.

In previous Disgaea games, your characters would have something called weapon skills which'll give you a huge set of weapon skills relating to the weapon they're using. These provide you with skills you can use for any situation, it provides you with the freedom to approach battles in any form you wish. But in Disgaea 6 they **** this up.

I assume due to resource limitations they had to severely cut back on this, they completely axed weapon skills from this game. So each character only has 3-4 skills they can use, this places an incredible limitation on the ways you can approach fights.

Disgaea 6 is the only Disgaea game I have dropped & have no plans on returning to, sequels are meant to be better then the previous entries but that isn't the case here.

What reason do I have to come back to Disgaea 6 if Disgaea 4/5 does much better in practically everyway? I can give up having the 99,999,999 level cap if it means I get to play an actual decent Disgaea game.

…

Expand