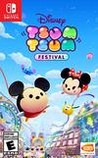 Summary:

Earn coins, rack up points and collect Tsum Tsums. It's a big party with Disney's fluffiest little plushes. These cute and fluffy toys are coming to the Nintendo Switch and ready to delight Disney fans of all ages. Play a variety of activities with your Tsum Tsum and start racking up points

Earn coins, rack up points and collect Tsum Tsums. It's a big party with Disney's fluffiest little plushes. These cute and fluffy toys are coming to the Nintendo Switch and ready to delight Disney fans of all ages. Play a variety of activities with your Tsum Tsum and start racking up points to build up your collection of little friends.

…

Expand
Developer:

Bandai Namco Games, B.B.Studio

Genre(s):

Miscellaneous

,

Party / Minigame

# of players:

2

Cheats:

On GameFAQs

Rating:

E
It's easy to dismiss Tsum Tsum Festival as being "just" a minigame collection, but there's value in those – especially on the Nintendo Switch, which is built around the easy sharing of experiences but has, to date, had a relatively minimal application of that potential outside of Nintendo itself. With Christmas parties and the like coming up, there's going to be plenty of opportunities to break this game out, and it's one of those that kids can love… but then also holds the kind of nostalgic appeal to anyone who grew up with Disney (i.e. all of us) that allows them to enjoy it too. We don't see Donald Duck in enough games any longer. I'm happy to have him here.

Disney Tsum Tsum Festival is a wonderful party game. Whether you're looking to entertain the kids or simply want a lighthearted game to play with friends, you're bound to have a ton of adorable fun with this mini-game collection.

Tsum Tsum Festival is not built to produce a competitive atmosphere, but is rather a heart-warming collection of mini-games. My husband, John, and I played most of the games in a cooperative mode because, frankly, it was way more fun. But if you're going to have John on your team for Bubble Hockey, for the love of Tsum Tsum don't have him guard the goal.

Disney Tsum Tsum Festival is packed with stuff to do, but most of it should be left to full family households with everyone on deck.