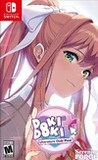 Summary:

Welcome to the club! Write poems for your crush and experience the terror of school romance in this critically-acclaimed psychological horror story.

Enter the #1 Psychological Horror Experience! Welcome to a terrifying world of poetry and romance! Write poems for your crush and eraseWelcome to the club! Write poems for your crush and experience the terror of school romance in this critically-acclaimed psychological horror story.

Enter the #1 Psychological Horror Experience!

Welcome to a terrifying world of poetry and romance! Write poems for your crush and erase any mistakes along the way to ensure your perfect ending. Now's your chance to discover why DDLC is one of the most beloved psychological horror games of the decade!

You play as the main character, who reluctantly joins the Literature Club in search of a romantic interest. With every poem you write and every choice you make, you'll charm your crush and begin to unfold the horrors of school romance. Do you have what it takes to crack the code of dating sims and get the perfect ending?

Now, the original mind-shattering DDLC experience is packed with tons of new features and content exclusive to Doki Doki Literature Club Plus!

…

Expand
Developer:

Team Salvato

Genre(s):

Adventure

,

Visual Novel

# of players:

No Online Multiplayer

Cheats:

On GameFAQs

Rating:

M
Please enter your birth date to watch this video:
You are not allowed to view this material at this time.
Doki Doki Literature Club Plus - Exclusive Gameplay Trailer [Play For All 2021]
Doki Doki Literature Club is among the most memorable, creative, and iconic horror games of the last decade and should be experienced by anyone who is able to safely stomach it. The Plus version of the game effectively adds even more valuable story content to the mix.

Doki Doki Literature Club Plus! is nothing short of a masterpiece and highly recommended to anyone who can handle darker content. It navigates the jump from PC to console well overall, with new mechanics developed to handle gameplay situations that would normally be impossible outside of PC. The extra content, especially the Side Stories, is terrific as well, though it may not be enough to justify a $15 price tag given that the original game is still free on PC.

Doki Doki Literature Club Plus is the kind of game that provides experiences unique to the video game medium. It is also the kind of game that pushes the visual novel genre's boundaries, and serves as an excellent example of what non-video game players might not know they're missing, if they're not willing to try different kinds of games. This is a game you will tell everyone about when you're finished playing it, and at the same time, just like this humble reviewer, you won't want to share why. For less than $20, Doki Doki Literature Club Plus is a highly recommended and very unique gaming experience.

Nintendo Force Magazine

Oct 7, 2021

If you're a mature gamer (I can't recommend this game to anyone still in high school, considering some of the subject matter that gets explored within) and you're looking for a horror story that doesn't depend on cheap shots or jump scares to entertain, then I'd suggest joining the Doki Doki Literature Club. [Issue #55 – October 2021, p. 72]

It does not pull it off as effectively as the original PC version for what I think are obvious reasons, but it works well enough. This is a decent way to play Doki Doki Literature Club if it's your preferred option, and you definitely should play it. As long as you're okay with some heavy, mature content, anyway. This is more of a horror story than anything else despite its candy-colored appearance. But it is an incredible one, and one that could really only be done in the medium of video games.

Doki Doki Literature Club (and this Plus version) is both a homage and a challenge. It's a homage in the way it delightfully plays with the dating visual novel genre – sure, it ends up subverting that to horrific effect, but there's such glee in how it does that that hugely entertaining. On the other hand, it's also a challenge – a suggestion that the genre can be a bit more reflective, look for ways to approach things differently, and that there is a lot that this genre can do with characterisation and relationship dynamics. The director has been outspoken that the initial seed of Doki Doki Literature Club from his "love/hate" relationship with anime and VNs. There's much more of the love in there, I think, but developers making games in this genre should certainly play this game to encourage them to think about the structure of their own work from a different angle.

Doki Doki Literature Club Plus is a great way to revisit a visual novel that made quite a splash. For newcomers, it's easy to hop into and enjoy, even offering the PC "workarounds." For people who've joined the club before, the extra stories and media are enjoyable. The sole downside is that, with all its accessibility, Doki Doki Literature Club Plus is difficult to read on the Switch and has an unfriendly UI. It also lacks easy one-button controls for things like auto-advancing or checking the history, as its contemporaries do. Still, it's a fascinating read and story.
Probably my favourite visual novel ever. The poems are AMAZING, the story is short but really surprises the reader. 10/10

Just Monika. Honestly i think this is the best game i've ever played. The details are on another level! It also discusses some good topics.

The first words that will run through your mind after the story is finished will be "What the hell" and that in the most positive way. Nothing

The first words that will run through your mind after the story is finished will be "What the hell" and that in the most positive way. Nothing will prepare what will happen in this visual novel. Do yourself a favor and read nothing about it when you want to buy it.

…

Expand

A force de jouer,
A force d'être programmer,
A rejouer sans cesse les mêmes jeux copiés A un moment, on fini par être cerné, commeA force de jouer,
A force d'être programmer,
A rejouer sans cesse les mêmes jeux copiés
A un moment, on fini par être cerné, comme emprisonné
On se reconnait, l'expérience utilisateur proposé
reste familière, rassurante et promet de nous bercer
MAIS. RIEN. NE. DURE. JAMAIS
Doki Doki Literature Club tente de vous amadouer
il vous prend la main, chaleureuse et pleine de bonté
il vous séduit, avec charisme, et un charme familier
il vous désarme, vous promet une aventure passionnée
il vous murmure à l'oreille, des mélodies sereines,
belles, qui amène un rideau noir sur l'écran de la tv.
et vous y croyez, jusqu'à qu'il vous arrache le coeur,
le balance au porc, ramasse leur merdes et comme un arnaqueur,
vous place ça à l'endroit où vous sentiez votre chaleur. Continuellement, continuellement, continuellement, continuellement, continuellement, continuellement.

Un Visual Novel "classique", avec des personnages typiques voir clichés mais qui ne sont pas utilisé pour dénoncer. De beaux visuels, et de jolies musiques qui font de ce jeu une de mes meilleures expériences vidéoludiques.

*SPOIL ICI*
En visual novel classique, dont on détourne trop souvent le terme pour parler de dating sim, le gameplay est limité, voir inexistant. C'est la partie qui blesse le plus car moins intéressante, et pourtant on simule un programme, on peut supprimer des fichiers, on sélectionne des mots pour faire de poèmes, on nous fait croire à un système de route d'héroïnes, mais ceci est une illusion, tout comme l'espoir de ken Sayori alors que le jeu est clairement classé Mature. Alors forcément la note non parfaite. L'énigme où on doit accélerer le temps reste un des meilleurs pires moments du jeu.

Les illusions sont le point fort du jeu, est c'est grâce à toute la partie déraillante, glitchy, programme défectueux qu'il reste effrayant, car imprédictible. Ma première réaction face au suicide de Sayori ce fut d'aller voir à quoi je ressemble dans la glace, voir mes émotions. Tout cela marche très bien, et ne s'épuise pas vu que le jeu est très court. C'est un service continuel qui peut fatiguer certains joueurs, qui ne sont pas affecté par le brisage du 4ème mur. J'ai était surpris par son efficacité, et pourtant je suis difficile sur ce qui me fait peur.

Le jeu parle de sujets taboo, qui sont trop peu traités dans le jeu vidéo (suicide, scarification, problèmes mentaux, abus de confiance, obsession dangereuse...), mais ces sujets sont survolés et je trouve ca vraiment dommage de ne pas avoir essayer, c'est un filon d'or laissé à l'abandon. Il y a bien des moments d'ouverture où Sayori nous parle de sa déprime, mais c'est trop rare dans le jeu. J'aurais aimé pouvoir choisir mon héroïne après la route commune, et voir ce que cache chacune d'elle.

Le jeu est vraiment court, et malgré les défauts que j'ai cité, c'est quand même une folie à vivre, comme un bad trip conscient et quasi sans danger, il faut pouvoir apprécier le mal dans certains moments. Le masochisme c'est comme le sucre. Chaque joueur devrait laisser sa chance à ce monstre, recommandez ce jeu au plus de monde possible dans la limite de la légalité.

…

Expand

This is a great game, but I personally prefer the original. The bonus content is great, but it doesn't have the same feel as if you were

This is a great game, but I personally prefer the original. The bonus content is great, but it doesn't have the same feel as if you were actually on a PC.

…

Expand

Doki Doki Literatue Club Plus
This game is weird yall
Doki Doki Literature club is a 4 hour long narrative based gamewhere you play asDoki Doki Literatue Club Plus
This game is weird yall
Doki Doki Literature club is a 4 hour long narrative based gamewhere you play as yourself.. these 4 girls ar obsessed with you, youre the only boy in their literature club and you have to juggle their jealosy..
Wiriting poems by picking 20 words from a list that you think a certain girl will like to make them like you even more… and then things get weird.. no spoilers, but think portal, things will just randomly be like oh, what game am I laying, and this second half is the better part of the game.. but in general I just didn't find the story or characters to be that compelling, im glad I went through this ride to see what all the fuss was a about,
it really is a game worth playing, but I didn't care enough about the characters for the twists to really hit me as much as t should have.. which I feel is due to the repetitive nature of the story, with no real choices to make me feel like I was pushing the story towards any sort of direction, I was just reading and reading and reading, I like cute stuff, I like deep stuff, It's the same story different day, bpick 20 new words, and I just couldntcare… which kinda left the 6 side stories in the plus version vs the main version to not really be wort hit for me in particular, for that reason id suggest just playing the main game for free, and if the world , the story, and charcters connect with you, go back and play through plus for that bonus content.. I however am not one of those people.
Overall Doki Doki Literature Club isa good game, with crazy wtf moments.. But lower your expectations before going in.. its not as great as everyone pretends it is.
I give Doki Doki Literatue Club Plus
a 7/10

…

Expand

I made the mistake buying this game after it was so hyped on the internet. I usually don't play visual novels, and thought i should give this

I made the mistake buying this game after it was so hyped on the internet. I usually don't play visual novels, and thought i should give this a chance anyway.
This is NOT a video game, because most of the time you click through a badly written story, with annoying music in the background. After a 30 minutes i was completly bored by it, and just didnt care anymore.

I can't believ this 'game' got such high ratings. I say avoid this game

…

Expand