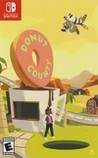 Summary:

Donut County is a story-based physics puzzle game where you play as an ever-growing hole in the ground. Meet cute characters, steal their trash, and throw them in a hole.
Developer:

Ben Esposito

Genre(s):

Action Adventure

,

General

# of players:

No Online Multiplayer

Cheats:

On GameFAQs

Rating:

E
If my biggest complaint about a game is that I desperately want a sequel, that should be a sign that it's doing something right. I don't know whether one of those will come, but even if it does, I'm still glad that Donut County's release on new platforms means that I — and, I hope, many other people — will get to chance to either experience it again, or experience it for the first time. Regardless of whether camp you fall in, it's fun enough that it won't disappoint.

Nintendo Force Magazine

Aug 22, 2019

If you ever need to entertain a room full of young kids, download Donut County. [Issue #38 – March/April 2019, p. 21]

Donut County is incredibly endearing, but it ends too soon.

Donut County will no doubt prove to be a divisive experience, but those that are looking for a relaxing and often funny puzzle game will find an enjoyable experience that has just enough charm to justify its existence. With that being said, this is hardly a game that feels like it justifies the relatively high price tag; three hours max of content is a tough pill to swallow regardless of how enamored you are with the concept at its core.
The story was amazing, even though it ended kinda quickly I was entertained the whole time. Relaxing game

Amazing game although it is pretty short, it still is captivating. Great art style with a great little story that you can get invested in.

Donut county is a kind of a puzzle game with fun original hole sucking things mechanics. It's a short and sweet, nice puzzle, well written

Donut county is a kind of a puzzle game with fun original hole sucking things mechanics. It's a short and sweet, nice puzzle, well written story and well working controls. It's just surprisingly fun to swallow things with a hole, the game will last you a day or two but is well worth the money.

…

Expand

This is pretty good, funny, easy and relaxing game. It is pretty short - 2-4h, but this was ideal for me. I think it could be boring if this

This is pretty good, funny, easy and relaxing game. It is pretty short - 2-4h, but this was ideal for me. I think it could be boring if this game would last 10h+.

However history (in dialogue form) was boring. I think it is useless in this type of game. I skipped 40% of this without reading.

…

Expand

Muy buen juego. BK es uno de los mejores personajes que he visto en un videojuego. Un poco corto pero se disfruta cada segundo del juego.

Very cute game, but be warned that it's truly only 2 hours of content. I'm not sensitive about overpaying for games, but I'm happy I picked

Very cute game, but be warned that it's truly only 2 hours of content. I'm not sensitive about overpaying for games, but I'm happy I picked this one up for $5 rather than full price at $15. The game is Katamari-alike about using a hole to absorb items, rubble, people, houses, and whatever else is around you, while the hole gets larger with each consumable. Gameplay-wise, it's really more of an "experience" than a puzzler, but the few simple puzzles made me chuckle. The controls are fairly tight, though at times things would bounce out of the hole and I'd feel like I was playing one of those rigged ring toss games. Almost nothing has time pressure, so those few frustrations are really minor. Overall, it's a relaxing and clever experience.

The game is also funny, though it's written in the broken millennial Twitter speak of A Night in the Woods and A Short Hike (though without the pathos of either of those games). I find the messy grammar and spelling more humanizing, but I'm sure it'll hit the rage button for some. The graphics and music are both cheerful and well-stylized. I appreciate the amount of personality the devs infused in a short game.

…

Expand

A truly boring game. Most levels play the same without much variety. I am fan of indie games, but this game hasn't much to offer any than good

A truly boring game. Most levels play the same without much variety. I am fan of indie games, but this game hasn't much to offer any than good graphics. I have absolutly no clue how it got such good ratings.

…

Expand