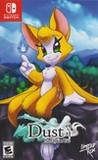 Summary:

Set in the beautiful yet mysterious world of Falana, this game chronicles protagonist Dust's journey to liberate an oppressed village, and rediscover his past. He is aided by an ancient sword, Ahrah, and his helpful if unreserved sidekick, Fidget.

Meticulously hand-animated and painted,Set in the beautiful yet mysterious world of Falana, this game chronicles protagonist Dust's journey to liberate an oppressed village, and rediscover his past. He is aided by an ancient sword, Ahrah, and his helpful if unreserved sidekick, Fidget.

Meticulously hand-animated and painted, this episode of Elysian Tail welcomes exploration, platforming, and above all else, mastery of a fighting system that rewards skilled gamers.

Casual and younger players will appreciate options tailored to allow them to enjoy the narrative without frustration, while seasoned players will enjoy collection, a deep combo and experience system, and increasingly challenging encounters.

…

Expand
Developer:

Humble Hearts

Genre(s):

Action

,

Role-Playing

,

Platformer

,

Action RPG

,

# of players:

No Online Multiplayer

Cheats:

On GameFAQs

Rating:

E10+
Dust: An Elysian Tail is a 2D action and adventure videogame that mixes great combats and exploration with a Metroidvania style, all accompanied by excellent gameplay and a variety of combos and skills that we will unlock during our mysterious journey. The artistic style is impeccable, although its soundtrack is quite improvable. In addition, it becomes quite simple to complete the main story.

If you're a fan of metroidvania-style games, games with a good story, or even just something to pass the time, I would absolutely recommend adding this game to your Switch library immediately. It's perfect for beginners and experienced players alike and will leave you with hours of challenge and entertainment.

While a handful of legacy problems persist onto Nintendo Switch, those issues aren't enough to conceal Dust: An Elysium Tail's true quality. With a beautiful world to explore, an intriguing cast of characters and a combat model that'll make you feel like you're starring in an anthropomorphic version of Crouching Tiger, Hidden Dragon, this is an indie gem that's still as fun and rewarding as it was when it first slashed its way onto the scene - despite some small niggles.

The Dust Switch port is great. Now that the sound bug present at launch has been taken care of, the game runs smoothly all around. Thanks to the plethora of side quests and shorter objectives, the game can be picked up for short bursts of play, meaning it fits perfectly on a portable, though it is still, of course, an engrossing experience that can eat up hours of your time. The game itself is a few years old now, but it holds up perfectly fine. If you have not played Dust: An Elysian Tale yet, or if you just feel like revisiting it, the Switch port is a perfect destination.

Nintendo Force Magazine

Feb 26, 2019

The sense of empowerment, on top of the colorful cast and environments, is enough to inspire players to see the journey to its conclusion. [Issue #37 – January/February 2019, p. 21]

Dust: an Elysian Tail is an indie game that certainly deserves a place among everyone's Nintendo Switch collections. Thanks to its immersive visual environment and intuitive gameplay, as well as the collection dimension of the game, this will quickly become a beloved game by many, whether they are veterans or newbies.
Mi calificación real sería 97 pero bueno esto se acerca más. Todo en el mundo de Dust cohesiona de una forma tan bien construida que el tiempo

Mi calificación real sería 97 pero bueno esto se acerca más. Todo en el mundo de Dust cohesiona de una forma tan bien construida que el tiempo se pasa mientras uno lo juega. Todo es de una calidad muy superior al promedio, las actuaciones de voz, las animaciones, los combos no son demasiados pero son suficientes para hacer funcionar bien el combate, las misiones secundarias son las típicas pero no deja de ser un gusto hacerlas para seguir sumergiéndose en este mundo de fantasía tan colorido, el sistema de objetos como medio de mejora para tu personaje es más que entretenido aunque al final hace que el ataque combinado de Dust y Fidget esté simplemente roto (aunque podría haber sido esa la intención, que si uno se esfuerza lo suficiente, obtenga un poder desproporcionado), la música creada para el juego es uno de los mejores OST que haya escuchado en videojuegos, y la historia es en inicio algo cliché, pero conforme esta se desarrolla adquiere su propia personalidad con algún que otro giro más que interesante que muchos no habremos visto venir. En resumen, la combinación de todo lo que el juego ofrece funciona de maravilla; es sin duda alguna, una de las grandes joyas de los juegos indies y de toda la industria del entretenimiento que más gente debería conocer si quiere una aventura que atrape y sea absolutamente hermosa en más de un sentido.

…

Expand

This is easily one of the best games I've played this year. This game is exceptionally good, from the fantastic voice acting, over the

This is easily one of the best games I've played this year. This game is exceptionally good, from the fantastic voice acting, over the engaging combat to the puzzle and RPG elements all works so well together.
Dust is an action RPG/Metroidvania master piece that every one who like either genre needs to try!

…

Expand

I really enjoyed my 11 hour play through of Dust. It starts off a bit slow but the story starts to build after a while and becomes pretty

I really enjoyed my 11 hour play through of Dust. It starts off a bit slow but the story starts to build after a while and becomes pretty interesting in the mid to late stages of the game. It plays really well and I love the graphics and music throughout. I played through on 'easy' but I suggest you play on a higher difficulty than this if you want any sort of challenge. The graphics within each level are really nicely drawn, I just think it would have felt like a much more 'epic' quest if they had included a few more different terrain types. This is a great 'casual' game that is satisfying overall. Recommended for those who find "hard core" metroidvania games daunting.

…

Expand

A fun little Castlevania game,
combat is more about spectacle and movement so it's a bit like Devil May Cry If devil May Cry wanted to beA fun little Castlevania game,
combat is more about spectacle and movement so it's a bit like Devil May Cry If devil May Cry wanted to be Dynasty Warrior,
has a really good unlocking system,
the Story is quite emotional and not that bad actually,
I would recommend it

…

Expand

Looks nice, voice acting and music are well done, combat is meh, not terrible but not particularly fun or interesting. A little on the easy

Looks nice, voice acting and music are well done, combat is meh, not terrible but not particularly fun or interesting. A little on the easy side, but I believe difficulty can be adjusted. Where the game falls flat is that it's so repetitive. Each screen looks the same, there's one environment. And the map is useless. Seriously why even include it. Overall I'd say this game kinda sucks, It isn't worth $15 when you consider Hollow Knight exists. I'd caution you to try it out before buying.

…

Expand