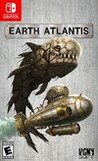 Summary:

Earth Atlantis is a side-scrolling shooter with an original "Monster-Hunting" gameplay. Search and hunt down dreadful sea monsters and explore the post-apocalyptic underwater world. Unlock multiple ships with special weapons and abilities for your journey and become a legendary hunter. [Nintendo]
Developer:

Pixel Perfex

Genre(s):

Action

,

Shooter

,

Shoot-'Em-Up

,

Horizontal

# of players:

No Online Multiplayer

Cheats:

On GameFAQs

Rating:

E
Earth Atlantis mixes exploration and scrolling shooter elements to create a challenging, if occasionally frustrating experience. The map-inspired visuals are the most unique and eye-catching aspect of this game, but under the hood it's a good distraction that works best in portable mode when you have some time to kill.

Even if you're not a fan of bullet hell you should give Earth Atlantis a try, this really doesn't deserve to sink without a trace.

Earth Atlantis remains a beautiful, enjoyable shoot-'em-up under the sea, and I highly recommend taking the dive.

While the physical limitations of its content are clear, it takes little away from the intrigue and challenge Earth Atlantis generates through its fusion of explorative design with the shoot-em-up mechanics that it unquestionably pays homage to. The variety of boss designs (and the way the hand-drawn, sharp-lined visuals give them that added bold presence) and encounters are offered in just the right doses, and while they may feel at times like a chore just to arrive at, they come across as satisfying to partake in. Everything else surrounding it, if not startling or visually depth-inducing, does complement to a sufficient manner, ultimately shaping the journey through Earth Atlantis into one that can be savored but is easy enough to resume on later playthroughs.

Earth Atlantis is a game that is best played if you pace yourself. The quick boss encounters and ease with which you can find enemy mobs makes for some frantic gaming, but that high frequency also means that the experience can get repetitive. The overall mechanics are good, and the look is certainly distinct. It differs enough from normal shooters that it's worth a look, especially if you want a more exploratory adventure to go with your shooting.

A game with a great artistic work that is boring for its simplicity and the small variety of situations.

A game that could have been better, but doesn't manage to get higher quality peaks.
[Update] A BIG Patch 1.0.1 (more like 2.0.1) fixed most issues and drastically reduced times to collect weapons. Balance is also better. Some

[Update] A BIG Patch 1.0.1 (more like 2.0.1) fixed most issues and drastically reduced times to collect weapons. Balance is also better. Some boss is easier bit still challenging enough. The game is much more fun now. It' good to know that the dev listened to all criticisms. (I give 9.5 score)

Earth Atlantis Review - Visual is amazing !! Gameplay concept is interesting. If you love retro space shooters (R-type, Blood Money, In the hunt, Gradius, steel Empire), buy this game.

Graphics - Obviously, the visual is very unique and also very beautiful. It use monochrome pencil-drawing style. When I saw only screenshots, I though it must be very eye-soaring to play this game, but NO, It looks great. I also like the parallax FX on the background. For some reason, It looks even better On handheld mode.

Concept - I really love "Monster-Hunting" concept. Also, the game has only one large level "Metroidvania" style. I think it's s great combination. You have 38 monsters to hunt. In Quest mode, you have to kill some boss to open new locations/areas. Bosses are very different - some are swimming type/ some standing type.

Gameplay - This one is tricky. This game is quite challenging . It's definitely just like old retro shooter game on NES/Genesis - people might consider them hard. Some boss are difficult but challenging. You need to carefully learn each boss attacking pattern. You can die easily even on easy setting if you are not careful enough, some boss has one hit-kill attack that might be difficult to some casual player and when you die, you need to upgrade your ship again from O, again just like old games. I will frustrate some casual gamers. It's not "Dark-Soul" difficult though.

The game have a decent pace. Not as fast as, I thought. But it will get faster when you use new ships, they are faster than a default one. (I have unlocked 2 more ships so far.)

Performance - the game run very well. I have never found any frame-rate drop problem. No glitch found.

I've played this game for more than 6 hours (~50% completed) - I really enjoyed it.

Conclusion: If you are a retro space-shooter fan (Genesis/NES) - buy this game. If you a casual gamer - probably not.

…

Expand

Pro
- Amazing Graphic!! So unique and beautiful
- Metroidvania style level - 25+ Bosses !! - Bring some great memories of some classicPro
- Amazing Graphic!! So unique and beautiful
- Metroidvania style level
- 25+ Bosses !!
- Bring some great memories of some classic shooter on Genesis system
Con
- Take time to gather all weapons again if you die.
- Some types of enemy's bullet are difficult to see if you are near water surface
- A couple of boss is too difficult. You need to get the right combination of weapons to kill them.

…

Expand

This game is just simply gorgeous. I love the environment the most. It feels like i am in an adventure ans exploring the abandoned towns , the

This game is just simply gorgeous. I love the environment the most. It feels like i am in an adventure ans exploring the abandoned towns , the place where it is at the most peak of itself and to what is left in the future. Just made me so hyped! It's insanely beautiful with those amount of detail. I can not believe it. I enjoy the game so far and still exploring. The game is not easy. I died a countless of times but it fell very rewarding when I find the way to defeat a new boss.

…

Expand

In the days of the arcade, you could always find a good shmup to waste your coins on. Dollar after dollar clinking away in the machine with

In the days of the arcade, you could always find a good shmup to waste your coins on. Dollar after dollar clinking away in the machine with those silver coins like the sound of slot machines at a casino, all in the pursuit of getting the high score. Whether it was Galaga, Defender, or a multitude of other choices, it was a destination genre for many that walked along the brightly colored machines. With the genre now a mainstay on consoles, one of my favorites being the Pixeljunk Shooter series, it's nice to see the Nintendo Switch sharing the love.

While many people are discussing Sine Mora EX once again, as it just came out on the NS, it's important to not overlook Earth Atlantis. While certainly not your typical shmup like Gradius or Raiden, it's got a lot of character and some interesting game design decisions that people who enjoy the genre will appreciate.

Beginning with the obvious, the game looks different from most things you'll play in this day and age. Its focus is a sepia tone with intricate line work and values. In fact, I found myself dying because I'd get caught up looking at something and not realizing I was running right into an enemy. While the art direction is beautiful, it also means that enemies can camouflage like nobody's business. Of course, this was more problematic near the beginning of the game than the latter portions when I knew what to look for. But when you win an award for "Excellence in Art" during BIC Festival 2016 in Busan, it's hard to really feel it needs changing. It also won the "Vermilion Gate" Award (Best in Show) during the 5th BitSummit 2017 in Kyoto.​

Once you're able to get past the visual choice, you can start to appreciate how the game actually plays. While you may think that it's a simple sidescrolling shooter, it goes more along the lines of Song of the Deep; you are able to freely explore the world you're provided. The story goes that the threats of global warming were not heeded, so the majority of the world was covered in water. That being the case, giant sea creatures began to take over. That seems logical enough – have you seen what lives in the deep sea? I'm amazed they haven't taken over already.

You'll have the option of going up and down, as well as side to side while choosing which way to face for maximum damage with whichever submarine you choose to take into battle. Each option has varying stats and different forms of weaponry. Whether you do a front and back shot or omni-shot is completely dependent on which vessel you choose. Like any shmup, your weaponry is limited at first, but soon grows with power-ups that you acquire. And since you'll be taking damage, you can also grab some much needed health along the way. Outside of the exploration and normal bad guys, you'll face more than 30 bosses that will make you reconsider how you play the game.

Upgrading your ship is vital to surviving in the depths of the world. As you defeat bosses, new paths open up for further exploration. This is where the game may surprise you if you had no knowledge of it going in, as previously mentioned. It's not often this genre takes cues from Metroidvanias, having you backtrack along a large, interwoven map. Typically they are level based, and handcrafted with enemies coming at designated points. Here, enemies spawn when they feel like – just because you clear an area doesn't mean you should kick your feet up.

You may argue that even on the lowest difficulty setting, the game's bosses are a bit harder than you may expect from a setting called easy. Certainly, they aren't what you'd expect after lackadaisically wandering around the rest of the map in preparation. It also doesn't help that you lose your power-ups when you take damage, making matters much worse. It's here that the bullet hell type gameplay comes in, and when you need those twitch-like reflexes to avoid one-hit kills. While enjoyable, it'll be a turn off for many that find things games like Cuphead or Super Meat Boy to not be inclusive of all skill levels. And while I love the choice for the visuals, it can be a bit confusing as to what is traversable and what is actually a barrier. In many cases I found myself moving through the rebar scaffolding when I thought it would be a wall, and being stopped abruptly by the exact same thing thinking I'd be able to move through it. This obviously allows for secrets and the like, but it can be an annoyance similar to invisible walls.

I'm not going to tell you that Earth Atlantis is the next generation of shmups, or it's even the best one this past decade, but it's a good one. If you love the genre, and a good challenge, the game offers a lot. Outside of the story, you'll unlock what is essentially a boss rush mode for those of you that want a challenge outside of what is offered in the story mode. This doesn't break new ground, but it sure as hell brings a lot to the table.

…

Expand

Once the initial novelty has worn off, this is a tedious game with some glaring design faults that other reviewers have somehow managed to

Once the initial novelty has worn off, this is a tedious game with some glaring design faults that other reviewers have somehow managed to simply overlook! Whoever thought one giant level (full of dead ends) that you are forced to back track over and over again is good level design? How about background music consisting only of 2 or 3 single short soundtracks that continuously loop? Or a map that really doesn't help you navigate successfully at all? Or enemy bullets that look the same as your own? Or bosses that can 'one hit' you to death? Or losing all your power ups when you die? After playing for 2 hours this game really starts to feel like a chore. Your ship actually handles fine, some of the boss fights are fun, and the graphics are novel for the first half hour of play, but this game has no long term appeal to me what-so-ever. I am a genuine shoot-em-up fan, but I find this game disappointing, mostly because of some unintelligent and frustrating design choices made very early on in development. I can't really believe how positive most of the other reviews are for this game. At least once you finish the quest mode (3 hours) you unlock a slightly more appealing 'boss rush' mode (although you still need to navigate the giant maze to fight the bosses!). Try Super Hydorah or SHUMP Collection instead of this.

…

Expand

I like the level progression and I appreciate the developers making the game stick out. However simple mistakes hold this game back. Rarely,

I like the level progression and I appreciate the developers making the game stick out. However simple mistakes hold this game back. Rarely, some enemies will blend in with the environment which can be slightly annoying. Item power ups are unbalanced. The "E" power up dominates over the others to the point you'll want to restart until you get it. The "B" power up is a nuisance that distracts you because there is nothing that differentiates your bullets from enemy attacks. Once you get use to looking for enemies in the art style and you've got your "E" power up the only thing that will ruin your fun and pace is when certain bosses one-hit you.

…

Expand

It's appealing appearance can only go so far. I'm a big shoot 'em up fan, but this one just felt clunky and weirdly stiff. I didn't enjoy

It's appealing appearance can only go so far. I'm a big shoot 'em up fan, but this one just felt clunky and weirdly stiff. I didn't enjoy the level design or the choices made with how the weapons function. Overall it just felt like a poor game that I'm disappointed I wasted a few bucks on even though it was on sale. It showed genuine promise, but couldn't follow through.

…

Expand