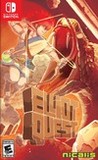 Summary:

8-bit retro adventure game inspired by Zelda 2 and Megaman. Discover the endless secrets on Urele Island!

Elliot can't diebut he's still running out of time. In Elliot Quest, the victim of a rare curse must find a cure before he's transformed into a demon. After Elliot's wife8-bit retro adventure game inspired by Zelda 2 and Megaman. Discover the endless secrets on Urele Island!

Elliot can't diebut he's still running out of time. In Elliot Quest, the victim of a rare curse must find a cure before he's transformed into a demon.

After Elliot's wife disappears, he falls sick and attempts to take his own life--only to discovers that he can't die. Plagued by nightmares and growing weaker by the day, Elliot seeks out a local Sage, who tells him that he's the victim of a rare curse. A demon called a Satar is slowly consuming Elliot's vitality. If Elliot can't find a cure to the curse before it's too late, he will become a Satar. His only hope is to ask for the help of one of the island's Guardians, who have kept the Satar from taking over Urele.

Explore a vibrant open-world filled with hidden secrets and mysterious Guardians that can help cure Elliot's curse of immortality. Throughout this adventure you'll collect countless abilities and spells, quest through 5 dungeons and defeat 16 unique bosses along your way to unlocking multiple endings.

Miiverse Integration and Stamps
Collect Stamps throughout your adventure, and use them to create and share notes to Miiverse about the secrets you discover in Elliot Quest!

…

Expand
Developer:

PlayEveryWare

Genre(s):

Action

,

Adventure

,

General

,

Platformer

,

Metroidvania

# of players:

No Online Multiplayer

Cheats:

On GameFAQs

Rating:

E10+
Even with Elliot Quest being a homage to my least favorite Zelda game, I still found it to be an enjoyable experience. If you have a version of it already, don't expect to find something new. The release on Switch seems meant for a new audience that weren't Wii U owners, as opposed to a new experience for existing fans. Elliot Quest has a familiar feel that makes it a great title if you're looking to dip your toes into the Nindie experience on Switch.

Elliot Quest manages to take some of the best things from its inspirations and present them once again almost as successfully; the RPG elements and dungeon exploration are a pleasure to play through. Unfortunately, a lack of clarity in the game's direction (both plot-wise, and literally for the player) leave the game rather shy of the greatness it could have been. If you love games like Zelda II, and feel at home in front of any dungeon-crawling RPG, you'll undoubtedly get some fun out of this game; for others, though, there are better alternatives in the genre that you could try first.

Elliot Quest is fun with beautifully designed dungeons, but the finer details and overall story fall short of what it needs make it a truly great game.

Elliot Quest takes heavy inspiration from the first three Zelda games in general and from Zelda II: Adventure of Link in particular, while improving on some of the more tedious aspects of it. However, it does not quite go all the way to leaving behind or improving the elements that haven't aged well at all in Nintendo's classic, making for an experience that at times can be a bit more confusing than it really needs to be. The narrative, in its execution and presentation, passes almost completely into the background like it was totally absent, which further cements the identity of Elliot Quest: a game that is deeply seated in the era that inspired its creation. There will, therefore, be two categories of players: those who find it hard to enjoy for lack of some of the more modern comforts that gaming has brought along over the years, and those that love it all the more for it because they appreciate being given free reign instead of being held by the hand all along. What remains after taking these things into account is still a thoroughly, if complicated, more Metroidvania-oriented side-scrolling adventure RPG that should definitely appeal to fans of 8-bit flavoured games of that genre.

Elliot Quest looks like a lost side-scrolling game from the NES area. Very nostalgia-driven, it takes form as a hardcore side-scrolling action game, which may be too for some tastes. Those up to the challenge, though, will be rewarded with a surprisingly deep game.
This publication does not provide a score for their reviews.

This publication has not posted a final review score yet.

These unscored reviews do not factor into the Metascore calculation.
Chances are you've seen this sort of thing before, and it could be argued that there are already better retro-style platformers on the Switch, like Shovel Knight. However, if you're in the need for more of the same and you fancy a change of scenery then for its price you could do worse.
Get ready to put your Quest foot forward...

If you would've asked me last year if I was a metroidvania fan, it wouldve been hands down no.Get ready to put your Quest foot forward...

If you would've asked me last year if I was a metroidvania fan, it wouldve been hands down no. Honestly being one of the few people who did not really dig Axiom Verge and never played super metroid as a youngster I thought the genre was just not for me. However, since playing steamworld dig 2 and now playing Elliot Quest. I think my metroidvania tide has turned.

Elliot Quest is an adventure 2d platformer with metroidvania elements. Developed by Ansimuz Games and originally released in 2014, Elliot has now made his way to the nintendo switch.

Jumping from block to block with his trusty bow, slaying slimes, and dodging projectiles. At the start Elliot Quest feels just like any platformer. Solid mechanics, with a rpg leveling stat system, that lets you know what your stats will effect before you make your decision.

At the start Elliot is armed with a bow and unlimited arrows, which you can modify to fire faster or longer range. In true metroidvania fashion unlocking new abilities and items throughout the levels, which in turn opens up new areas to explore.

When trying to dodge my when through cannon blasting projectiles, dying time and time again I decided to take another route. Intuitively finding my shield which allowed me to slowly battle my way through the bullet barrage. This instantly tugged my nostalgia cord, taking me back to sitting on my bed as a kid, n64 controller in hand, deflecting deku seeds with my shield in zelda the ocarina of time.

As a transition between levels you walk through a top down map of the area which is a puzzle in itself. You may be blocked in on all sides, but some of the caves you play through actually act as a tunnel to a new part of the world map. Which is one of many delightful surprises that elliot quest has to offer.

You can also purchase new items which you will need in your adventure. Can't see your way through the caves, picking a brand spankin new candle and light it up!

Elliot Quest is a surprising breathe of fresh air, every time that I felt stuck, finding my way through it was ten times more rewarding. Every thing from the graphics to the straight up platforming, waiting for a spear to thrust out of my way while dodging a missile, feels therapeutic. Elliot Quest isn't the game of the year but it's a must buy for anyone who is a fan of the genre.

Check out my video review on my YouTube channel TheFlannelFox

See ya next time Switchers!

…

Expand

Completed this game this past weekend! I love the exploration aspect of the game, the platforming elements, the bosses, the hidden areas, the

Completed this game this past weekend! I love the exploration aspect of the game, the platforming elements, the bosses, the hidden areas, the different items, the level up system, etc. It took me a good 15 hours to complete and I had to follow a walkthrough after a while as the map is a mess and you have no idea where you are supposed to go next most of the time. I liked most of the game, but I hated the backtracking and the non-linear story. I feel the graphics are good, but not great. There is some sort of transportation system on the switch version, but it is not really good. It deserves a 7.5 out of 10 in my book (easily an 8 with a few touch ups).

…

Expand

Elliot Quest is the spiritual successor to Zelda 2. And while Zelda 2 isn't the most loved zelda game out there, there is no doubt in my mind

Elliot Quest is the spiritual successor to Zelda 2. And while Zelda 2 isn't the most loved zelda game out there, there is no doubt in my mind that Elliot Quest captures all the best moments and parts from that game and expands on them. Items, dungeons, bosses, secrets, everything you would expect and more. A fantastic recreation, and would recommend to any zelda fan.

…

Expand

Imagine playing Zelda 2 without an instruction booklet or guide. It would suck not knowing what everything is. You would have many questions.

Imagine playing Zelda 2 without an instruction booklet or guide. It would suck not knowing what everything is. You would have many questions. You would give up after you got stuck for the second or third time.

For some reason the developer of this game thought they can get away with creating a game that is pretty much a NES-era game without accompanying it with an NES-era manual. Nothing in the game is explained. A lot of things a cryptic. Maps are completely unlabelled. This would have been fine if the game came with a guide, like NES games did.

Believe me, I would LOVE to play and enjoy this game. At its core, this is a pretty good Zelda 2 clone. But I got tired of consulting a walk-through every time I didn't know where to go next. For example, I got the power bracelet. Great, what next? Where is that one block that I need to push to advance to the next area? Do I need to re-visit every single location to find it? I give up.

Again, give me an official instruction booklet, and I will double my score.

Update: I've reduced my protest vote from 4 to 3. I'm going to keep reducing it by one every time I get stuck and have to consult a walk-through. Let's see if we can reach zero. Seriously, write a manual with tips, you inconsiderate developer.

Update: Got stuck again trying to find the stupid seventh crystal. There are probably at least five locations in the game that block your progress if you have fewer than seven, but I only have six. The score is down to 2. Looking up the speedrun again…

Update: There's this one separate area that I'd like to revisit, but I forgot how I got there the first time, and the map does not show any helpful information. My options are to explore over a dozen of areas that I've already been to, potentially wasting hours, or to look it up in a walk-through. Guess what I'm going to do. Yeah, my score is down to 1.

Update: So this game has a max level. I have restrained from upgrading my health because I didn't want to make the game too easy for me, and now I've reached max level and still on the lowest health stats, and there's seemingly no way to upgrade them. I have to beat the final bosses with this. It's like I'm playing on the highest difficulty. Score is down to zero.

…

Expand

A zelda 2 re-imagine! Inspired by the worst parts of retro gaming. That's right! Out of the entire retro library, from DOS to the imaginary

A zelda 2 re-imagine! Inspired by the worst parts of retro gaming. That's right! Out of the entire retro library, from DOS to the imaginary console Pico8, this mess takes all the worst parts and puts them into one bite size package. It has the boring mazes of early nintendo titles, the disturbing lack of fanfare from all your favorite shovelware, and a non story so pretentious it might as well not exist. So get out there and spam arrows until your thumbs bleed and backtrack until you have an aneurysm! This game is a true ode to zelda 2.

…

Expand