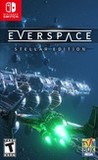 Developer:

ROCKFISH Games

Genre(s):

Simulation

,

Action Adventure

,

Space

,

Open-World

,

Combat

# of players:

No Online Multiplayer

Cheats:

On GameFAQs

Rating:

T
Everspace is the most open ended space shooter on Switch. It is highly replayable and there is still plenty more for me to see and do. The segmented, sector-by-sector gameplay is perfect for on-the-go play. It employs its genre better than most and manages not to feel too repetitive even as you die over and over again. This is a game that will be at the top of my Switch home screen for a long time to come.

Everspace took me a while to warm up to, but once I changed my control layout and started getting better at the dogfighting aspects, the game became a lot more fun. Between finding resources to survive and picking my fights with nearby outlaws or running away so I could live to fight another sector, Everspace never really feels like the same run twice, and that's definitely a good thing.

Everspace is full of content...and of challenges too, this space-based roguelike features a motivating and dynamic world where it's easy to get lost and to get engaged in frantic combats, thanks to its steep difficulty curve. A very solid, satisfying and demanding production which will certainly keep its players around the Nintendo Switch for a long time.

With some good flying sensations and a true respect for the rogue like mechanics, Everspace succeeds in bringing the genre into space, offering nice graphics and amazing combat sequences on Switch.

A great title with very funny mechanics as long as we are able to accept low quality textures, the angle of the camera and some beautiful cosmic environments.

Whilst Everspace does repeat itself, you can quickly brush through the more repetitive aspects in favour of its combat. This is where the game focuses and it is pretty great, with plenty of options to choose from when you happen upon them. If a little repetition doesn't put you off, then you could probably do worse than Everspace on Switch.

I really want to be able to recommend Everspace – Stellar Edition on the Switch, but playing it makes me really just want to go pick the game up for PC.
An amazing randomly generated space shooter, and better yet it's on switch. The ship feels great to control and the objectives are fun. Best

An amazing randomly generated space shooter, and better yet it's on switch. The ship feels great to control and the objectives are fun. Best 15 bucks ive spent.

…

Expand