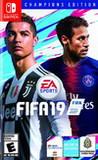 Summary:

Introducing the prestigious UEFA Champions League, offering authentic in match atmospheres, featuring gameplay updates including elevated on-pitch personality and a striking overhaul, and providing new and unrivaled ways to play. Champions Rise in FIFA 19. Play the pinnacle of club football

Introducing the prestigious UEFA Champions League, offering authentic in match atmospheres, featuring gameplay updates including elevated on-pitch personality and a striking overhaul, and providing new and unrivaled ways to play. Champions Rise in FIFA 19. Play the pinnacle of club football across a variety of modes in FIFA 19 with official match presentation, breadth in tournament experiences, including UEFA Champions League, Europa League and Super Cup, and an all-new commentary team in Derek Rae and Lee Dixon. The UEFA Champions League, Europa League and Super Cup come to life across experiences in EA SPORTS FIFA 19. From live content updates in FIFA 19 Ultimate Team, to authentic Career Mode integration, to an all-new standalone UEFA Champions League Mode, you can experience the greatest club football competition in the world no matter where you play in FIFA 19. In-Match Experience - Immerse yourself in the most authentic football experience ever seen before on Nintendo Switch. Featuring distinctive team and player personalities, introducing official broadcast presentation for the some of the world's biggest leagues, and elevating your ability to finish with the all-new striking overhaul

…

Expand
Developer:

EA Sports

Genre(s):

Sports

,

Team

,

Soccer

,

Sim

# of players:

Up to 22

Cheats:

On GameFAQs

Rating:

E
Please enter your birth date to watch this video:
You are not allowed to view this material at this time.
FIFA 19 - 'The Journey: Champions' Official Story Trailer
FIFA 19 on Nintendo Switch offers an experience almost on par with the other versions of the game. This version's visuals are kind of weak on TV mode, however, it also proves to be enough when playing on handheld mode. Furthermore, it features all of the available options for the Champions League, the Ultimate Team as well as other game modes.

Undoubtedly fun, especially on the move.

FIFA 19 is a step in the right direction. There are still some big differences between this and the main versions of the game, but it's a great way to enjoy FIFA on your Switch.

FIFA 19's numerous improvements on and off the pitch mean it overtakes its predecessor as the best football game released on a Nintendo system, and it's still a technical marvel when played in handheld mode. That said, EA's decision not to improve Ultimate Team and Career – arguably the two most popular modes – feel like a missed opportunity. It's better than last year's game, then, but not as much as it could have been. If you're new to FIFA, then add one point to the score below; this is the best soccer game on Switch by a mile. However, if you're a grizzled veteran - as pretty much anyone who is contemplating a purchase is likely to be, given the advanced age of EA's premier sports franchise, then the score stands.

This is a great backup version, but a largely inferior edition of a terrific game.

FIFA 19 brings the second iteration of the world's most popular football game series to the Nintendo Switch and this delivery improves on its predecessor when it comes to gameplay and competitions. It does not go all the way, however, when it comes to visual performance and to the AI's behaviour, not to mention the disappointing lack of some gaming modes. While FIFA 19 does its part to bring football back to Nintendo platforms, it still needs to go further to become truly indispensable title.

A smaller, dirtiest and less smart version of the good game available on the other platforms.
I like this game. It is better all around from the last one, which i easily put well over 500 hours into. I hope that this year FIFA 19 will

I like this game. It is better all around from the last one, which i easily put well over 500 hours into. I hope that this year FIFA 19 will improve by the year, something fifa 18 did no do sadly

…

Expand

(+) Best game ever. I really enjoy it. Graphics improved from last year. Players look better.
(-) Over Fifa18 there are no new game modes.

(+) You can really enjoy your time with this game and for me is the best FIFA's game in switch and you have some few more things than FIFA 18.

(+) You can really enjoy your time with this game and for me is the best FIFA's game in switch and you have some few more things than FIFA 18.
(-) There are not updates to have the new players and equipments and no new modes than FIFA 18.

…

Expand

Fifa 19 = 3/10
............................................................

Nope, this is not good, it is the same, only with UCL. It isn't that bad,but it continues being boring and the same as last years so it is not

Nope, this is not good, it is the same, only with UCL. It isn't that bad,but it continues being boring and the same as last years so it is not exciting.

…

Expand

This version of Fifa 19 for Nintendo Switch is nothing more than the reheated version of Fifa 18. Only get this game if you don't have the

This version of Fifa 19 for Nintendo Switch is nothing more than the reheated version of Fifa 18. Only get this game if you don't have the previous version, which is much better, because at least you have the 2018 World Cup available.

…

Expand

O pior FIFA dos últimos anos. A EA não ouve seus consumidores e vem destruindo o que chegou a ser bom. Nesta edição, até a sincronização das

O pior FIFA dos últimos anos. A EA não ouve seus consumidores e vem destruindo o que chegou a ser bom. Nesta edição, até a sincronização das narrações sofreu danos, as notícias sobre o time ficaram erradas, a interface menos prática. É claro, o handicap, o momentum ou sei lá o que continuam destruindo a diversão. Poderia ser um excelente jogo, mas...

…

Expand