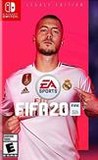 Summary:

Enjoy more control over the Decisive Moments that determine the outcome of every match in FIFA 20. Pick your target and time it right from the spot. Add curl, dip, or knuckle to free kicks. A new aiming mechanic gives you more creativity from dead balls. Move with more agility. Lure the

Enjoy more control over the Decisive Moments that determine the outcome of every match in FIFA 20. Pick your target and time it right from the spot. Add curl, dip, or knuckle to free kicks. A new aiming mechanic gives you more creativity from dead balls. Move with more agility. Lure the defender in. Beat them with speed or skill. New strafe dribbling adds new dimensions for attacking play in FIFA 20. Take back possession with Active Touch Tackling and new animations that reward you for well-timed defensive play. More clinical finishing when one-on-one. More risk with volleys and long shots. Overhauled shooting creates more realism in front of goal in FIFA 20. [Electronic Arts]

…

Expand
Developer:

Electronic Arts

Genre(s):

Sports

,

Team

,

Soccer

,

Sim

# of players:

Up to 22

Cheats:

On GameFAQs

Rating:

E
Please enter your birth date to watch this video:
You are not allowed to view this material at this time.
FIFA 20's Volta Mode: Manchester United Vs Tottenham Hotspurs Gameplay From Gamescom 2019
EA has shown enormous neglect in its new game for Nintendo Switch. Without just new content, the game is an update of faces, teams and t-shirts of FIFA 19. Only recommended for those who do not have FIFA 19 or do not mind the neglect of EA for Switch.

Putting it simply, there is still fun to be had with FIFA 20 Legacy Edition and playing against others online is still a joy. Nevertheless, charging full whack for a game when absolutely no effort went into is out of order. Simply ask yourself this, are new kits and some roster changes worth over £40 to you? If you answered yes, then you have too much money.

There's no reason to buy FIFA 20 on the Switch unless you can find it cheaper than FIFA 19 or you're a mad football fan in need of the latest rosters.

Electronic Arts has basically published FIFA 19 on Switch, labelling it FIFA 20. FIFA 19 can be bought at a much cheaper price and offers the same content.

If at its core, the game itself remains good - it is, after all, the same as FIFA 19 - the product being sold under this name is simply not what EA should be presenting to its consumers. While updated squads and jerseys fit perfectly with the idea of a regular update to a football simulation, charging a full game's price for nothing but an update is simply unacceptable.

If you're simply looking to play Career Mode on the go, then you may get some mileage out of FIFA 20 Legacy Edition on Switch, but if you can buy FIFA on any other platform then we suggest you do. The Switch's FIFA legacy is fast becoming outdated gameplay and missing features, and the only way to put a stop to this is to vote with your wallet.

FIFA 20 is a cynical attempt from a publisher to completely cease support for the Switch while still having the gall to suggest it deserves to be rewarded with a near-premium fee for its lack of effort. If you want to pay good money to get insulted, go heckle a big-name comedian instead: at least you'll get a smile out of it. If you don't already own a FIFA game on Switch and aren't bothered about having the latest kits and team rosters, just get last year's version on the cheap.
Pienso que la gente exagera, a pesar de los defectos es un titulo divertido y que da horas de diversión, pienso que la gran mayoría de las

Pienso que la gente exagera, a pesar de los defectos es un titulo divertido y que da horas de diversión, pienso que la gran mayoría de las quejas provienen por odio y resentimiento, cuando si bien esta versión no es igual a sus homologas en otras plataformas, sigue siendo una experiencia jugable solida.

…

Expand

250.00 pilas por um Port do ano passado...kkkkkkk..

.......KONAMI .......

. ...........PES.......2020........21....22...23......

This review contains spoilers

, click expand to view

.

E eu que pensava que o FIFA 19 era o pior da historia, porém este superou! O Jogo ao invés de ser um entretenimento, é um causador de stress! Cada ano que passa fica pior!

…

Expand

#FixCareerMode

**** you EA. You immediately refuse to refund customers and say your "legal assistance" **** as if it's not allowed to refund#FixCareerMode

**** you EA. You immediately refuse to refund customers and say your "legal assistance" **** as if it's not allowed to refund a game you EA people made.

…

Expand

This review contains spoilers

, click expand to view

.

Que vergüenza da esta empresa, se está riendo de los videojuegos y sobretodo de todos nosotros

…

Expand

Not worth anyone's time, i played fifa 19 quite a lot on the switch actually, but this one has NO noticeable update over it. NO key/fun

Not worth anyone's time, i played fifa 19 quite a lot on the switch actually, but this one has NO noticeable update over it. NO key/fun features from the other versions (pc/consoles) and NO incentive to play over 19.

…

Expand

Es la misma basura que el pasado solo agregando plantillas y estadios actualizados, si costará menos seria bueno pero cuesta igual que un

Es la misma basura que el pasado solo agregando plantillas y estadios actualizados, si costará menos seria bueno pero cuesta igual que un juego de buena calidad cuando este claramente no lo es.

…

Expand