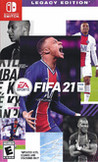 Summary:

On the street and in the stadium, FIFA 21 has more ways to play than ever before. FIFA 21 rewards you for your creativity and control all over the pitch. Create more scoring opportunities with all-new dynamic attacking systems in the most intelligent FIFA gameplay to date. A new Agile

On the street and in the stadium, FIFA 21 has more ways to play than ever before. FIFA 21 rewards you for your creativity and control all over the pitch. Create more scoring opportunities with all-new dynamic attacking systems in the most intelligent FIFA gameplay to date. A new Agile Dribbling system gives you the means to unleash your creativity in 1-on-1 situations. Use fast footwork, more responsive close control, and new skill moves like the ball roll fake to explode past defenders. In FIFA 21, increased positional awareness elevates footballers' in-game intelligence to put them in the right place at the right time. See world-class forwards hold their runs in line with the last defender, creative playmakers find space to play through balls, and midfielders shut off passing lanes as players better live up to their real-world understanding of space and time on the pitch. [Electronic Arts]

…

Expand
Developer:

Electronic Arts

Genre(s):

Sports

,

Team

,

Soccer

,

Sim

# of players:

Up to 22

Cheats:

On GameFAQs

Available On:

Stadia

Rating:

E
Please enter your birth date to watch this video:
You are not allowed to view this material at this time.
FIFA 21 - Best Goals From The Closed Beta
Ninty Fresh Magazine

Dec 21, 2020

Whilst FIFA 21may be an insult to Switch players everywhere, it is also the most authentic football game on the market and rather enjoyable at that. [Issue #2, p.57]

EA Sports did it again: they updated the teams and their uniforms from FIFA 19 and sold it at 50€. This is an outdated game, which is not at the same level of what it is available on other platforms and that does not include every game mode and options it should. The gameplay is good, so it may attract football fans.

FIFA has so much potential on the Switch, but it seems that this is how it is going to be going forward. FIFA 21 Legacy Edition is still FIFA 19 and while that game is still actually pretty fun, especially online, it is now extremely outdated – and it was outdated two years ago. This game should not be full price.

If last year's release was borderline insulting, this year's is just plain disgraceful. EA, please do better.

FIFA 21 is the straw that breaks the camel's back. After initially impressing us with FIFA 18 (despite it being based on the previous year's outing, FIFA 17), EA has completely shut up shop and made no effort whatsoever to improve the series on Switch. By now giving us a second Legacy Edition in a row, while also removing the previous games from the eShop to ensure this is the only option that remains, EA has inadvertently created another, more realistic option: ignore this game entirely, and don't give out your hard-earned cash in return for being insulted.
I must say that this is an embarassment to the game. There are next to zero improvements in terms of gameplay. Just an update on kits and

I must say that this is an embarassment to the game. There are next to zero improvements in terms of gameplay. Just an update on kits and roster and an updated cover. In game commentary was utter rubbish, and just playing annoying to an extent that I just felt like throwing my controller at the TV each time I hear the same old **** comments they use for each goal or foul. Utter thrash of a game. This really shows disrespect towards fans of the game, and reveals how good the franchise is going to be in the coming years. It is an embarassment!

…

Expand

Zero zero ea to żart z twojej strony. Zero konpletne zero i nic wiecej tworcy wigole sie nie postarali copy paste

A copy and paste from FIFA 19, full price game for just an updated roster, TOTALLY NOT WORTHY.

Хуета Хуета Хуета Хуета Хуета Хуета Хуета Хуета Хуета Хуета Хуета Хуета Хуета Хуета Хуета

Хуета Хуета Хуета Хуета Хуета Хуета Хуета Хуета Хуета Хуета Хуета Хуета Хуета Хуета Хуета

Garbage game with 0 effort by EA except roster change. The graphics are PS2 graphics and the game is full priced. There is 0 incentive get

Garbage game with 0 effort by EA except roster change. The graphics are PS2 graphics and the game is full priced. There is 0 incentive get this game if you have FIFA 20 Legacy Edition or FIFA 19. I sold my copy back to Gamestop after 24 hours. According to the Gamestop employee I was the 5th person to sell a copy. It's time that EA admits they hate the Nintendo Switch. Stay away from this game.....unless you want to get $8.00 in Gamestop store credit.

…

Expand

Do yourself a favour and buy Fifa 19 Legacy Edition if you want this version. There has been nothing since then except for squad updates and a

Do yourself a favour and buy Fifa 19 Legacy Edition if you want this version. There has been nothing since then except for squad updates and a different title screen. Typical EA con at its finest

…

Expand