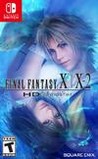 Summary:

Two of the Most Celebrated RPGs of their Generation - Now in Beautiful High Definition!

Over 200 hours of gameplay, including the International version content never before released in North America.

Relive the fateful journey with fully remastered HD visuals and rearranged music.
Developer:

Square Enix

Genre(s):

Miscellaneous

,

Compilation

# of players:

No Online Multiplayer

Cheats:

On GameFAQs

Rating:

T
The quality of the Final Fantasy X/X-2 HD Remaster on the Switch makes this a definitive way to play with the all-in-one convenience of what the console offers. And regardless of if you jump in now or at a price you like then you're gonna have an awesome time with these games.

The touch screen options, the removal of PC's autosave feature and other adjustments, aside from playing it in gorgeous portable mode, make this Nintendo Switch version the best of all that have been released as a Remaster, and the most faithful to play the original versions, even if it had to make some sacrifices in the visual element.

With two fantastic games in one package, this latest re-release of Final Fantasy X/X-2 HD Remaster is very easy to recommend, with a few caveats. On Switch in particular, X-2 benefits from being suited to both long-play sessions on the TV and short bursts in handheld mode. Visually it looks very similar to the PS4 version, which is mostly great news, but it's upsetting to see the developers still haven't fixed character faces going from flat to high quality in cutscenes.

Well executed conversion of two of the most beloved JRPGs of the PS2-era.

In a lot of ways, Final Fantasy X-2 could be considered the superior title to Final Fantasy X. The battle system has more variety, the tone is more upbeat and fun, but without the context of the events that occur in the first game, the story just won't make a lot of sense. I definitely recommend exploring Spira during what should be the eternal calm, but not until after you've actually defeated Sin.

The Switch version is definitely the best way to experience the game right now but it has a few issues that affect the release overall more than the port which is great.

Final Fantasy X | X-2 HD Remaster is still the timeless JRPG we all know and love, but the launch price and the lack of new content makes it hard to recommend this new version over the older ones.
I love the game, franchise, port, music, story, characters.. If this is your first final fantasy game, you may not love it as much as someone

I love the game, franchise, port, music, story, characters.. If this is your first final fantasy game, you may not love it as much as someone who already played final fantasy 7 or 9. So try playing older games from the franchise, then ff10 can really shine.

…

Expand

Absolute masterpiece. I gave a 10 for the Vita version years ago, and I wish I could award 11/10 here because this version is everything the

Absolute masterpiece. I gave a 10 for the Vita version years ago, and I wish I could award 11/10 here because this version is everything the Vita and PS4 versions are, combined. The last Sakaguchi Final Fantasy and one of the greatest video games of all time. An unquestionable must-have.

…

Expand

Final Fantasy X was the first Final Fantasy game I ever experienced. After spending roughly 35 hours in this world, I cannot wait to continue

Final Fantasy X was the first Final Fantasy game I ever experienced. After spending roughly 35 hours in this world, I cannot wait to continue to experience more.

You play as Tidus, a professional Blitzball player, who joins a crusade to stop the powerful SIN. Tidus is very winy, always the first to complain and never wanting to actually do much of anything any way but his. Luckily, there is a group around him that sometimes keeps him in check, but mostly they are enough to keep you sane and not wanting Tidus to walk off into the sunset forever never to return.
Or maybe just set off to play Blitzball forever. Because Blitzball is not fun. Like at all.

Final Fantasy X thrives on it's world and characters. Different landscapes fill out the large world, from rolling deserts to Dark yet vibrant forests. The cast around you are interesting and compelling, all growing in so many different ways throughout. All have a different combat style too, keeping each character feeling like their own even inside combat. Each character as well can be built pretty much however you want. The unique sphere grid leveling system, which seems like a lot at first but you get down quickly, allows full customization of each person.

The boss fights are epic, and not just in scale. Every conquered boss leaves you feeling accomplished. The difficulty spike on some bosses took some time to adjust to, but nothing felt unbeatable. Standard mobs throughout the world consisted of different types of similar enemies, while each zone had their share of rare mob types you could encounter. Combat never felt like a chore, it was almost always welcomed. One thing that consistently gave me pause was the magic weaknesses. As is normal, Fire is strong against ice while Lightning is strong against water. But then they decide to flip it on its head. Ice is strong against fire and water is strong against lighting. Trying to override my basic video game knowledge took some time for that one.

Final Fantasy X is beautiful, engaging, and rewarding. The few issues persist throughout the whole game and never really get better, but there are so little actual issues that it almost never hindered my experience. I could not have asked for a better introduction to such a storied franchise.

8.5/10

…

Expand

Blitzball really sucks. But the game is fine otherwise. I really wish that blitzball wasn't something you had to put up with.

It's a good port for the switch, but overall I just really dislike this game. It looks great but the dialogue and overall story is just really

It's a good port for the switch, but overall I just really dislike this game. It looks great but the dialogue and overall story is just really bad sometimes and there is no way to skip cutscenes. The leveling up mechanic is super confusing and frustrating and overall I just feel like this is a super overated FF game. I felt the same way when it came out on the ps2 and I feel the same way now.

…

Expand

The worst ever minigame created in ff series. The minigame is not fun but tortured.

Disappointing game, I played it again with the remaster expecting for my opinion to change but it remains the same: too cliché, melodramatic

Disappointing game, I played it again with the remaster expecting for my opinion to change but it remains the same: too cliché, melodramatic and the characters hardly interact with each other. This did not age well at all.

…

Expand