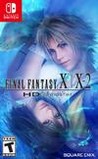 Summary:

Two of the Most Celebrated RPGs of their Generation - Now in Beautiful High Definition!

Over 200 hours of gameplay, including the International version content never before released in North America.

Relive the fateful journey with fully remastered HD visuals and rearranged music.
Developer:

Square Enix

Genre(s):

Miscellaneous

,

Compilation

# of players:

No Online Multiplayer

Cheats:

On GameFAQs

Rating:

T
The quality of the Final Fantasy X/X-2 HD Remaster on the Switch makes this a definitive way to play with the all-in-one convenience of what the console offers. And regardless of if you jump in now or at a price you like then you're gonna have an awesome time with these games.

With Final Fantasy X / X-2 HD Remastered, Square Enix unleashed a close-to-perfection remastered version, even if Final Fantasy X-2 has to be fully downloaded, which is a bummer.

A great comeback for an amazing game: if you didn't manage to play Final Fantasy X back in the days, you definitely should play it now.

Well executed conversion of two of the most beloved JRPGs of the PS2-era.

Overall it's a very solid packaged. Both games are fantastic in their own way and still hold up. The feature upgrades available in Final Fantasy VII and Final Fantasy IX are nowhere to be found when they would have been most welcome. Considering the upcoming Final Fantasy XII remaster also contains these features makes this package stand out all the more. It is also a steep price point. Final Fantasy X/X-2 HD Remaster may include two full games, but charging $80 seems a little ridiculous. Despite this it still comes highly recommended. Maybe just wait for a sale first.

Over 200 hours worth of high-quality content, playable at home or on the go, Final Fantasy X/X-2 Collection is a must-buy on the Switch. Those that have played before will happily greet old friends, while those that haven't explored Spira will find just as much to love.

Final Fantasy X | X-2 HD Remaster is still the timeless JRPG we all know and love, but the launch price and the lack of new content makes it hard to recommend this new version over the older ones.
Absolute masterpiece. I gave a 10 for the Vita version years ago, and I wish I could award 11/10 here because this version is everything the

Absolute masterpiece. I gave a 10 for the Vita version years ago, and I wish I could award 11/10 here because this version is everything the Vita and PS4 versions are, combined. The last Sakaguchi Final Fantasy and one of the greatest video games of all time. An unquestionable must-have.

…

Expand