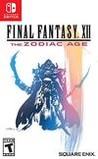 Summary:

Enter an era of war within the world of Ivalice. The small kingdom of Dalmasca, conquered by the Archadian Empire, is left in ruin and uncertainty. Princess Ashe, the one and only heir to the throne, devotes herself to the resistance to liberate her country. Vaan, a young man who lost his

Enter an era of war within the world of Ivalice. The small kingdom of Dalmasca, conquered by the Archadian Empire, is left in ruin and uncertainty. Princess Ashe, the one and only heir to the throne, devotes herself to the resistance to liberate her country. Vaan, a young man who lost his family in the war, dreams of flying freely in the skies. In a fight for freedom and fallen royalty, join these unlikely allies and their companions as they embark on a heroic adventure to free their homeland.

Final Fantasy XII: The Zodiac Age improves upon the 2006 classic Final Fantasy XII, now more beautiful and easier to play than ever. The high-definition remaster introduces several modern advancements, including reconstructed battle design and a revamped job system. With newly implemented trophies and share functions, as well as stark visual and sound improvements in true HD for the first time, players both returning and new to the game will experience a grand adventure that spans the world of Ivalice in an entirely fresh and improved way.

…

Expand
Developer:

Square Enix

Genre(s):

Role-Playing

,

Japanese-Style

# of players:

No Online Multiplayer

Cheats:

On GameFAQs

Rating:

T
Please enter your birth date to watch this video:
You are not allowed to view this material at this time.
Final Fantasy XII Gameplay Movie 10
The Spring of 2019 has been a wonderful stroll down memory lane of Square Enix glory, and Final Fantasy XII is the high note it ends on. Featuring every quality-of-life improvement to date, and the ability to play in handheld or on a television at a moment's notice, it's an easy decision to call the Switch version the definitive experience. Final Fantasy XII may end up being the best of the franchise on Switch, but with so many titles still available, hopefully it won't be the last.

Final Fantasy XII: The Zodiac Age is a good remaster that improves all aspects of the original version with new mechanics that feel great. Despite being less clear in portable mode and specific problems with the camera, it is an excellent game that you should not miss.

With the enhancements and ability to play anywhere, The Zodiac Age on the Switch is everything I wanted from a portable release. It was obviously not feasible to have this on Vita but I'm glad Square Enix put this on a portable because the gameplay perfectly suits portable play and it is the full game with even more features than the PC version that was already a step above the PS4 version. I know its unlikely but the only thing I'd want more from this version is the ability to sync my save with Xbox One since I have that version as well.

For such a largescale RPG as Final Fantasy XII, it's great being to experience the title at home and on the go with all necessary enhancements.

Final Fantasy 12: The Zodiac Age Remastered is one of the better ports I have played in any game series. I played entirely in handheld mode and only ran into the problem of recharging the system every three hours of gameplay or so. You can once again get lost in FFXII with all updated graphics and gameplay. And if you've never had the chance to play it before, any Switch owner and RPG lover would do well to pick this one up.

This new (and supposedly last) edition of Final Fantasy XII perfects the already excellent one on PlayStation 4 in 2017 and the following year on PC. The portability of Nintendo Switch is an added value of that version, thanks to a flexible gameplay that adapts to gaming sessions of any duration.

Final Fantasy XII The Zodiac Age on Switch delivers a comprehensive and thrilling journey, though with some flaws. While the game itself offers hours of RPG fun, it's older age shows. The steep price tag is also something to keep in mind.
Final Fantasy XII was a hugely overlooked game back in the day as the PS360 was already present, but it speaks to its strengths that it still

Final Fantasy XII was a hugely overlooked game back in the day as the PS360 was already present, but it speaks to its strengths that it still feels like a modern game even today. His approach to open world by giving large but varied areas while still feeling like you are making progress is the kind of great feeling that follows you throughout the game.

The new gameplay changes allows you to have characters who can fill roles that pushes you to level all of them, and the exclusive features such as the ability to reset jobs instead of being locked to one through the whole game makes experimentation easy and enjoyable. For people with not enough time on their hands, the fast-forward feature allows you to make great amounts of progress even on limited time. It was also highly revolutionary with its gambit system, which still is even today one of the few games that made basic programming enjoyable and intuitive as a visual programming language. I have teached kids how to understand programming concepts with this game. This system allows you to program your party members to do actions for you. in short, you are designing their AI by yourself and it works very well, in a very pedagogic manner.

The story is also a greatly overlooked one, as it follows Matsuno's flavour of political stories that manages to bring out the humanness in people. It's not so much about good or bad people than it is about the environment they live in and the set of beliefs they have. It's the closest you have to a palatable, Game of Thrones-esque storyline in Final Fantasy alongside Tactics. Not to mention the excellent Sakimoto soundtrack re-orchestrated into rousing arrangements, and the stellar VA cast including class A voice actors such as Gideon Emery, Simon Templeman (Kain!) and Nolan North among many others.

For people who wants an engrossing experience while witnessing an adult storyline that has few of the anime, shonen-bound trappings but a lot of the western literary references (Shakespeare, Dickens among others) in mind, there is no doubt that it is the best Final Fantasy experience you can have on your switch right now.

…

Expand

Im Grunde genommen ist es wie das PS2 Original, nur mit einigen Änderungen. Die Gravierendeste ist sicherlich das Job System, dass dem Spieler

Im Grunde genommen ist es wie das PS2 Original, nur mit einigen Änderungen. Die Gravierendeste ist sicherlich das Job System, dass dem Spieler ermöglicht eine von 12 zur Auswahl stehenden Klassen (Ritter, Jäger, Schwarzmagier, usw.) auszuwählen und später im Spiel mit einer zweiten Klasse zu kombinieren. Seine Entscheidungen bei der Jobauswahl kann man auch rückgängig machen und neu treffen, wodurch der Experimentierfreude nichts im Wege steht.
Im Großen und Ganzen ist es das selbe Spiel. Wer das Original mochte wird The Zodiac Age lieben.

…

Expand

Absolutely one of the best RPGs I've had the pleasure to play. Final Fantasy XII has always been a personal favorite of mine, ever since I

Absolutely one of the best RPGs I've had the pleasure to play. Final Fantasy XII has always been a personal favorite of mine, ever since I played it back on the PS2, and this port certainly holds up. The added job system and numerous quality of life changes like autosave and a fast-forward button make this the definitive way to play this fantastic game. The story may not be the greatest, and the lip-syncing is yuck at best, but those are the only complaints I can really come up with. The re-orchestrated soundtrack is an absolute treat to listen to and the open-world style gameplay remains as my favorite even after all of these years.

Put simply, I can't recommend this game enough. If you even mildly enjoy RPGs, this game is a must-play.

…

Expand

Worse than PS4 remaster. But it's still FF12, so it's a fantastic game overall.

it runs like complete trash on the switch, buy it anywhere else but here. would not recommend.

It was the first time I played this game and I think it is good. It is a HD remaster, so smoother visuals which are sufficient. The story and

It was the first time I played this game and I think it is good. It is a HD remaster, so smoother visuals which are sufficient. The story and the characters remembering me a lot of Star Wars what is also good.
I also enjoyed the Gambit system to create your own AI behavior for each of your party members. You can do it directly in a fight, if you need to change your tactics for an end boss.
What bugged me the most was the old gameplay and mission mechanics. There is no mission markers and you need to dig deep into the menu to know where you can find your next bounty.
I caught myself rewatching cutscenes to understand where is my next story mission as the map you have shows only the current dungeon you are into and you can't really zoom out.
If this old mechanics don't bother you, you will get an enjoyable approx. 70 hour Star Wars like story.

…

Expand