Publisher:

Nintendo

Release Date:

Jun 24, 2022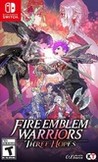 Summary:

Join Fire Emblem: Three Houses characters as you engage in massive battles across Fódlan Edelgard, Dimitri, Claude, and other Fire Emblem: Three Houses characters return to put their combat expertise on display as you revisit a war-torn Fódlan. Unleash devastating combos and striking special

Join Fire Emblem: Three Houses characters as you engage in massive battles across Fódlan Edelgard, Dimitri, Claude, and other Fire Emblem: Three Houses characters return to put their combat expertise on display as you revisit a war-torn Fódlan. Unleash devastating combos and striking special moves in action-packed, real-time combat. Cut through hordes of enemies as characters from the Fire Emblem: Three Houses game. Take down dozens of foes with Edelgard's axe or Dimitri's lance, or blast enemies from a distance with Claude's bow. Slash, swing, and spear your way to a brighter future for Fódlan.

…

Expand
Fire Emblem Warriors: Three Hopes exists for people that liked Fire Emblem: Three Houses. It takes the narrative and characters of the original tactics RPG and provides an "alternative history" take on events, and that was an inspired way to allow the game to be both familiar while telling its own story. For anyone that fell in love with the characters the first time around, this approach makes this take very hard to put down, no matter how frequently you play the Musou releases. My overwhelming impression of this game is that it exudes confidence. Koei Tecmo's team had a clear vision on how to turn everything that people loved about Fire Emblem: Three Houses and turn it into an action game, and with the exception of one new character that turns out to be a Jar Jar Binks-level misfire, they have delivered on that vision. Or, to put it simply: people loved Three Houses, and for all the reasons that they did love that game, they will also love Three Hopes.

Being as succinct as I can, Fire Emblem Warriors: Three Hopes is the finest collaboration between Nintendo and Omega Force to date. The life sim elements are masterfully done, feeling identical to Three Houses. The hack and slash action is sumptuous, with plenty of characters and playstyles to choose from. Lastly, the levels of choice are remarkable, adding plenty of replay value. Fire Emblem fans won't want to miss this gem, and newcomers who would otherwise be put off by the core series' tactical gameplay are all set for a grand adventure.

Fire Emblem Warriors: Three Hopes is not just a fun game that combines an unbridled and spectacular combat system with the strategic elements of Fire Emblem. It is a great starting point for the curious who want to get to know this Nintendo franchise and are afraid of how complicated it can be. Although the game's performance is not that stable, the gaming experience is solid and shows that the Nintendo Switch console still has a lot to offer.

Fire Emblem Warriors: Three Hopes blends the classic Musou formula with the strategic aspect of its namesake impressively well. Throw in a story that's more immersive than you'd expect and you're left with one great Warriors spin-off.

Fire Emblem Warriors: Three Hopes feels like a classic warriors game but still requires strategic thinking. It provides little to no innovation regarding the core gameplay, instead it offers quite a few aspects we've already seen and loved in Three Houses. If you miss the characters and want to enjoy some fast-paced combat, it's worth checking out.

Fire Emblem Warriors: Three Hopes proves that musou really does work for the IP. It already worked once with the first game, and now this sequel improves several aspects from a narrative standpoint as well as regarding its technical performance.

Fire Emblem should be the perfect partner for Dynasty Warriors style action, but this incompetently made crossover squanders its potential on trite fan service and hollow gameplay.
As a very big Fire Emblem fan i can really say i love this game. Three Houses was one of my favorite games and its nice too see another Three

As a very big Fire Emblem fan i can really say i love this game. Three Houses was one of my favorite games and its nice too see another Three Houses story even if its not a RTS.

…

Expand

It's a pretty good game. Don't listen to the people **** on this for the story, most of them are doing it based on leaks without context. The

It's a pretty good game. Don't listen to the people **** on this for the story, most of them are doing it based on leaks without context. The characters are consistent with their three houses self and we get to see some interesting new facets of them in action. If you liked Fire emblem three houses story than you will enjoy it.

…

Expand

I must admit I have my doubts about this game because I love Fire Emblem Gameplay and I thought It would be a repetitive button smasher game

I must admit I have my doubts about this game because I love Fire Emblem Gameplay and I thought It would be a repetitive button smasher game but I was wrong, the strategy elements are there and all other elements that made Three Houses an amazing game are there too. It's incredible that they made new routes, the characters are back and the roster is incredible big. Thanks Nintendo!

…

Expand

great game and to all the people complaing about the story the game is an alternate timeline so yes it will be different and if you understood

great game and to all the people complaing about the story the game is an alternate timeline so yes it will be different and if you understood any of the characters from the first game then you would understand why they act the way they do i prefer shez over byleth as protagonist too so that helps.

…

Expand

THE GOOD: There were lots of beautiful cutscenes and lots of fun activities to try in camp. The strategies and objectives in battle were fun,

THE GOOD: There were lots of beautiful cutscenes and lots of fun activities to try in camp. The strategies and objectives in battle were fun, and the large battles were always so exciting with many twists and turns. The game is kind to newcomers to the Musou games. It wasn't nearly as hard to get used to as I thought, coming from strategy games. I enjoyed the gameplay! I also liked the new protagonist. THE BAD: The story is miserable. Every ending feels abrupt and pointless. Some characters are depicted way differently than they were in Three Houses which may be due to plot changes, but I found it so jarring and disappointing. Some of the points I liked about the characters felt removed. Maps can get confusing to navigate. Camera angles got confusing and distracting.

…

Expand

In terms of plot: the protagonist of previous game (Three Houses) was completely reduced to a marginal person, hardly involved in any plot,

In terms of plot: the protagonist of previous game (Three Houses) was completely reduced to a marginal person, hardly involved in any plot, except that she was really strong, other aspects were like publicity fraud. The plot about Claude and Edelgard is like a denial and mockery of previous work.

In terms of gameplay: the previous game (Fire Emblem Warriors) can stabilize 60fps, this game can only have 30fps, even drop frames. The hit feels like hit paper, it's the worst level even in Warriors game. The restoration of previous game (Three Houses) is better, but not enough to make up for shortcomings.

My true score for this game is 5~6, but I give 1 to average those who give 10/10.

…

Expand

The plot is bad. The gameplay is repetitive and boring. The ending is unsatisfactory. 0/10 for such a terrible game