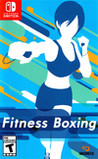 Summary:

Get off the couch and get moving with fun, boxing-based rhythmic exercises set to the instrumental beats of songs by popular artists, including Lady Gaga, Pitbull and Kesha. You can personalize your workouts by selecting from different fitness goals. Train your way, whether you're on your

Get off the couch and get moving with fun, boxing-based rhythmic exercises set to the instrumental beats of songs by popular artists, including Lady Gaga, Pitbull and Kesha. You can personalize your workouts by selecting from different fitness goals. Train your way, whether you're on your own, with a friend, at home, or on the go! Now you can work out anytime, anywhere on the Nintendo Switch system!

Get down your boxing basics while getting down to instrumental versions of 20 unlockable hit songs, including "Party Rock Anthem" by LMFAO, "Call Me Maybe" by Carly Rae Jepson, and "Sugar" by Maroon 5. Punch and squat while gripping the Joy-Con controllers to get your whole body moving -- no additional gym equipment required!

Daily training ranges from 10-40 minutes and offers both Normal and Fast mode. The game software estimates your approximate BMI and daily calories burned so you can track your progress. Choose from a diverse group of trainers and customize their look with unlockable trainer outfits. As you progress, you can earn more songs and more challenging training circuits. If you prefer to work out with a buddy, you can use two sets of Joy-Con controllers or share a pair to enjoy working out cooperatively or test your skills by facing off against each other in a virtual ring!

…

Expand
Developer:

Imagineer Co.,Ltd.

Genre(s):

Miscellaneous

,

Exercise / Fitness

# of players:

No Online Multiplayer

Cheats:

On GameFAQs

Rating:

T
Within its common-sense (and, thanks to Wii Fit, well-known) limitations, Fitness Boxing is a breezy, energetic success that gets your blood pumping.

Fitness Boxing is a fine selection of exercises. With a ton of courses to get through, you will be hard pressed to not find a skill level that suits you. As you go along, it is easy to take the next numbered version in a series and deal with the increased difficulty. The controls aren't the most accurate, but easily a cut above Just Dance. That being said, the music is easily my least favorite part of the game. Considering you have to time the moves with the songs, I am very surprised by the music choices. It left me with only a handful of songs I really cared about using, which will be the thing that eventually gets me to move on. Until then though, Fitness Boxing serves its purpose very admirably.

Fitness Boxing is a better fit for me and while I may not get the body of my dreams using it, anything is better than what I'm working with now.

Fitness Boxing doesn't have a lot of features to speak of, but it does provide a solid workout. Its exercise routines are challenging and enjoyable enough, despite their atrocious background music. Fitness Boxing isn't going to be the most fun game on your Switch, but it's worth checking out if you need a little extra motivation to get your heart rate up.

Fitness Boxing just suffers from feeling inaccurate, even more so when punches and dodges aren't correctly registered by the Joy-Cons. It is safe to say though, Fitness Boxing is perfect for those who want to lead a healthy and active lifestyle, but if you're looking for some casual punching fun, stick to Arms.

Fitness Boxing does its job and gets gamers on their feet and moving, but its barebone features and lack of music variety makes playing feel like a mix of chore and leisure activity.

It's certainly light on content, light on songs, and rarely feels great to play from a video game standpoint. Yes, you can get a little workout in, but it would be nice if the Switch would accurately track movement more consistently. I think Fitness Boxing has the opposite intended effect after you whiff 3 or 4 hooks or uppercuts due to poor motion sensitivity, which in turn leads to some dejected, frustrating moments. As it stands, I wouldn't recommend Fitness Boxing to Switch owners, at least not without some deep discounts involved.
Considering that Ring Fit Adventure isn't available in my country, I found Fitness Boxing to be a good replacement. Being able to spend some

Considering that Ring Fit Adventure isn't available in my country, I found Fitness Boxing to be a good replacement. Being able to spend some energy and throw some punches during quarantine feels great. To get rid of the voice acting problem people mention here, I changed the audio to Japanese.

…

Expand

I've seen some complaints about picking up the motion of punches. It does happen but very rarely. The game requires you to have pretty good

I've seen some complaints about picking up the motion of punches. It does happen but very rarely. The game requires you to have pretty good form though and there isn't much room for error. For both my partner and I after a couple of weeks it picked up our punches almost perfectly and we end up with scores of around 98%. The remaining 2% is definitely us not the game!

Overall it's a fun workout and after 2 months of playing about 3 times a week it's still really fun. It's like dance dance Revolution with your fists, what's not to like!

…

Expand

Not as good as Wii Fit +, but still a good game for basic Fitness. Just don't ask more from it

When it comes down to it, Fitness Boxing isn't a revelation. It takes a simple boxing workout and adds a layer of sparkle. The instructors do

When it comes down to it, Fitness Boxing isn't a revelation. It takes a simple boxing workout and adds a layer of sparkle. The instructors do their best to motivate as familiar but cheesy music plays throughout but that's about all it does. It just about does the job but your money would be best invested in the Ring fit.

…

Expand

Over priced; Unrefined; Weak as workout. The game gets really easy really fast. It's basically like going on a walk in terms of workouts.

Over priced; Unrefined; Weak as workout. The game gets really easy really fast. It's basically like going on a walk in terms of workouts. The levels that require more moving are the most frustrating because the game barely picks up the motions. Not worth the price. Should be a $15-20 game at the most.

…

Expand

Good to break sweat. Game wise for the point and stars, can forget it. The movement pick up by the system is a totally fraud.

Sooo expensive - probably due to some licencies - yes - music is just terrible! :D
And voice acting... :/
Quite good fitness "game" - BUTSooo expensive - probably due to some licencies - yes - music is just terrible! :D
And voice acting... :/
Quite good fitness "game" - BUT poor content for me and motion detection very basic. I can buy full version but ONLY after 50% discount !
P.S. I bought it due to cv - my gym is closed. The game is even worse... But with music off its better than nothing...

…

Expand